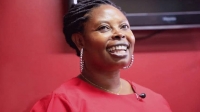 Rhobi Samwelly is the Founder and Director of Hope for Girls and Women Tanzania and the face behind the 2020-2022 Target Project, Safe Alternatives to FGM Elimination (S.A.F.E.).
(FGM = Female Genital Mutilation)
Rhobi grew up in a small village in the Mara district of the Serengeti in rural Tanzania. Rhobi's father was from the Kurya tribe and her mother...