"The enjoyment of the highest attainable standard of health is one of the fundamental rights of every human being without distinction of race, religion, political belief, economic or social condition." A statement adopted more than 70 years ago and repeated by Dr Tedros Ghebreyesus in December 2017 remains as relevant in 2019 as it was in the late 1940s when it was said for the first time.
Central to this conversation is the right to accessible health care, the ability to make informed choices, and the right to be treated with dignity and not to be marginalized. Health literacy is the golden thread that empowers individuals, enabling them to make informed choices and to understand the choices that they have made.
What is health literacy, and where did the term originate? It was first used in peer-reviewed academic literature in 1974, but it was only in the 1990s that the term took on the meaning as we understand it today. There are numerous definitions of the term; I prefer the definition developed by the US Institute of Medicine for its simplicity: "the degree to which individuals have the capacity to obtain, process and understand basic health information and services needed to make appropriate health decisions." The WHO states that health literacy has three levels: basic, communicative and critical. There is a discussion about whether a fourth level should be included, called holistic health literacy, with the inclusion of tolerance, understanding culture as wide and multidimensional phenomena, environmental consciousness, and analysis of the state of the world from various points of view.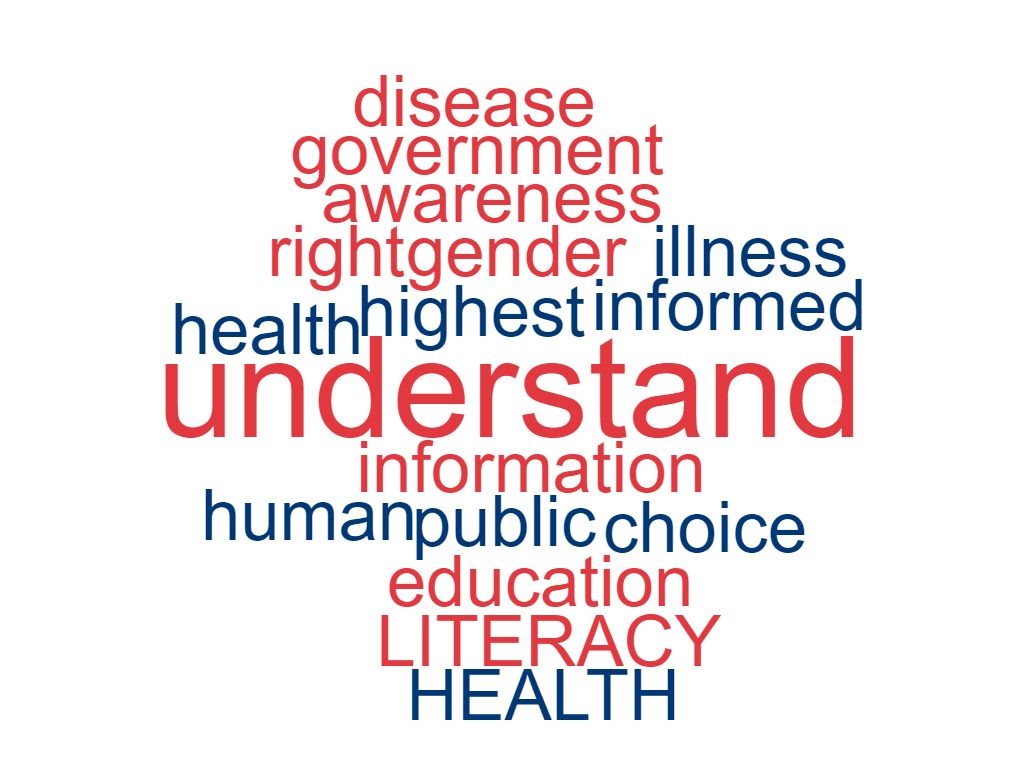 The WHO stated that health literacy and efforts to improve it are an important aspect to ensure that the 2030 Agenda for Sustainable Development will be reached. This can only be successful if a multifaceted approach is taken in addressing the issue, and it will require a partnership between governments, society in general, the media (and especially social media), community leaders and academic institutions.
A report published in 2013, Health Literacy: The Solid Facts, states that most of the information available on the topic originated from the US, but other countries are increasingly doing more to create awareness on the issue, with the link between general literacy and health literacy becoming an increasingly important aspect in this discussion.
In 2007, the United Nations Educational, Scientific and Cultural Institution (UNESCO) released a report in which they indicated that the highest number of illiterate adults is found in South and Southwest Asia, with the added concern being gender disparity: women accounting for 72.5% of this population. This will have a significant impact on many different levels in the society, and ultimately on health choices.
Low health literacy has a significant impact in developed countries as well. The report, Low Health Literacy: Implications for National Health Policy, published in the early 2000s, indicated that the cost of low health literacy in the US was between $106 billion and $238 billion annually, or 7–17% of personal health care expenditures. However, it is not just an issue in the US: studies in Europe and Asia indicated a similar burden, therefore making health literacy an issue of global importance.
Sorenson et al. developed a conceptual model in 2012 which addresses a number of aspects deemed crucial in developing a good health literacy process:
The ability to access, understand, interpret and evaluate medical information, allowing an individual to make an informed decision on a medical issue
The ability to access, understand, interpret and evaluate health risk factors, allowing an individual to make an informed decision on a potential health risk
The ability to update oneself on determinants of health in the social and physical environment, to understand and interpret, allowing an individual to make an informed decision.
The quote "Nothing, not age, income, employment status, educational level, and racial or ethnic group, affects health status more than literacy skills" (National Patient Safety Foundation, now merged into the Institute for Healthcare Improvement) underpins the importance of health literacy as an important human right and a crucial aspect in the successful outcomes of any health intervention.
Sources:
https://www.un.org/en/chronicle/article/health-literacy-and-sustainable-development
https://www.ncbi.nlm.nih.gov/books/NBK202445/
https://www.who.int/mediacentre/news/statements/fundamental-human-right/en/
https://www.un.org/development/desa/disabilities/envision2030.html
https://apps.who.int/iris/bitstream/handle/10665/128703/e96854.pdf
https://www.who.int/healthpromotion/health-literacy/en/
https://bmcpublichealth.biomedcentral.com/articles/10.1186/1471-2458-12-80