FAWCO Target Program 2016-2019
Education – Empowering Women and Girls through Knowledge and Skills
Welcome! I am glad you found your way here. This is where you will find our growing compilation of material to further your knowledge and awareness of the issues related to women's and girl's education.
I invite you to sign up for the monthly Target Bulletin. It's the best way to stay informed! It includes regular updates on: the Target Project, Hope Beyond Displacement; the Backing Women Fundraising Campaign; upcoming events; a snippet from the latest education blog; how the FAWCO/FAUSA community is showing support for the Target Program; and there is always a little something at the end just for you!
In our blog, Let's Get Schooled we explore why education matters; we examine the barriers which impede women and girls from accessing quality education and completing their studies; we learn strategies to address these issues; and we discover who the leaders in world education are. Given that our Target Project addresses both educational and vocational needs of refugee women and girls, we also explore their particular struggles and examine how host countries and aid organizations are addressing the need.
On this page, you will find information and links to resources related to the following topics:
2030 Agenda for Education / SDG 4
UNESCO
Global Education Monitoring (GEM) Report
Education and Displaced Persons
Education and Gender
Displacements' Impact on Girls' Education
Organizations Worth Knowing
For Visual Learners… videos & infographic

Are you passionate about women's and girl's education? If you have something to share, we welcome your contributions.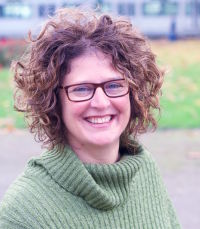 Tricia R. Saur
Target Program Chair
This email address is being protected from spambots. You need JavaScript enabled to view it.
---
The 2030 Global Agenda for Education
Obtaining a quality education is the foundation to improving people's lives and sustainable development. - UN
SDG 4 is to 'ensure inclusive and quality education for all and promote lifelong learning'.
To achieve this, the UN has set seven unique and interconnected targets and three means to achieve them: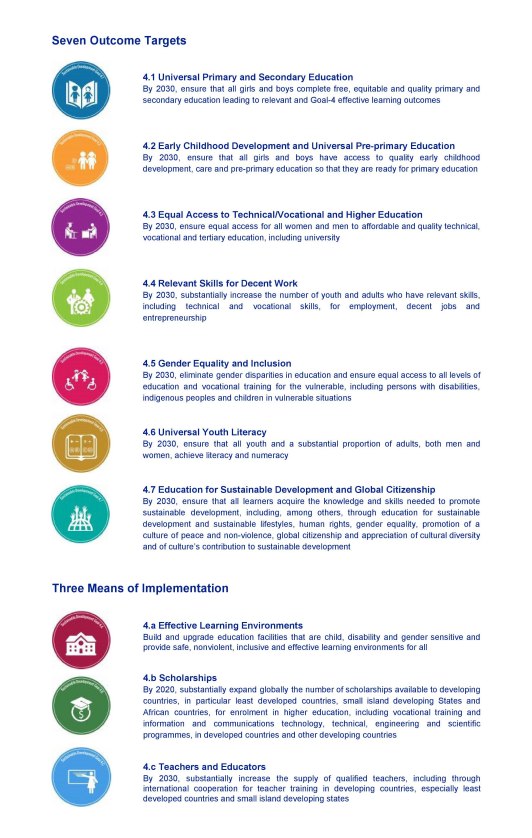 ---
UNESCO: Education for the 21st Century
Education transforms lives and is at the heart of UNESCO's mission to build peace, eradicate poverty and drive sustainable development.

UNESCO believes that education is a human right for all throughout life and that access must be matched by quality. The Organization is the only United Nations agency with a mandate to cover all aspects of education. It has been entrusted to lead the Global Education 2030 Agenda through Sustainable Development Goal 4. The roadmap to achieve this is the Education 2030 Framework for Action (FFA).
Incheon Declaration - Framework for Action

"In our world, knowledge is power, and education empowers. It is an indispensable part of the development equation. It has intrinsic value – extending far beyond the economic – to empower people to determine their own destiny. That is why the opportunity to be educated is central to advancing human development." - Helen Clark, UNDP Administrator
---
The Global Education Monitoring (GEM) Report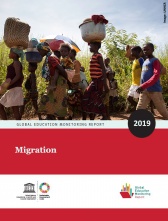 2019 GEM Report - Education and Migration "will also present evidence on the scale and characteristics of different types of migration, and national differences in migration policies and patterns in relation to education. New evidence will be presented on the gaps in educational opportunities and outcomes between immigrant students and their native peers. The Report will also aim to explain the influence of education on migration, as well as the distinct but complex challenges that movements of people present to education systems and skills acquisition."
Publication is slated for late 2018.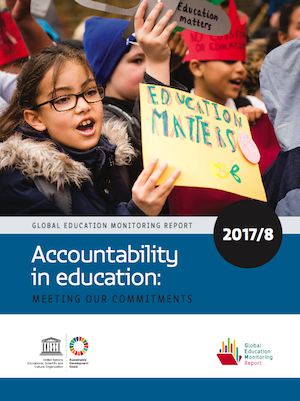 2017/18 GEM Report -- Accountability in Education "investigates accountability in education, analyzing how all relevant stakeholders can provide education more effectively, efficiently and equitably. The report examines different accountability mechanisms that are used to hold governments, schools, teachers, parents, the international community, and the private sector accountable for inclusive, equitable and quality education."
Three versions of the report are available: Full / Summary / Youth along with videos and infographics can be found on the Report Page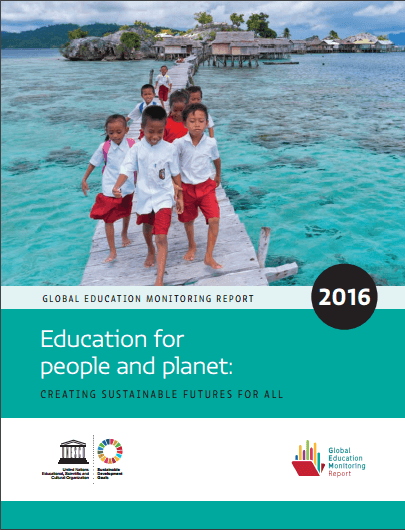 2016 GEM Report - Education for People and Plant "shows the potential for education to propel progress towards all global goals outlined in the new 2030 Agenda for Sustainable Development (SDGs). It also shows that education needs a major transformation to fulfill that potential and meet the current challenges facing humanity and the planet. There is an urgent need for greater headway in education. On current trends, the world will achieve universal primary education in 2042, universal lower secondary education in 2059 and universal upper secondary education in 2084. This means the world would be half a century late for the 2030 SDG deadline."
Three versions of the report are available: Full / Summary / Youth along with videos and infographics can be found on the Report Page
To explore previous reports visit https://en.unesco.org/gem-report/allreports
---
Education and Gender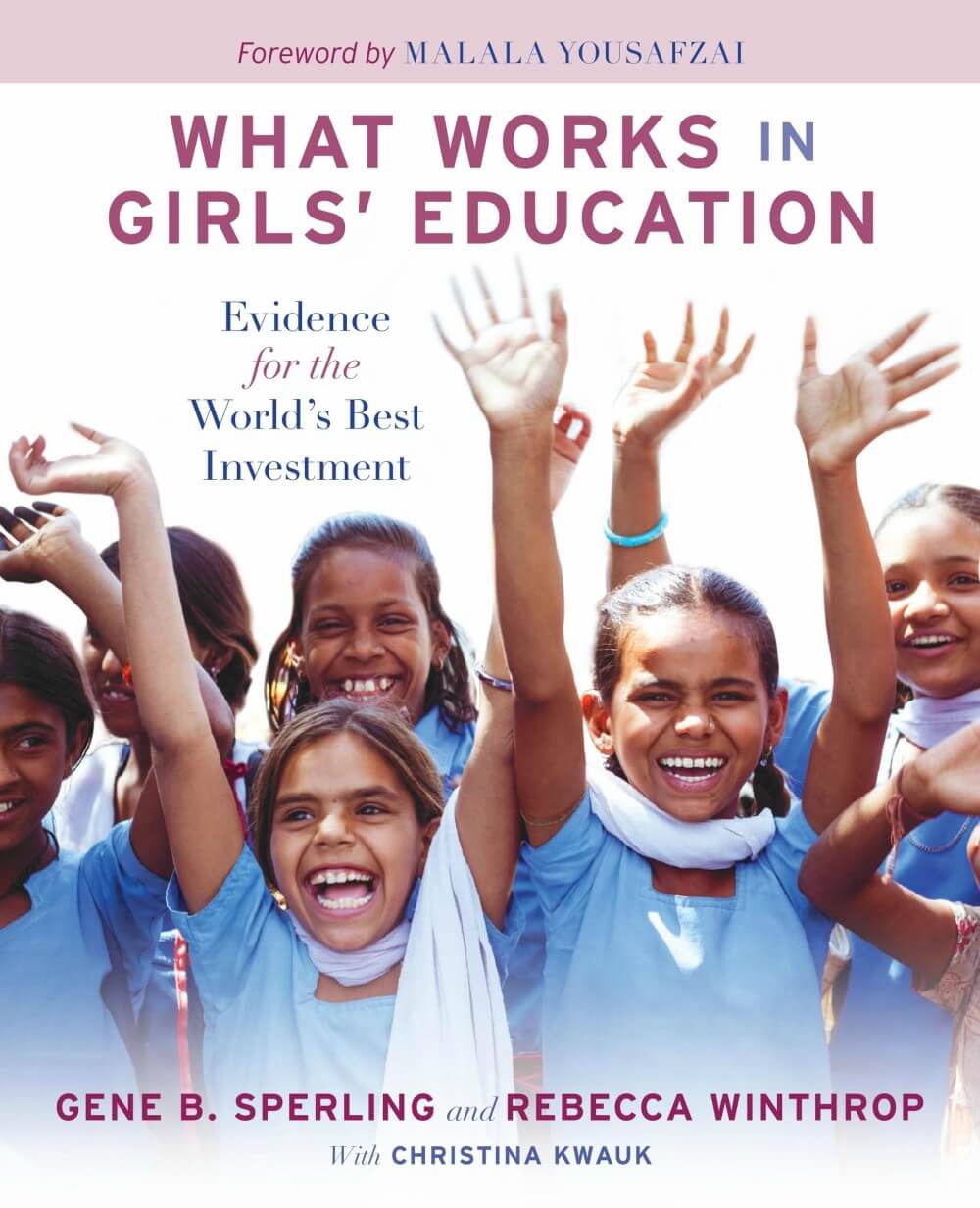 What Works in Girls Education: Evidence for the World's Best Investment is a publication by the Center for Universal Education at the Brookings Institute in Washington D.C. In it, the authors, Gene Sperling and Rebecca Winthrop make the case that Girls Education is the best investment developing countries can make. Following decades of research they have come up with a Top 10 List of why this is true and explain investments make the most impact.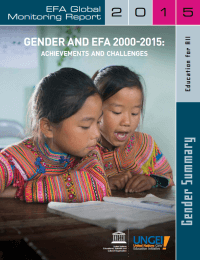 2015 Education for All (EFA) Global Monitoring Report - Gender and EFA 2000-2015
"This Gender Report provides detailed evidence of how much has been achieved in the past 15 years towards gender parity and reducing all forms of gender inequalities in education but also where considerable – some quite intractable – challenges remain."
---
Education and Displaced Persons
---
Displacement's Impact on Girls' Education
---
Organizations and Initiatives Worth Knowing
---
Video and Graphics
The Girl Effect: "The Clock is Ticking" on YouTube
Click the image to enlarge it.

---
Target Program: Education Bulletin
Sign up for the monthly Target Program Bulletin—it's the best away to stay up-to-date!