The Board of Directors: President, the three Vice Presidents, Secretary and Treasurer are elected at the Biennial Conference and normally serve for a two-year period, as does the appointed Parliamentarian. There is a limit on the number of terms a board member may serve. Contact the FAWCO Board [Contacts Page].
---
President
The FAWCO President is responsible for FAWCO's strategic development in consultation with the Board based on the FAWCO Mission Statement, the approved Resolutions & Recommendations as well as current Board goals. In addition, the President coordinates the work of Officers, US Liaison and UN Liaison.
Emily van Eerten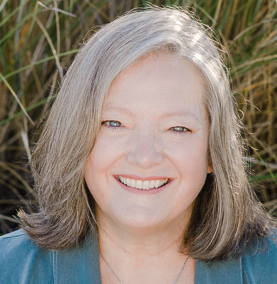 Emily van Eerten (AWC The Hague), FAWCO Counselor and Archives Chair, is taking on the job of President, twelve years after she completed her first term. Emily was FAWCO 1st VP 2001-2003, President 2005-2007 and Parliamentarian 2011-2013 as well as Chair of the Membership, Nominating, Resolutions and Recommendations Committees, Counselors Coordinator, Region 4 Coordinator, FAWCO Rep, and Web Woman. A member of four FAWCO clubs and FAUSA since 1995, Emily has attended fourteen annual meetings and numerous regionals over the years. A graduate of Rice University Houston, Emily went on to get her law degree from the University of Tulsa, her home town. After marrying a Dutch naval officer, Emily's life abroad and becoming involved with FAWCO began. She has four children, two of whom participated in FAWCO Youth Programs (Dubai 2013, Shanghai 2014, Mumbai 2015).
---
First Vice President
The 1st VP is responsible for communications - the FAWCO website, the The FORUM, social media, advertising and sponsorship, and public relations.
Ann Marie Morrow
Hailing from upstate New York, Ann Marie has most recently been the Region 2 Coordinator. She has lived overseas for the last twenty-two years and has two daughters, both of whom are university students. Ann Marie joined AWC Finland in 1998 and has held several positions in her club, including President 2011-2013 and FAWCO Rep from 2015 until the present. In 2015 she joined the FAWCO delegation to CSW59 and as RC2, she co-chaired the Region 2 meeting in April 2017. She has her MBA from Clarkson University, in upstate NY and has extensive experience as a corporate and freelance trainer.
---
Second Vice President
The 2nd VP is responsible for Member Clubs relationship management: she liaises with club presidents, club FAWCO reps and regional coordinators. She manages service offerings for our member clubs, publishes the monthly FAWCO e-newsletter "News-in-Brief", and attends regional meetings.
Rozanne Van Rie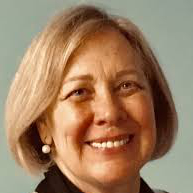 Rozanne Van Rie hails from Queens, New York. She graduated from St. Luke's Hospital School of Nursing New York City in 1973. After being certified in Hospice and Palliative Care in 1990, Rozanne worked as an Oncology Case Manager. She raised three children on Long Island and in southern New Hampshire. Rozanne married her Belgian husband, Luc, almost 14 years ago. Moving to Belgium in 2006, she eventually joined AWC Antwerp in 2009 and has been an active club member ever since. Besides fundraising, her nursing background undoubtedly influenced her choice of volunteer work, the Caring Heart Pillow Project, as well as AWCA's partnership with the Belgian National Breast Cancer Foundation. Other positions Rozanne has held in her club include First Vice President, FAWCO Rep, Philanthropy Director, and Sunshine Director. She has attended several FAWCO Biennial conferences and regional meetings as well as CSW 60 at the UN in New York City.
---
Third Vice President
The 3rd VP is responsible for the Target Program, the FAWCO Youth Program, FAWCO's Global Issues Teams and the Administrative Committees.
Mary Dobrian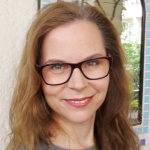 Mary grew up in Iowa City, Iowa, holds a B.A. from Yale University and has lived abroad since 1995. She works as a freelance translator of primarily non-fiction texts from German to English for books, films, academic publications, websites, advertising and marketing. Additionally, Mary leans on her theater training to provide voiceovers and dubbing for film, video and audio books. She has served as her club's FAWCO Rep, participated on the Human Rights Team, co-chaired FAWCO Youth, and chaired the Resolutions and Recommendations Committee for the 2019 Biennial Conference. Mary's children (Pascal, 19 and Louisa, 15) have participated in both FAWCO Youth and Education Team programs and Pascal is a FAWCO Foundation Education Award Recipient. During her more than 15 years as a member of American International Women's Club of Cologne (AIWCC), Mary has organized the club's stitch group since 2010, translated club correspondence and other necessary documents from German to English, volunteered at countless club event and activities, as well as organized numerous FAWCO related events such as book discussion, film evenings and fundraisers. She has also served on numerous school committees and boards.
---
Treasurer
The Treasurer performs all of FAWCO's financial duties which include collection of fees and other income-related items, disbursements for expenses, management of the budget, and monitoring and reporting of financial status to the Board and to all member clubs at FAWCO's annual general meeting.
Alisa Cook-Roehs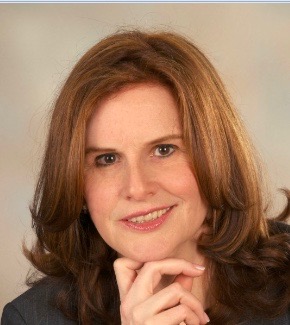 Alisa Cook-Roehs (AWC Düsseldorf) holds a degree in accounting from the University of Texas in Austin, and is certified both as a CPA and a CMA in the state of Texas. Alisa moved to The Netherlands from Texas in 1993 to take a managing director position with a German-based U.S. fashion company. After marrying her German tax advisor husband, Wolfgang, she continued her work career in Germany. She has thirty years of professional experience in finance and has held top level finance and managerial positions crossing a variety of industries. She continues to work part-time as a freelance financial consultant for businesses focused on improving systems and as a partner in CRTB training that concentrates on intercultural communication and business coaching. Alisa is currently President of AWC Düsseldorf where she has also served as Treasurer and First Vice President.
---
Secretary
The secretary takes minutes at all meetings, keeps the registry of Board member, and organizes all meetings of the Board.
Amanda Drollinger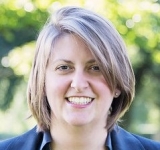 Amanda Drollinger is from Dayton, Ohio and has lived in Scotland for 14 years. A member of the American Women's Club of Central Scotland (AWCCS), she was the Conference Co-Chair for the FAWCO Biennial Conference 2019. In addition, she has been FAWCO Rep since 2015, Club Vice President in 2014, and Club President in 2013. Her organizational skills will be helpful in her new role as FAWCO Secretary. Amanda's interest in FAWCO goes back to when she attended her first FAWCO Conference in Marrakech 2011, having only missed one Biennial Conference after that. Amanda is committed to serving on the FAWCO board while continuing to work as Director of Henderson Drollinger Architects, where she executes design of architectural spaces and also administration of construction contracts. Amanda is involved as an Audio Describer for the Blind in Theatres and is the current Chair of Audio Description Association Scotland.
Parliamentarian
The Parliamentarian is an appointed, non-voting position on the Board. She advises the Board, maintains the Administrative Guidelines and By-Laws, and can be consulted during conferences and meetings on administrative procedures.
Tricia R Saur
Tricia grew up as a local on Long Island's east end. She left the beachside at age 18 to study business at Loyola College in Baltimore, Maryland only to eventually get a Master's degree in Social Work. Baltimore remained home until 2005 when she boarded a plane for Germany, where she put her social work degree to use helping Americans overseas grow their families through adoption. Today, Tricia lives with her husband and two young children in Cologne. Tricia has served on the board of the AIWC Cologne in many capacities such as VP, President, Parliamentarian, and FAWCO Rep. Tricia attended her first FAWCO conference in Vilnius, Lithuania in 2009. She steadily became involved with the organization. As the FAWCO Rep she hosted the Region 5 Meeting in 2013. She sat on the review committees of the first two Target Programs (TP) and submitted a short-listed proposal for the TP on Human Rights, before serving as Target Chair for the TP for Education from 2016-2019. In 2015, she chaired the Resolutions and Recommendations Committee gaining a better understanding of the interconnectedness of FAWCO's broad reach.
---
See the list of past FAWCO Boards.