As a not-for-profit 501(c)(3), non-governmental organization (NGO), FAWCO funds its operations from Member Club dues, the support and experience of volunteers, modest advertising revenue, and donations. Discover below how you can support FAWCO, its Mission Statement and programs, and allow FAWCO to continue working for women and girls around the world.
Ready to donate?
Giving Tuesday 2022
For the first time since 2018, FAWCO is participating in Giving Tuesday. Our operational budget is solely funded by Club membership dues and advertising, which unfortunately do not cover all our expenses. Annually, FAWCO provides our 57 Clubs and over 7,000 members with opportunities to join empowering conferences, enlightening virtual seminars, powerful conversations and educational workshops. There are many resources offered to support clubs as well. We are here for you and your local club community! As FAWCO's goal is to keep our Club membership dues as low as possible, we are exploring ways to broaden our reach to FAWCO members who may be interested in providing additional support. Read more about this year's campaign here.
Founder's Circle
The 2003-2005 FAWCO Board and the FAWCO Counselors created The Founder's Circle in 2004. The Founder's Circle not only honors Caroline Curtis Brown, the founder of FAWCO, it also gives members the opportunity to support FAWCO's goals and ideals by supporting FAWCO's continuing work in fields that have always been important to the organization. Contributions and bequests to the Founder's Circle will be used to help our Global Issues teams, UN and US teams, and the Board to pursue FAWCO's work on its priority issues: fostering international good will, defending the rights of all Americans overseas, and contributing actively to education, the environment, health and human rights.
Who Was Caroline Curtis Brown?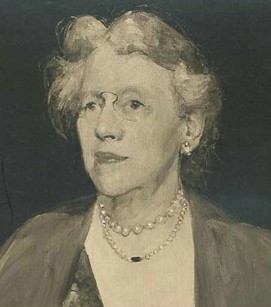 FAWCO Founder Caroline Curtis Brown was an idealist who, through her vision, inspiration and energy, made the AWC of London an outstanding organization of service to the membership and the community. With equal dedication, Caroline believed that enlightened women, working together throughout the world, could do much to achieve international peace. In 1931, Caroline invited representatives from Clubs in Antwerp, Berlin, Paris, The Hague, Vienna and Zurich to London to discuss the concept of forming an organization. More than 80 years later, the spirit of FAWCO's Founder continues to inspire us.
Thanks go to the AWC of London for their help in providing us with the portrait of founder Caroline Curtis Brown. The portrait was debuted at the 2004 Interim Conference hosted by AWC of The Hague and has been prominently displayed at subsequent FAWCO Conferences.
Donations
For information about donations/bequests, as well as information on donating by check or bank transfer, please contact the FAWCO Treasurer at , or click "Donate" button above to donate directly by credit card or a PayPal account.
Donations and gifts to FAWCO are US tax-deductible to the extent allowed by law. Bequests are free of estate tax and therefore reduce the taxable amount of an estate.
Lucy Laederich Memorial Fund
The Lucy Laederich Memorial Fund was established in February 2019 to honor and perpetuate the advocacy of the late Lucy Stensland Laederich, FAWCO Counselor and longtime FAWCO US Liaison, on behalf of overseas Americans.