FAWCO Target Program 2016-2019
Education - Empowering Women and Girls
through Knowledge and Skills
FAWCO Target Project

The FAWCO Target Project is a 2-year investment by the FAWCO Community to empower women and girls. On April 1, 2017, Hope Beyond Displacement was announced as the 2017-2019 Target Project for Education at the FAWCO Biennial Conference in Mumbai, India.
The FAWCO Foundation's Backing Women Fundraising Campaign supported fundraising for the Target Project: Administering funds raised by individuals and clubs at local and regional events; Raising money through sales in their Backing Women Boutique, raffles and auctions; Conducting giving campaigns, like matching grants. With the original fundraising goal of $125,000 thrashed in the first year, a new goal of $173,000 was set. In true FAWCO fashion, that goal was exceeded too! In the end, over
$190,000 was raised for the FAWCO Target Project, Hope Beyond Displacement.
Hope Beyond Displacement aims to build better futures through education, vocational and leadership training for refugee women and girls in Amman, Jordan. It is an initiative of the Collateral Repair Project (CRP) designed to address the pressing issues identified in close consultation with the women they serve. Programming launched in the late summer of 2017 and will continue through until the early fall of 2019. Please continue reading to learn more about this incredible project and follow its progress.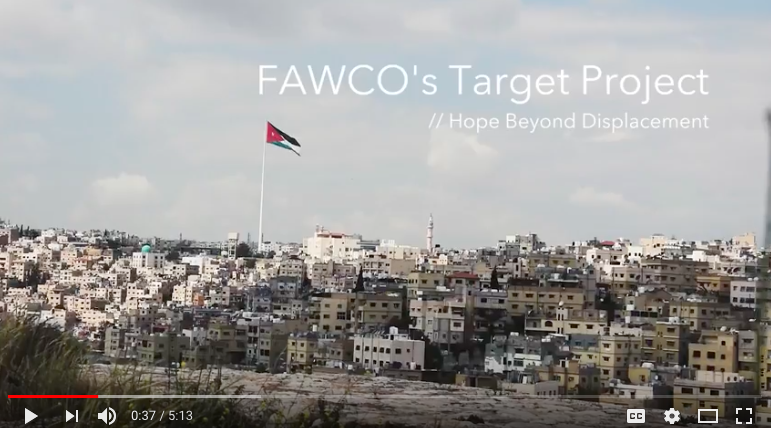 Located in Amman, Jordan, Collateral Repair Project is a grassroots effort to bring much-needed assistance to refugees and other victims of war and conflict - those commonly referred to as "collateral damage". They operate numerous programs focusing on community building, education and emergency aid.
More than one-third of school-aged Syrian children registered with the United Nations refugee agency in Jordan (over 80,000 out of 226,000 children) were not in formal education during the 2016/17 school year.

Refugees may not work in Jordan, contributing to the more than 86% of Syrian refugees living there in poverty.
Displacement, loss of status and control over life choices, and the fact that most refugees are forbidden from working, all contribute to a sense of hopelessness and lack of empowerment particularly for women. While displacement forces them to negotiate new and difficult roles, they are often hindered by their lack of confidence in their ability to effect change and commonly face increased risks due to harmful coping strategies they or their spouses may adopt which often contribute to family violence. Hope Beyond Displacement addresses four pressing issues identified in close consultation with the women CRP serves:
1. ensuring better educational support for their children
2. accessing sources of income through vocational training
3. better managing the threat of violence in their families and
4. learning and developing leadership and advocacy skills



The project addresses these issues through targeted training and educational programs, and through tangible opportunities for advocacy and leadership. To ensure the sense of ownership and investment that will be integral for the longevity, sustainability, and success of the project, community members will be involved at every stage.
YOUR DONATIONS WILL FUND

Girls' Education - enrollment of 100+ girls in school each year and 120 girls in the SuperGirls after school enrichment program.
Women's Vocational Training - 120 women will complete the International Computer Driving License (ICDL) computer skills training, and 45 women and girls who have their ICDL will be taught computer coding. In addition, 60 women will complete an economic empowerment program which provides training in cosmetology and self-employment skills. Providing 180 women skills to generate income!
Women's Leadership - participation of 160 women in the Women's Empowerment 101 Program and 160 men and youth in gender-based violence training; 20 will continue on in Training the Trainer workshops; 90 women, men and youths will participate in the Leadership in Action program.
Together, the FAWCO community acheived the original fundraising goal of $125,000 by April 2018! So over the summer, a new goal of $173,000 was set.
This additional funding supports:
The participation of 30 more women in the Economic Empowerment program for hair styling, beauty and self-employment skills

Renovation of the CRP playground

The launch of the After School Club at CRP's new community center in downtown Amman, reaching more refugees' children

Translation of the Super Girls curriculum into Arabic to ensure it can be used in the future by all CRP staff

Creation of a dedicated space for women to learn and train

And much more!

10-minute introduction video by Amanda Lane, Executive Director of CRP
explaining their work and the impact FAWCO support will have on those they serve. [Spring 2017]
Target Project Updates
Project Updates were reported in the monthly Target Bulletin and in a quarterly blog post from Executive Director, Amanda Lane.
Here are links to both: Target Bulletin Archives; Education Blog, Let's Get Schooled
Scroll down to find the Annual Reports, Monthly Reports and more video.
Past Events
Target Project Site Visit in April 2018
World Refugee Day - June 20th - "We Came by Choice; What if it were by Force?"
Our Target Project, Hope Beyond Displacement, seeks to build better futures for refugee women and girls.
Let's show our solidarity! We invite all FAWCO and FAUSA members to raise awareness!
Looking for something else? Contact: Tricia R. Saur, Target Chair at
---
Annual and Monthly Reports / Video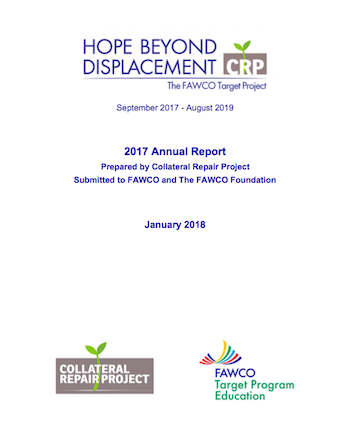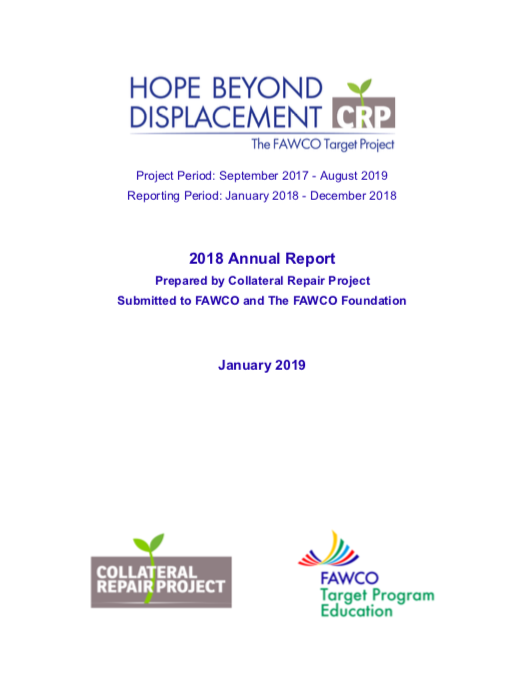 2017 Hope Beyond Displacement 2018 Hope Beyond Displacement
Annual Report Annual Report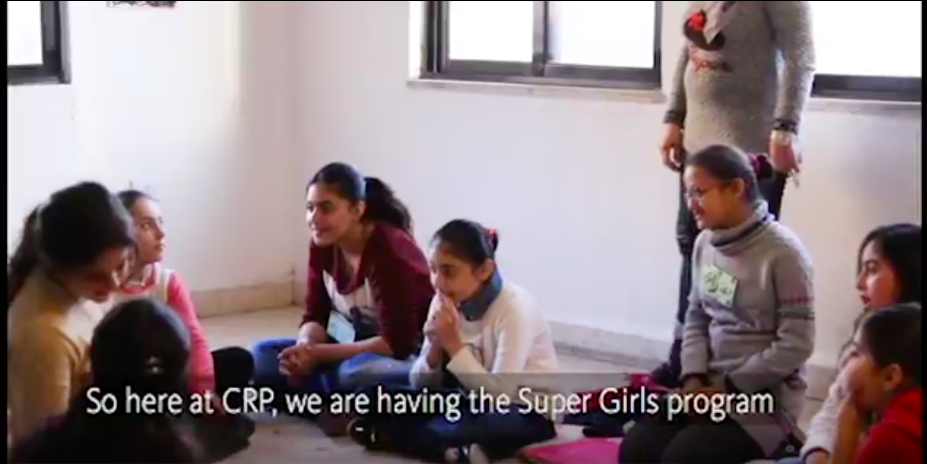 Super Girls Video on Youtube - January 9, 2018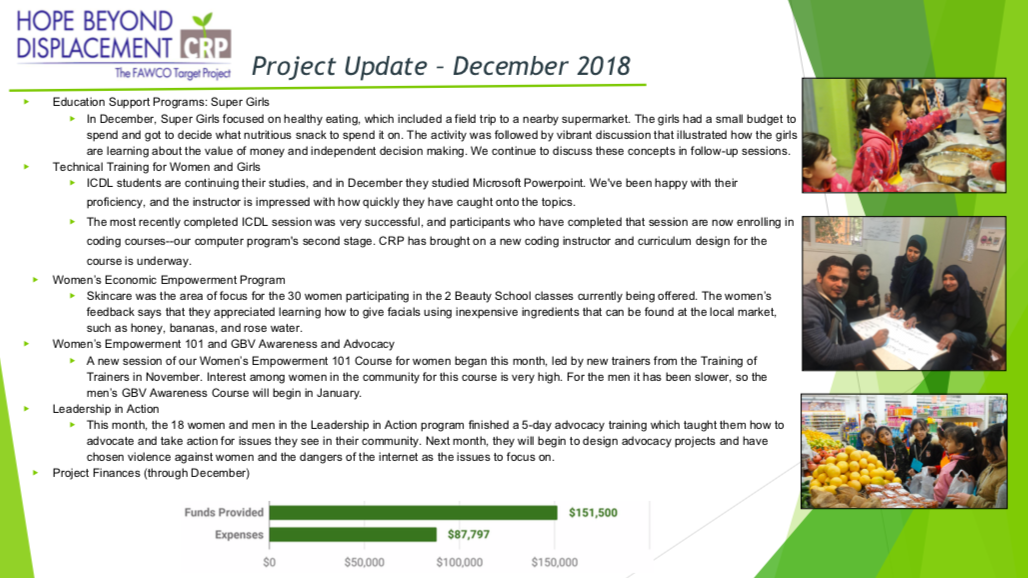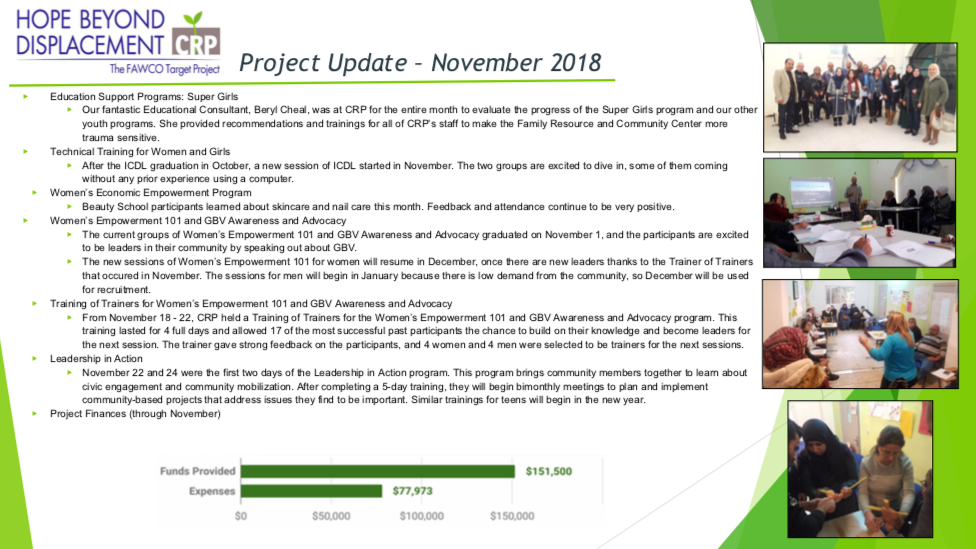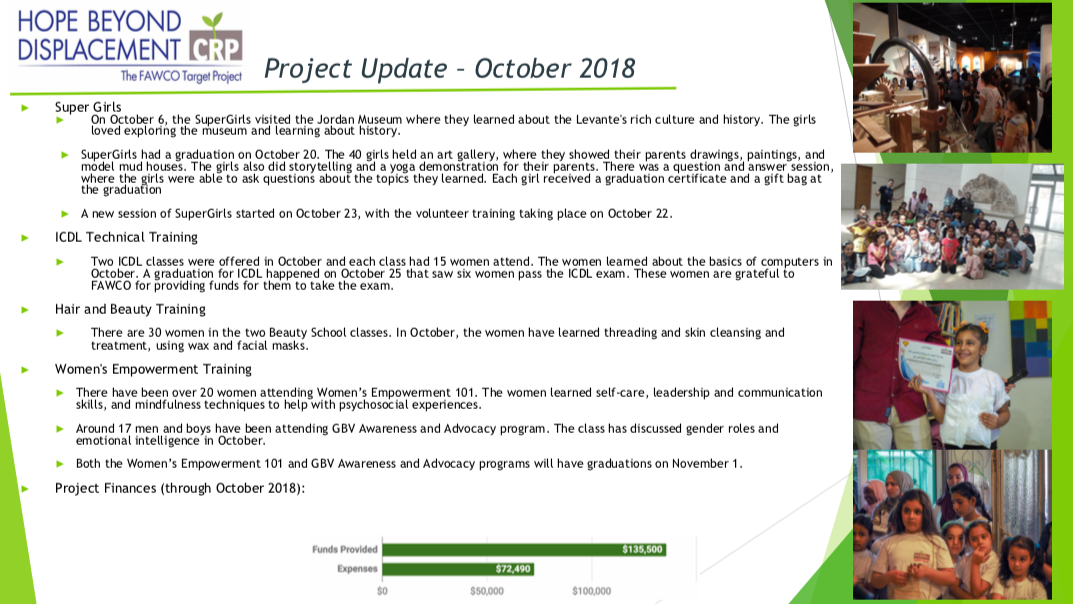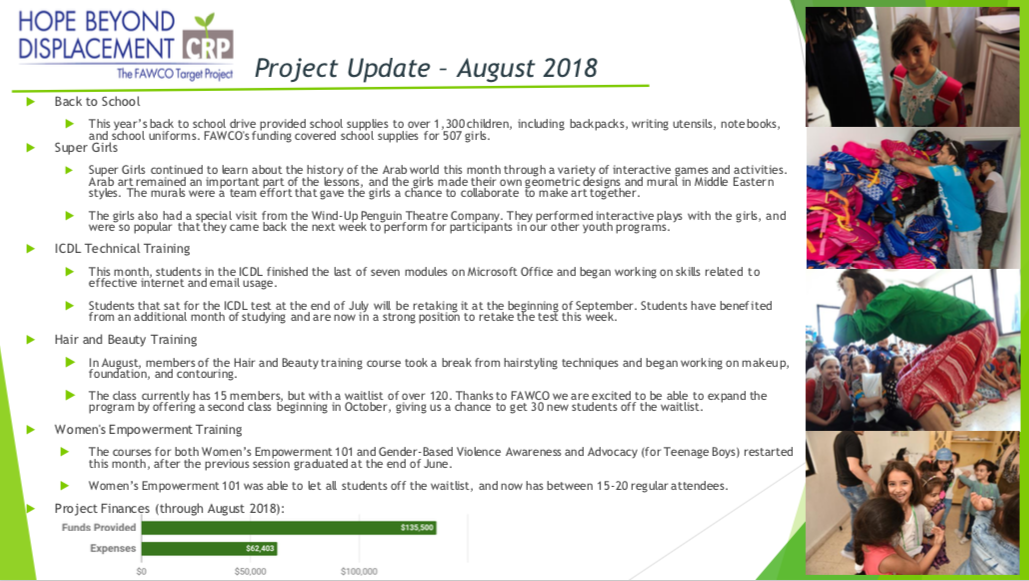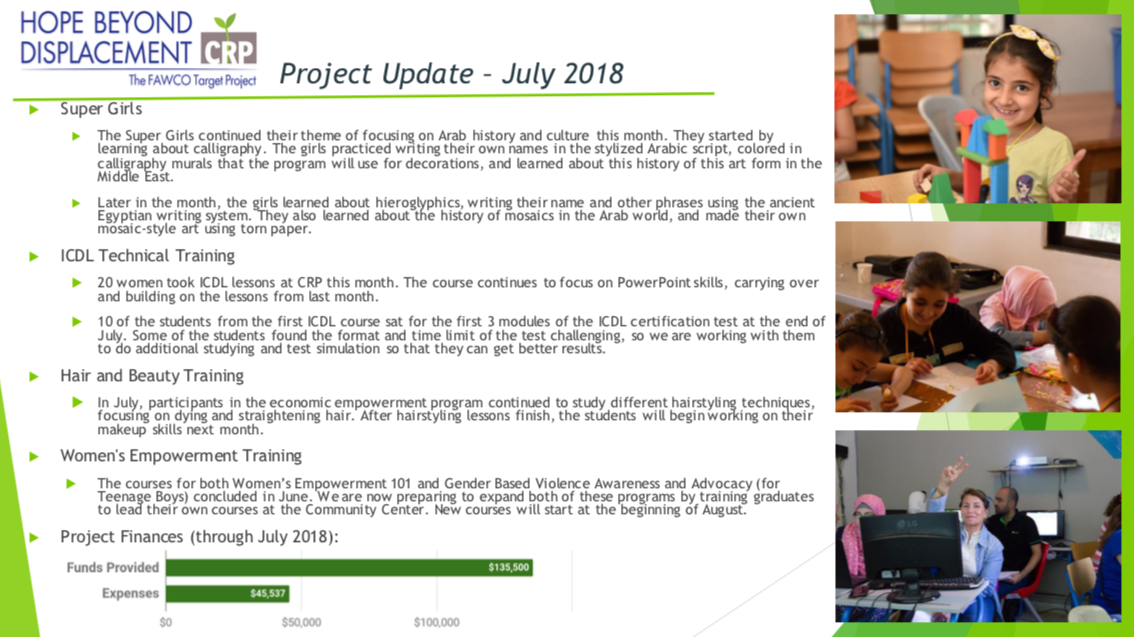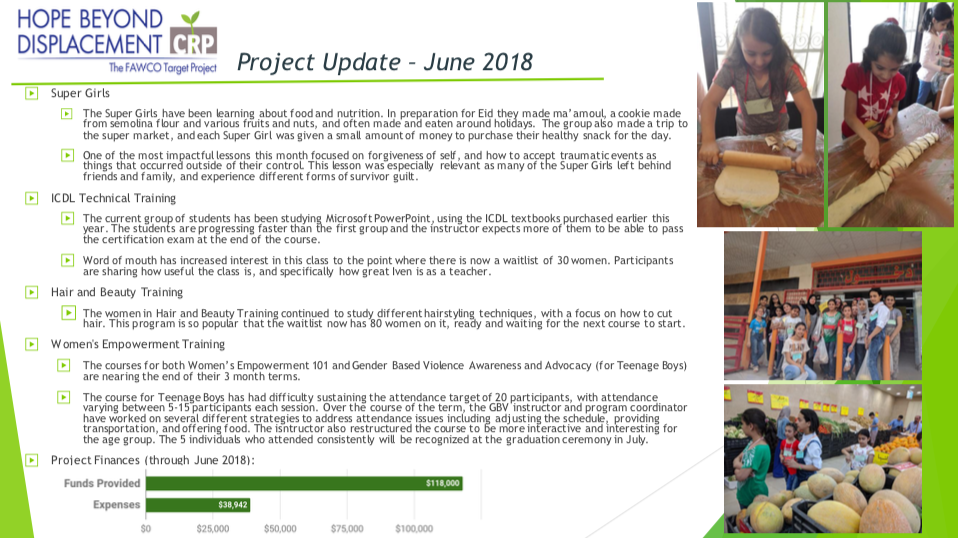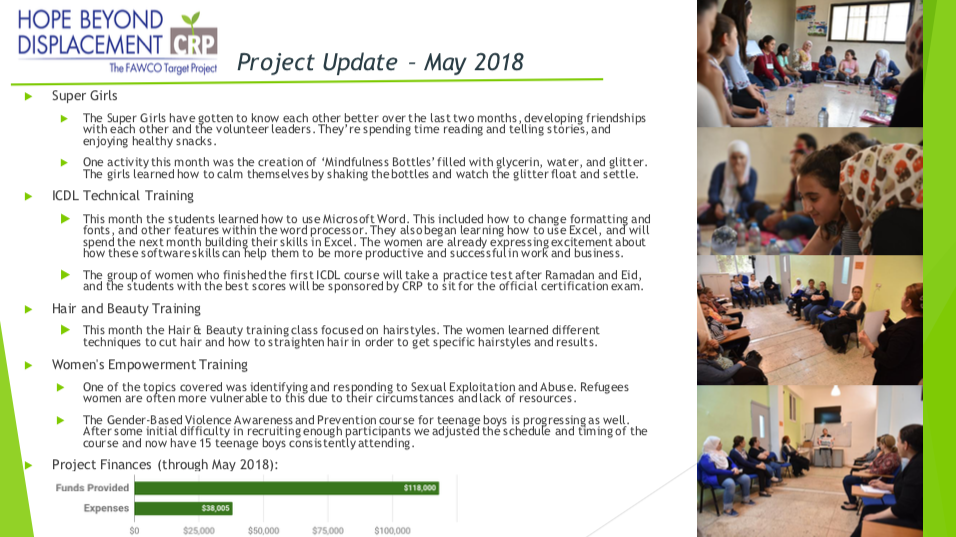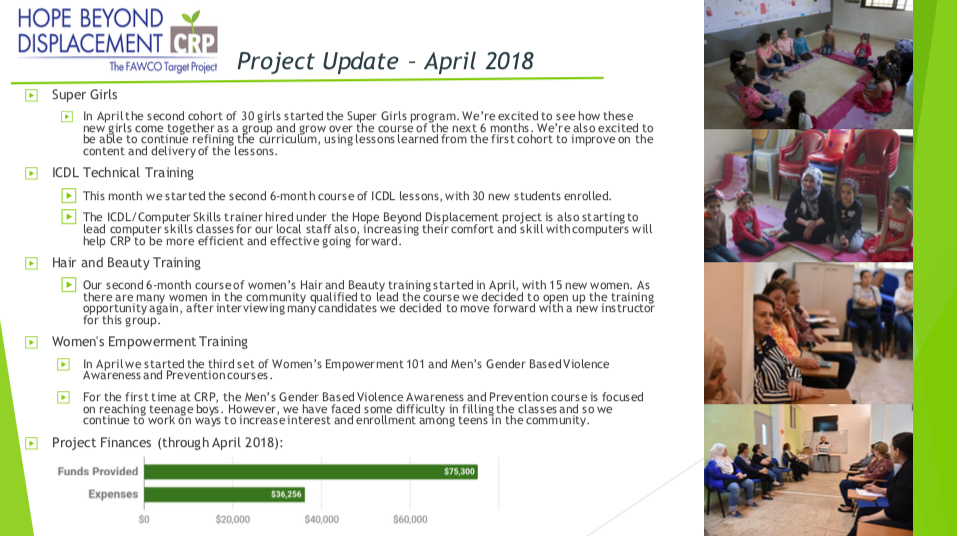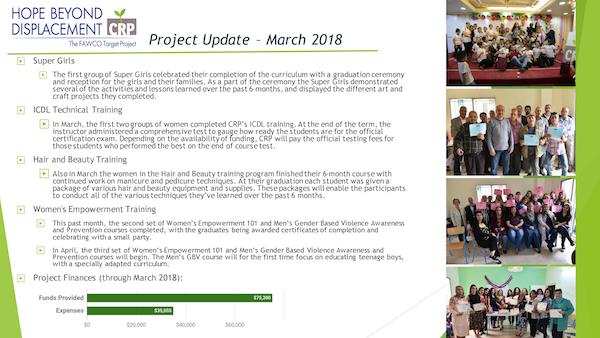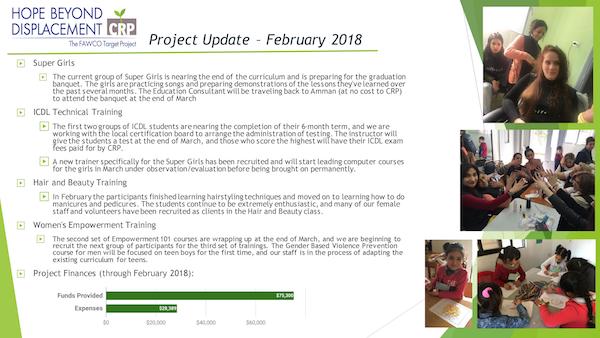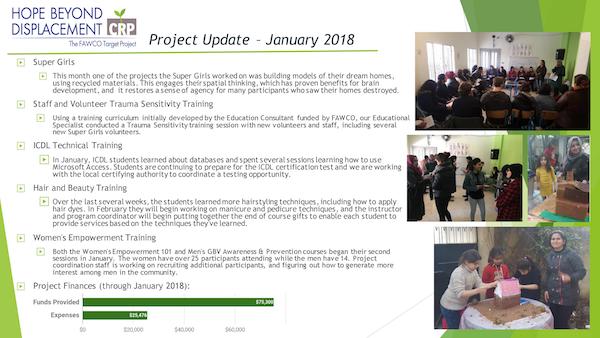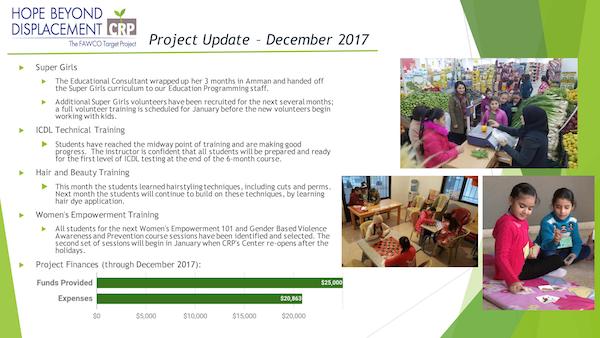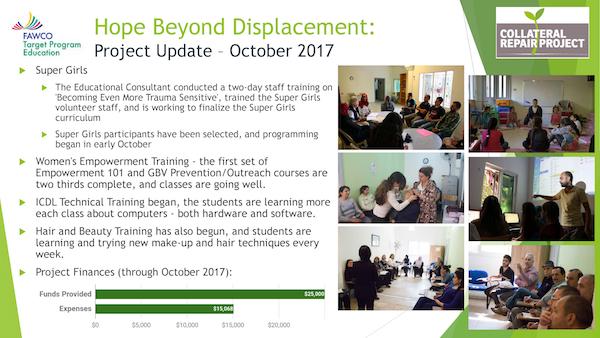 ---
Summary of Project Selection
In May 2016, a call for applications was made for the 2017-2019 FAWCO Target Project. By the September 30th deadline, eighteen applications had been submitted. A seven-member Selection Committee comprised of a cross section of FAWCO members reviewed each proposal. The committee announced a shortlist of three projects on January 6, 2017 and Member Clubs cast their votes in February 2017. Hope Beyond Displacement, was announced as the new Target Project at the FAWCO Biennial Conference in Mumbai, India on April 1, 2017.