The World Health Organization (WHO) created a calendar of observance days/weeks with the aim of creating awareness and understanding about health issues and to mobilize support for action on an individual basis, or in organizations or broader society. The topics vary hugely and span numerous disease/illness areas that are addressed throughout a calendar year, whether they be Alzheimer's Dementia or Zoonosis. The WHO decided to focus on the following nine topics:
March 24: World Tuberculosis Day
April 7: World Health Day
April 25: World Malaria Day
April 24-30: World Immunization Week
May 31: World No Tobacco Day
June 14: World Blood Donor Day
July 28: World Hepatitis Day
Nov 12-18: World Antibiotic Awareness Week
Dec 1: World AIDS Day
What you can do: Use the World Health Organization's list of observance days as a guide in planning health-related activities and communication with your club.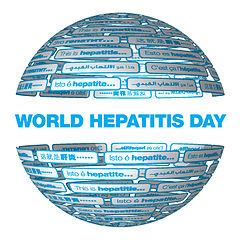 Hepatitis will be the focus on July 28, with the aim of creating awareness around the devastating effects of hepatitis infections. Hepatitis is an infectious disease that is often overlooked in lieu of HIV/AIDS, tuberculosis or malaria; it results in the death of over 1 million people per year and is the leading cause of liver cancer. Vaccination against hepatitis is available, but not universally, with the outcome that people continue to spread the disease without knowing that they are infected. The elimination of hepatitis remains an important goal to health authorities. http://www.worldhepatitisday.org
Join in for better health!
Fun to Know
For a listing of all observance days instituted by the UN and its agencies, visit Global Observances 2019.