Guidelines and Application Material for Target Project 2014 - 2016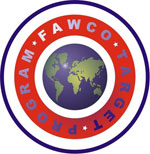 FAWCO and The FAWCO Foundation are seeking to identify a project which addresses the Target Issue: Human Rights for Women, in particular one which protects the rights and improves the lives of women worldwide.
We are seeking applications for projects which focus on women's rights as human rights, including but not limited to, those which promote peace and end gender-based violence, increase civil and/or political participation, increase economic opportunity or promote social change.
Project applications may be submitted by FAWCO Global Teams, FAWCO Member Clubs and individual members, and FAUSA and its members by September 30, 2013.
Click here for Detailed Target Project Guidelines and Selection Criteria.
Click here for The Target Project Application. You may download the file and use it to complete your application.
If you have any questions about the Target Program or the project application process, contact Johanna Dishongh, Target Chair, at .