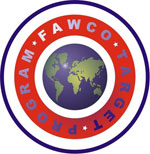 An important component of the Target Program is awareness-raising around the Target issue: Human Rights for Women. We will be sharing information, articles and web links on a range of related issues, with emphasis on four areas: Economic Empowerment for Women, Political Empowerment for Women, Women, Peace and Security and Ending Violence against Women. See below and check back often as we will continue to update links to presentations, videos and articles.
We have developed a 30-minute presentation which you can share with your club members. The Powerpoint presentation is available HERE. The suggested SCRIPT to accompany the presentation provides more details. You can also use this information in your club publlications, to spread the word about the Target Program and Human Rights for Women.
Here is a link to a VIDEO produced by UN Women (FAWCO is a member of UN Women, the UN's focal point for gender equality and women's empowerment).
Here is a link to a video of Target Program Chair Johanna Dishongh making the Target Awareness Program introduction presentation at the Region 3 meeting in Paris on September 28, 2013. You can show this video at a club meeting, or contact Johanna at to arrange for a club workshop on the Target Program.
And here is a short article by the former acting Director of UN Women, entitled "A Global Goal on Gender Equality, Women's Rights and Women's Empowerment"
Stay informed! Sign up to receive future Target Bulletins here.