3-Day Site Visit to the FAWCO Target Project, Hope Beyond Displacement
Plus a 5-day tour through Jordan exploring cultural and historic sites,
and visiting programs focused on women and girls
April 6-15, 2018

The FAWCO Target Program is offering a unique travel opportunity to FAWCO and FAUSA members: the chance to meet the beneficiaries of our Target Project, Hope Beyond Displacement, and learn about the important work Collateral Repair Project is doing.
We will be an intimate group of 21 individuals representing FAWCO, FAUSA, and The FAWCO Foundation, with members from as many regions as possible! It will be a chance to make new friends, experience a new culture and learn. Participants will return to their clubs and regions ready to share their new knowledge and promote the Target Project.
This is a package arrangement, meaning members will participate in BOTH the 5-day tour and the 3-day program. Participants will first travel throughout Jordan seeing historical sites and visiting programs supporting women and girls to gain a cultural perspective and understanding of the society. The group will then spend three days in Amman, Jordan with daily visits to Collateral Repair Project (CRP): participants will meet the beneficiaries of the FAWCO Target Project, Hope Beyond Displacement; learn about the experience of urban refugees in Jordan; and see how CRP is addressing the community's needs with a holistic approach through education.
In the following sections you will find all the information you need to decide whether or not to sign up - so please read everything, then if you have questions, do not hesitate to ask!
What will we be doing?

Here is the itinerary for the 5-day tour of Jordan:
Saturday, April 7th
We will depart Amman for the Biblical city of Anjara, where we plan to visit a girls' orphanage. This will be followed by a stop at Jerash, the site of the ruins of the Greco-Roman city of Gerasa, also referred to as Antioch on the Golden River. The day will end by the Dead Sea.
Sunday, April 8th
We'll have a late check-out and then travel to Mount Nebo, the mountain top memorial of Moses, followed by a short drive to Madaba where we'll enjoy a walking tour of the "Mosaic City." We will enjoy lunch at Hikayet Sitti Local House, an old house in Madaba converted into a restaurant that serves traditional homemade Jordanian dishes cooked and served by local women. Before heading to Petra, we will visit the Bani Hamida Women's Weaving Project. The day will finish with a cooking class, followed by dinner at Petra Kitchen Restaurant.


Monday, April 9th
We will spend the day in Petra - "a rose-red city half as old as time" - John William Burgon (poet). UNESCO describes it as "one of the most precious cultural properties of man's cultural heritage." The impressive eastern entrance leads steeply down through a dark, narrow gorge called the Siq ("the shaft"), a natural geological feature formed from a deep split in the sandstone rocks and serving as a waterway flowing into Wadi Musa. At the end of the narrow gorge stands Petra's most elaborate ruin, Al Khazneh (popularly known as "the Treasury"). We will have an early dinner to allow time for an optional tour of Petra by Night - when the Siq is lit with thousands of candles.


Tuesday, April 10th
After a late check out, we will drive to visit Little Petra (which is white, rather than red), before heading to Wadi Rum. Wadi Rum is known as The Valley of the Moon. It was inhabited by many human cultures since prehistoric times with many cultures, including the Nabateans, leaving their mark in the form of rock paintings, graffiti and temples. We will tour the main sites in Wadi Rum Desert by jeep and will spend the evening "glamping" (glamorous camping) at SunCity Camp.


Wednesday, April 11th
After breakfast, we'll head back to Amman and tour the city. We will visit the enchanting Citadel, which has stood since the ancient times of the Ammonites, and the fascinating Roman Theater and Nymphaeum that reflect the historic legacy of the city. We'll walk downtown and visit the Gold Souq, spice shops and vegetable market.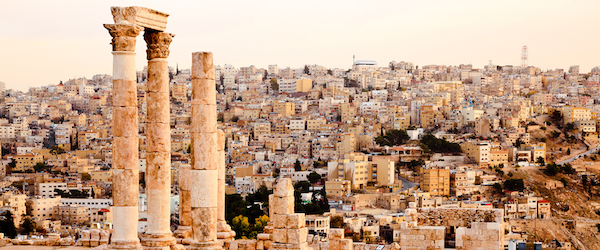 Here is a summary of the 3-day program we are planning for the visit to the Target Project, Hope Beyond Displacement:

Thursday, April 12th

We will receive an orientation to Collateral Repair Project (CRP) and meet the staff. After lunch, we will break out into smaller groups to meet with beneficiaries and women leaders from the center. The day will end preparing and sharing a meal together with CRP families.


Friday, April 13th
We will return to CRP and explore specific topics like "challenges for education/schooling" and "the service model, how providing refugees with service opportunities builds their resilience." In the evening, we will enjoy a wine reception and mezze at the home of Amanda Lane, Executive Director of CRP, with a lovely view of Amman.


Saturday, April 14th
We will have opportunities to visit kids' activities, teen groups, girl scouts, etc. followed by lunch at the CRP Community Center. We'll take the late afternoon to enjoy some local shopping.
What's covered?


$1510 for a shared room (+$555 for a single): 5-day tour and accommodations for the full stay (April 6-15, 2018) - Arrangements made through Cox & Kings. Once a member's registration is confirmed, they will be directed to Cox & Kings to sign up for the package.
The fee includes: all tourism, hotels for nine nights (inc. breakfast), four dinners, and two lunches. We will travel in an air-conditioned bus with a private English-speaking guide. During the 5-day tour, each participant will be provided water and an audio guide system; this will make it much easier to hear the guide! In addition, tips for the tour guide, bus driver, hotel staff/porters, and local restaurant are included. Professional Indemnity and Public Liability Insurance Coverage is also provided. Further details will be provided by Cox & Kings.
NOTE: The rates for Cox & Kings are inclusive of all taxes and based on current entrance fees and fuel charge applicable at the moment. In case of any increase announced by the government, the rates will change accordingly and you will be informed immediately.


$200 Program Fee - will cover program materials, lunches, two dinners and partial offset of organizers' expenses. Any surplus will be donated to the Target Project. Due to the cash economy in Jordan, this fee will be payable in cash upon arrival in Jordan to one of the organizers.
What isn't covered?


Flights - Members will make their own arrangements to arrive in Amman, Jordan by April 6, 2018. Departure can be scheduled for Sunday, April 15th.


Travel Insurance


While most meals are included, we left room in the schedule to allow for some flexibility of choice. There are three lunches during the 5-day tour which are open. Restaurant suggestions will be given for three evenings in Amman with the idea that smaller groups can make plans.

Extra money will be needed for beverages during most meals, as well as any personal expenses. There are a few excursions where tipping will also be required.


Optional services:
Camel ride in Wadi Rum - $33pp per hour

Petra by Night - $33pp

Details for the following services will be provided by Cox & Kings:
Meet and Assist on arrival or departure by English Speaking staff (includes visa)
Arrival and departure transfers to/from airport in Amman
Things to Know

Due to limited space and our program goals, this is a members-only opportunity.


As you can see from the itinerary, we will be walking a bit and there will be terrain that involves steps and inclines which will not always be smooth. Participants may opt to skip particular segments of the program at their own discretion.

Alcohol will be available at some hotels and restaurants, but not all.
How do I sign up?


Registration opens October 16th at 1:00 pm CEST. At that time, you can sign up by clicking:

Your registration will be time-stamped, so we will know the order in which people sign up. Why is this important? Because we have a limited number of spaces, 21 to be exact! In addition to the three organizers, five spots have been reserved for the three Boards (FAWCO, FAUSA and The FAWCO Foundation). The remaining 13 spots will be allotted on a first come, first served basis with the following preferences: those who have not had the opportunity to visit CRP previously and our goal to have each Region represented.


Registration will officially close at midnight October 31st (your time zone). However, you may sign up after this date and be placed on the waitlist.


All applicants will be notified on November 6th, either with confirmation of their participation and instructions on how to sign up with Cox & Kings OR with a regret and waitlist status (we will do our best to make substitutions should anyone withdraw).
Who are the organizers?

Tricia R. Saur, Target Chair (AIWC Cologne)
Therese Hartwell, Human Rights Team Chair (FAUSA)
Julie Mowat, FAWCO Rep (AWC The Hague)
Wait! I still have questions!

No problem, you can direct any questions to Tricia R. Saur at

.