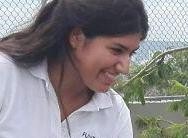 By Maryam Khoshoei, AIWC Cologne, FAWCO Youth
Maryam participated the 3rd FAWCO Youth Cultural Volunteers Program traveling to Mumbai, India in the summer of August 2015. Today, Maryam is 20 years old and studying Gender and Diversity at the Rhine-Waal University of Applied Sciences in Cleves.
---
Living abroad has been a life changing experience for me. I was born in...
Tricia Saur