For many years, the Human Rights Team has encouraged FAWCO/FAUSA members and groups to participate in activities to celebrate International Women's Day. This year, numerous individuals and groups planned and/or participated in IWD activities. Congratulations to everyone for taking the time to honor women around the world.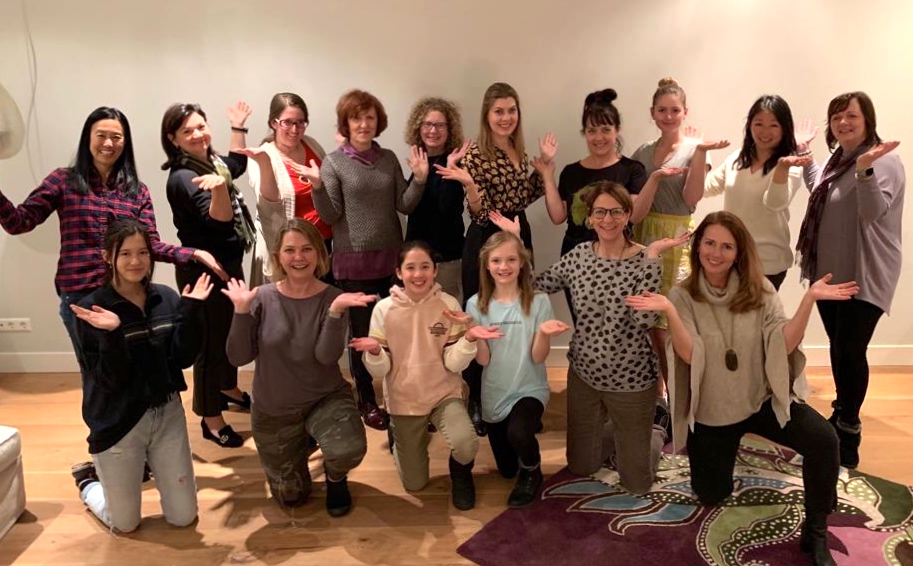 A dozen AWC Amsterdam members and their daughters gathered on International Womens Day to watch the film Miss Representation. While the film is somewhat dated, it is still shockingly relevant and eye-opening. The discussions afterward were lively, ranging from a mother's feelings of how her sons get a bad rap and all men are not bad to how a 10-year-old girl who is both smart and a soccer star is treated by the boys at school. Attendees shared experiences ranging from decades ago, when one of us was warned not to let anyone see her cry as she began her law career; to an incident that occurred last month in the States, when a member's daughter-in-law returned to work after giving birth and was eyed by a male superior who said "You don't look like you just had a baby;" to the woman who returned to work after the birth of her third child and was asked (by a woman) how it felt to be on the "mommy track" - as if she were now a lesser colleague. The good news is that their high school-aged children are often in literature classes discussing gender bias in media and literature - and we are having these discussions. The group also struck the pose for #BalanceForBetter. The next plan for AWC Amsterdam is to bring their male partners and their sons to watch The Mask You Live In, which addresses the way gender norms affect men and boys, a topic which doesn't get discussed as much as the impact of gender expectations on females.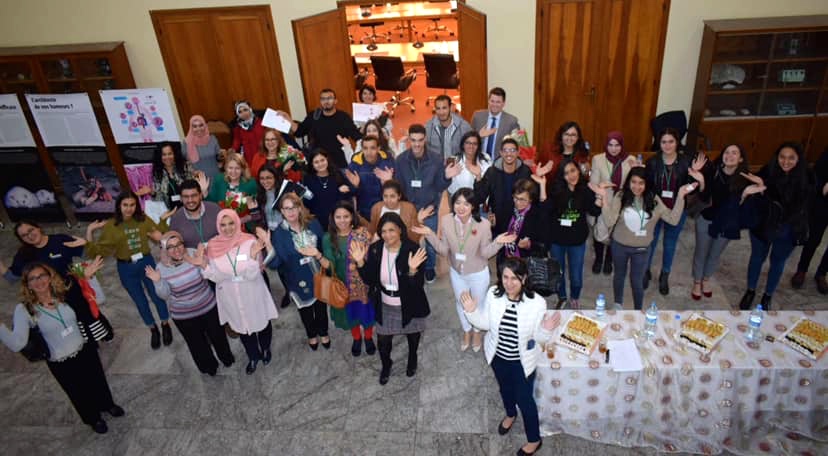 AIWA Rabat celebrated International Women's Day with young Moroccan students and community leaders. A panel of speakers discussed how to eliminate cultural and social obstacles to help women achieve their career goals, equal pay for equal work, and how to balance study and internship. The group also posed for a #BalanceForBetter photo.

Panelists included:
Carrie Monahan, Deputy Resident Country Director for Millenium Challenge Corporation, a US Government agency which works to reduce poverty through economic growth;
Sara Chetoui, an international expert in infrastructure and territorial intelligence with more than 13 years' experience in the public sector and other fields (technical, administrative, financial, legal, strategic and public policy);
Danielle Kebbon, an interior and landscape architect, with 16 years of experience in Beirut, Geneva and Stockholm;
Fatima Agnaou, Director of Research at the Royal Institute of Amazigh Culture in Rabat, Morocco and member of the editorial board for the organization's Journal ASINAG, who is also the general secretary for the Moroccan Women's Assoication for Mentoring and Networking and the author of publications on women's empowerment in Morocco; and
Maha Ech-Chef, a country leader at Enactus, Morocco who is particularly interested in how technology and entreprenuership can bring positive change and is the co-founder of the first Google Business Group in Morocco.
#IWD2019 #Internationalwomensday #balancedforbetter2019
To celebrate International Women's Day, FAUSA Houston joined Dining for Women for an Indian-themed dining event. Sharing similar interests with FAWCO/FAUSA, Dining for Women is a global giving circle dedicated to transforming lives and eradicating poverty among women and children in the developing world. After dinner and drinks, we welcomed a special guest who performed a series of Indian dances: Sowmya Balasubramani is also a volunteer Indian chef at A Brazen Table, a training program for survivors of human trafficking to help them thrive in the hospitality industry and beyond. Next, we welcomed Stephanie Hernandez from United Against Human Trafficking and CARE, who performed a series of beautiful costumed dances from the Mexican state of Vera Cruz. The presentation was given by Sandy Lease from Dining for Women, who has served on their national grant selection and
finance committees. Dining for Women's current grantee is Her Future Coalition, which focuses on marginalized women who have experienced human trafficking and gender-based violence and seeks to expand the services of three Red Light Area Resource Centers in Kolkata (Calcutta) in order to provide the women with job training, employment, counseling and informal education, and their children with education, counseling, safe spaces and therapeutic arts. We had a lot of fun closing the event with henna tattoos, Rangoli painting and learning an Indian dance. It was an unforgettable evening celebrating the power of women with old and new friends. Our measure of success is that many young people who attended expressed an interest in participating in future FAUSA events and supporting our causes.
Participants in the Region 9 Conference were caught "Backing Women" in Lebanon. Pictured are Hope Moore, Louise Greeley-Copley, Sallie Chaballier, Meenakshi Advani, Tracy Moede and Sziszi Charbaji.
The American Women's Group of Languedoc Roussillon (AWGLR) had fun celebrating International Women's Day at the bowling alley. There were a couple of strikes, a few spares, several gutter balls and lots of laughs as we shared this special day together. Members of three nationalites were present, including AWGLR president Rachel Michel and event organizer Michael Cuaz.
Members of AWGLR also participated in a Join Me on the Bridge event in Montpellier, organized by Maggie Palu and the Montpelier British Cultural Association (BCA), at a foot-bridge across the Lez. Although Maggie was not able to attend because she was in Germany, she flew back from Hannover to Paris-CDG on IWD on an Air France flight that was entirely operated by women - in the cockpit and in the cabin - one of three all-women flights that day. Air France actually awarded Maggie a certificate - perhaps because she applauded when they announced at take-off that they had an all women crew in honor of the International Day for the Rights of Women. BRAVO to Air France for making the effort to recognize women - and to Maggie for finding a way to observe IWD no matter where she is.