On Thursday February 28, the AWC Hamburg celebrated National Women's History Month with a lively panel discussion at the America Center Hamburg. The event was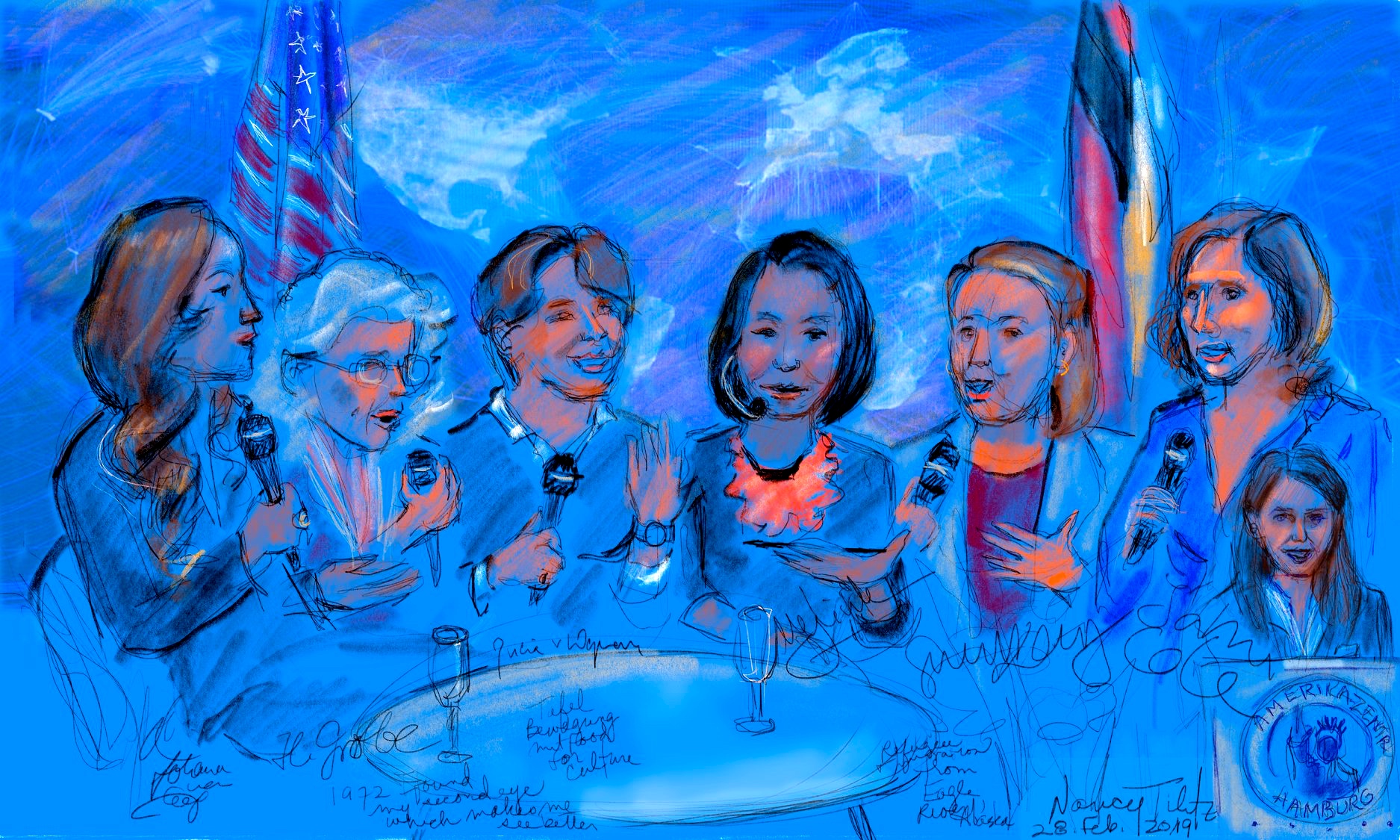 co-organized by the club, the America Center and the US Consulate General Hamburg, and was organized to reflect this year's theme, Visionary Women: Champions of Peace and Nonviolence. AWC President Carol Strametz introduced the event, reminding us of the goal of National Women's History Month, to "write women back into history." Kathrin Yoneoka, the AWCH's honorary president, picked up on Carol's comment, making reference to Katherine Johnson, the NASA mathematician whose achievements were not recognized until late in her life, and added the story of Helene Lange, a German feminist, politician and champion of women's rights. Drawing at right by Nancy Tilitz.
The panel consisted of five "visionary women" who are engaged in various activities and work in different fields—from activism to television—and have a shared goal of driving positive social change. Each of the panelists discussed her work with the moderator, FAWCO Counselor My-Linh Kunst, and it was clear that each of them had found her "cause" as a result of her personal experience, a clear illustration of the rallying cry "the personal is political."
Panelist Johanna von Coburg, a TV moderator, works to promote awareness of the challenges around migration, racism and equal opportunities, and is especially proud of her work focused on improving the self-esteem of young black women and girls. Although Johanna said that she never faced discrimination growing up in a German town where her father was the only black person she knew and she and her siblings biracial, she feels compelled to help others because "life is good to me, so I give what I can to other people."
Heidemarie Grobe has been working as an activist for women's rights for decades, in particular combatting religiously and culturally motivated practices that lead to violence. She described her experience of growing up in a traditional patriarchal society in Germany in the 1950s and her growing anger over the violence against women and girls around the world. After training as a sociologist, Heidemarie sought out other like-minded women, which led her into her work as an activist at Terre des Femmes, among other organizations.
Susanna Kelly-Shankar, the youngest member of the panel, grew up in Alaska, and talked about the problems of sexual assault and domestic violence faced by women in her home state, as well as the impact of the climate crisis upon Alaska. Susanna began getting involved in the refugee crisis in Europe after moving to Munich with her husband and seeing how easy it was for her, as an American, to get a visa to stay in Germany as compared with others fleeing violence and turmoil. She worked at a refugee camp in Greece and works now as a freelance writer to draw attention to the issues she believes in.
Julia von Weymarn's inspiration to start multiple organizations that help others participate in society stems from her experience of "fighting to participate." When Julia was studying cultural management, she realized that she couldn't afford to attend most of the city's cultural events and began discovering how many free offerings there were. This discovery led her to found KulturLeben e.V. Later, when she was working at the Hamburg Kunsthalle, she saw the hordes of refugees spending time near the main train station and, with the goal of building bridges, she started St. Pauli leetHub e.V., an initiative that taps into the entrepreneurial potential of refugees, helping them connect to and participate in German society.
This entrepreneurial engagement has also driven Sabine Cole, a cofounder of Chickpeace, a catering service run by refugee women, who has a close friend from Aleppo.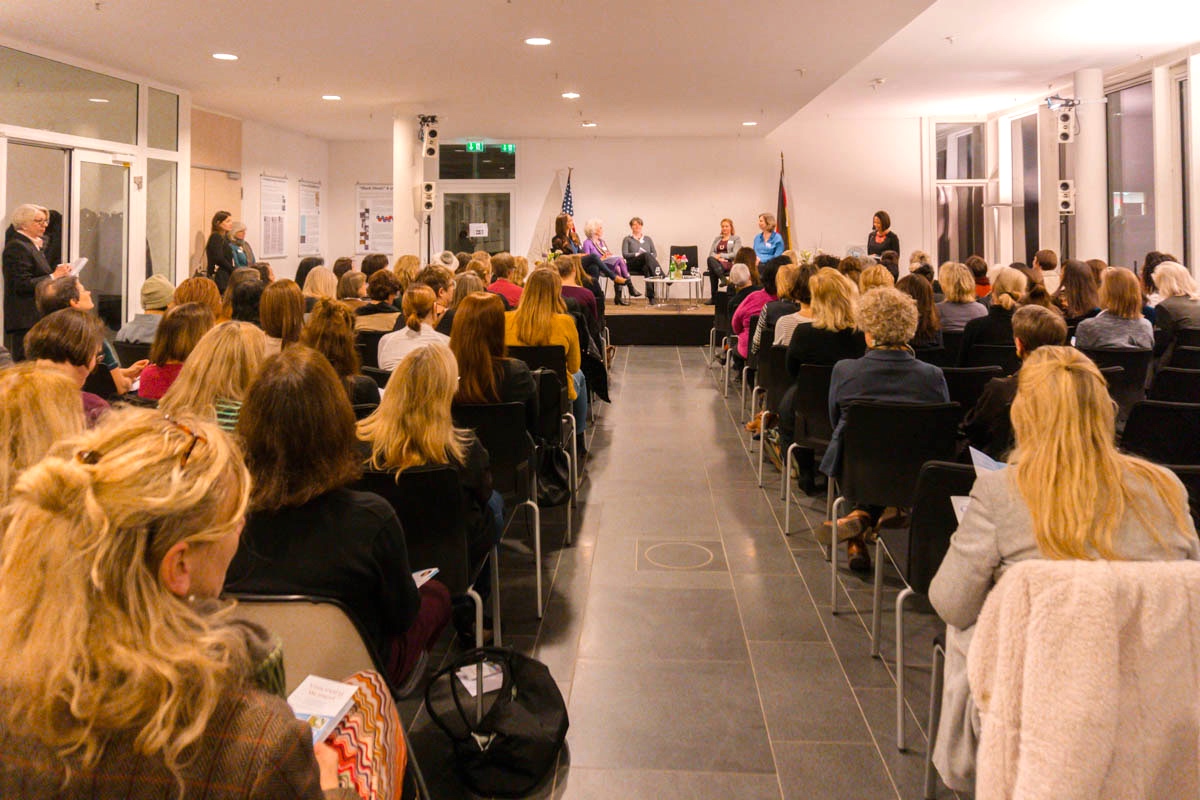 When her friend described the destruction of her home city as a result of the Syrian civil war, Sabine was motivated to organize a business endeavor with the sense that the best way to integrate people into society is through work. Sabine also works as a journalist, using her writing skills to promote the causes that matter to her.
The panelists, led by My-Linh Kunst's thoughtful questions, addressed both the frustrating and satisfying elements of their work, as well as issues that affect their ability to successfully champion social change. Sabine spoke eloquently about being inspired by the dynamism of youth activism, in particular the young Swedish climate-crisis activist, Greta Thunberg, who has convinced Sabine to no longer fly within Germany. Sabine reminded us that in order to bring about change, patience is essential because progress comes slowly. Heidemarie reiterated that point from her perspective as a life-long activist who has learned that "nothing changes overnight," and highlighted the importance of doing the work and the fact that things happen in little steps. She defined success as having a positive impact upon one person, who can then work to spread change as well.
Julia expressed frustration with the "system" and the hurdles that her Vereins encounter when trying to find ways for disenfranchised people to contribute their potential to society. She also addressed the cultural specificity of views on gender, pointing out that many refugees have different views on the roles of women in society, which is an additional struggle. Johanna spoke about the positive and negative effects of the media, which allows everyone in society to participate, yet therefore also provides a platform for hateful speech. She talked about the frustrating need to participate in social media in order to promote herself and the organizations she supports, because of the "fake world" that emerges on social media. Susanna also addressed youth activism, both the positive spirit and the potential for "clicktivism" (participating from their sofas through social media makes people think they are actually engaging). She emphasized the power of microfunding for causes and organizations that people believe in, especially for young people who have limited financial resources to give to causes they support.
The panel discussion was energetic, and My-Linh enthusiastically engaged all of the panelists and managed to pack a lot of ideas into the conversation. The discussion wrapped up with questions from the audience, including one about why only a handful of men were present in a room with about 100 women! I think this is an important point, as change will only happen for society as a whole when women and men participate together. Luckily, we have inspirational "visionary women" to lead the way and help identify the work that still needs to be done, both to "write women back into history" and to continue their commitment to the goals of education, empowerment, equality and inclusion.
The event was rounded out by a fantastic buffet, organized and provided by AWC Hamburg volunteers. Panelists and guests mingled for a long time afterward, encouraged by the delicious handmade dumplings, wraps and meatballs and flowing wine to keep celebrating women who fight injustice.
Article by Diana Perry Schnelle and photos courtesy of Jordan Beck Wagner