compiled by Carol-Lyn McKelvey, FAUSA/AIWC Cologne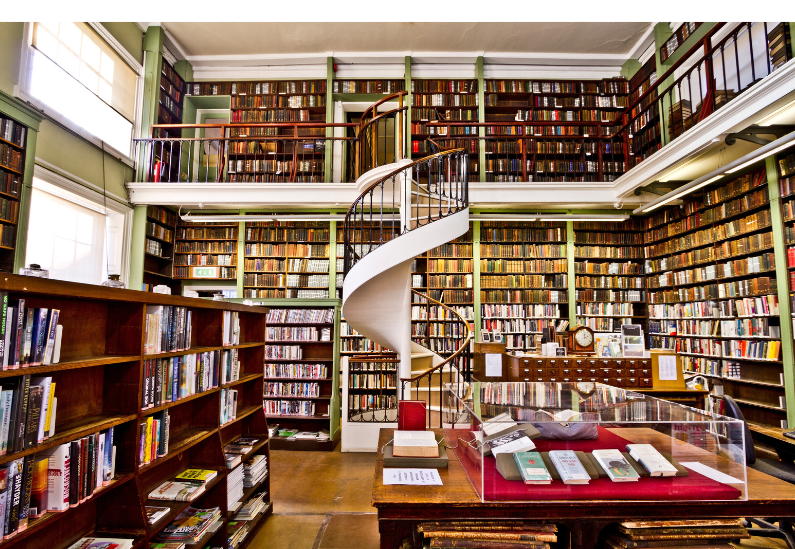 The Education Team will never tire of sharing library stories from fellow FAWCO members! Libraries can offer a sense of magic, a sense of community, a sense of hope, a sense of belonging and a sense of being connected to worlds near and far. Read on for two stories that embody these senses!
From Mary Adams, AWC The Hague – Summer Reading: When I was growing up in the 1960s, I spent two weeks of every summer in Beaumont, Texas with my Great Aunt Mary Edna, or "Auntie" as we lovingly called her. Auntie was a high school English teacher. Auntie and Uncle's house was right down the street from the high school. The high school, which was built in 1898, was a grand building to me. I often wondered what it was like during the school year and what Auntie did inside. Her yard had a tended sweetheart rose garden with a fig tree forest behind. She grew mint in the flower beds, which I could pick to drop into a glass of cold iced tea. The screened-in porch was a perfect reading nook. I could read Shakespeare and poetry with Auntie's class notes written right on the pages! Since my birth, Auntie bought me a book every year, signed and dated it. I learned to read at an early age. By the time I reached elementary school, I felt an insatiable need to read. During my summer visits, Auntie took me to Beaumont Public Library every week. I remember it as a fairytale castle – big stone blocks and turrets on the outside and a treasure trove of books on the inside. The library sponsored a summer reading program. They provided a list of books and reader's certificate. I yearned for that certificate! I read biographies of all the early presidents and first ladies. I learned that Dolly Madison was more than just a bakery brand. As First Lady (1809–1817) she spearheaded the concept of bipartisan cooperation by inviting members of both political parties to her social events. From First Ladies, I went to lady detectives and fell in love with Nancy Drew and the Bobbsey Twins. When I came to the end of the published series, I thought my library card was broken. Where were they hiding the next installment? Those summer memories haven't faded. I remember holding Auntie's hand as we walked up the library steps. I remember the sound of the fan on the porch while I was reading. These were the lazy, long days the seemed to last forever when reading was the most glorious way to spend the entire day.
As a child, I didn't realize that the Tyrell Library was originally constructed in 1903 as a Baptist church. Twenty years later, the congregation outgrew the church. Captain William C. Tyrell purchased the building and donated it to the city of Beaumont as a public library. In 1975, the library became a historical research facility and underwent restoration in 1990. But for me, it will always remain a majestic castle filled with books and memories.
From Nancy Lynner, AWCC Scotland – Growing with the Library: The library in my childhood neighborhood looks small to me now. It's no longer a library; it is a store front. Decades ago, it was a destination with wonderful stories waiting to be discovered. Ludwig Bemelmans' Madeline's Rescue, the Caldecott award winner in 1954, was on display in the Beaverdale Branch of the Des Moines Public Library, and I checked it out. The allotment of three weeks was not long enough for our family, and we bought a copy. The books of Beverly Cleary, who wrote the Henry Huggins series, brought out-loud laughter to my brother, so I had to read that one next.
Best of all, our librarian recommended the Betty MacDonald books about Mrs. Piggle-Wiggle, which use common sense, some wisdom and some magic to solving children's and parents' growing pains. The librarian hung a poster of Charlie Brown, by Charles M. Schulz, so I borrowed that book and began a lifetime of laughing at all the Peanuts characters and their squabbles. A short, three-panel cartoon of Peanuts was free in the daily newspaper, but the books gave sustained merriment.
In college, I didn't study at the library until my final year. It was then that I sat down at a study carrel and realized how much this desk with a shelf in front of me was a terrific aid to help me stay focused. The distractions of being in my own dorm room were gone. Just the books and me…
In 2001 I was hired by the Providence Public Library to create children's programs. Finally I was in a position to give back to the public and to help each visitor in their search to find new ideas, illustrations, poems, prose, facts and more. Like many FAWCO members, our family had to move a few years later. Although I had to leave the library position, the experience enriched me forever.
Read the first in this series: Libraries, Libraries and More Libraries!