compiled by Carol-Lyn McKelvey, FAUSA/AIWC Cologne
September is a month for celebrating libraries. From Ukraine to Finland and New York City to a creative baker, libraries and librarians have been in the spotlight and on the hotseat. Check out the library news and pictures as you read on!
* September 8 was World Literacy Day, and FAWCO's Education Team honored the day by hosting a Global Book Discussion centered on The Boy Who Harnessed the Wind by William Kamkwamba. His school library and librarian played central roles in William's success, offering books that powered his mind and ultimately, his village. Watch the video from the event!
* Started in 1987 by then Secretary of Education William Bennett, National Library Card Sign Up Month is still in full swing!! Click HERE to access the American Library Association's website containing all the info you need to get your library card and maybe even win $100!
* Public and school libraries in the US are experiencing a surge of censorship unlike anything they've seen in the recent past. Setting their sights on books with either direct or tangential content relating to the history of slavery/race relations, abortion and the LGBTQIA+ community, ordinary citizens and politicians are organizing to ban books at alarming rates. This article from The Guardian details the genesis of the current movement and how it's taken hold. Additionally, in response to book bans across the country, New York City libraries offered free digital library cards to people nationwide through May. Taking up where they left off, the Brooklyn Public Library (BPL) is offering "young adults, ages 13 to 21, the chance to apply for a free eCard from BPL in order to get access to the library's extensive collection of eBooks. The card will be good for one year and is designed to complement access to resources for teens in their local communities."
photo by Library Cake creator, Kathy Knaus
* Originally from Rochester, NY, and currently residing in Vienna, Kathy Knaus is the creator of the now iconic Library Cake. Created for her daughter's 21st birthday, Kathy was shocked when pictures of the cake went viral. A library and book lover in her own right, read more about Kathy's story HERE!
* Libraries around the world hold a special place in the hearts of FAWCO members. From childhood memories to more recent experiences, libraries continue to provide valuable and personal experiences for everyone. What's YOUR favorite library? Send us your photos and stories to !
From Hollie Nielsen, AWC Central Scotland:
Two of my favorite libraries span the range from large and grand to small and local. On the grand end is the British Library, located in London. The library moved to the new St Pancras building in 1998 and hasn't looked back. The permanent display of Treasures of the British Library showcases fun and interesting items from the Magna Carta to Shakespeare and from Mozart to McCartney. Even more important to me than the books and other items on shelves are the programs, live and virtual. This month's offerings include The Green Libraries Partnership, which brings together libraries to collaborate for a brighter climate future, and Books Without Borders, an initiative by Ukraine's Olena Zelenska to distribute thousands of books to Ukrainian children displaced by war. On the local end is the Wright Memorial Public Library, located in Oakwood, a suburb of Dayton, Ohio. In the early 1990s, I took my three children here for children's story hour. Mrs Mummy would cheerfully read stories and then give the children cookies. One summer, the children read through the Dewey Decimal System, giving them knowledge about a wonderful organizing system, as well as exposure to books that they wouldn't normally choose. I feel Mrs Mummy and the library made a large contribution to making my children life-long readers and curious learners.
From Rainier Sielaff, AWC Finland: Described on its website as "the flagship library for a nation of booklovers" and "a venue for events, a house of reading and a diverse urban experience" the Central Public Library Oodi of Helsinki, Finland, is not only a work of art, but state-of-the-art as well. It did not dissappoint Ranier during her first visit. The first picture in the article is from Rainer and is of the Oodi Library and two more are below.
From Mary Adams, AWC The Hague: Wiblingen, a former Benedictine monastery, is based south of the city of Ulm, Germany, in Upper Swabia. It was founded in 1093. An ambitious renovation and expansion project in 1714 turned building interiors into rococo masterpieces. I have one shot of the entryway: the Latin inscription reads "Treasures of Wisdom and Knowledge." (below right)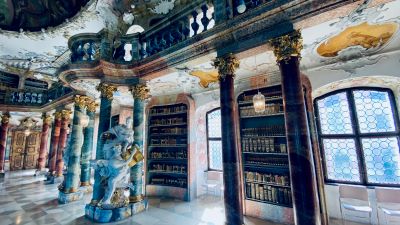 Libraries are community treasure chests, loaded with a wealth of information available to everyone equally, and the key to that treasure chest is the library card. I have found the most valuable thing in my wallet is my library card. – former First Lady Laura Bush