By Melissa Ruggles, AWC Amsterdam
March 18, 2019
As I type this, I'm looking out over the glimmering East River to the Long Island skyline—a view that begs one to reflect. Laurie Richardson, FAWCO UN Liaison, and I just attended another session at the 63rd Commission on the Status of Women (CSW63) at UN headquarters in New York City. We listened to an expert panel discuss the disproportionate impacts of climate change on women and girls around the world, and what is being done to counter these impacts. These sessions leave one with a lot of information to digest and reflect upon; even despite my own 12+ years of knowledge and experience from having worked with various international NGOs who focus on these very topics.
The panel speakers included the Executive Director of UN Women, Phumzile Mlambo-Ngcuka, the Secretary General's Special Envoy for the upcoming Climate Action Summit, Luis Alfonso de Alba, and several enthusiastic women Ambassadors and climate-action professionals. This is just an example of the many official and parallel side events happening during the two week CSW63 event. The main purpose of CSW is for government, UN and civil society representatives to come together to engage and reflect on what progress has been made regarding women's rights and the status of women globally and what still needs to be done.
A humbling experience
The most impactful and inspiring session for me personally, however, happened last Friday, March 15. The Government of Ireland and Peace is Loud hosted the session that included a film screening of a part of a series entitled Women, Peace and Power. The room was packed. People were sitting on the ground, standing along the wall, but all of us from FAWCO were lucky enough to grab some seats. Everyone in the room anxiously awaited the start of the session.
After a brief introduction by Ireland's Minister for Justice and Equality and the film producers of Peace is Loud, the short film began. It tells the stories of incredible women peacemakers from Northern Ireland, Afghanistan and Liberia. The exciting part about all of this is that all of the trailblazing women in the film, including Nobel Peace Prize Winner, Leymah Gbowee, were sitting just a few seats away from me. As someone who studied international relations, including conflict resolution, in the US and The Hague and who works everyday to make even a tiny impact, it was humbling to be in their presence—to say the very least.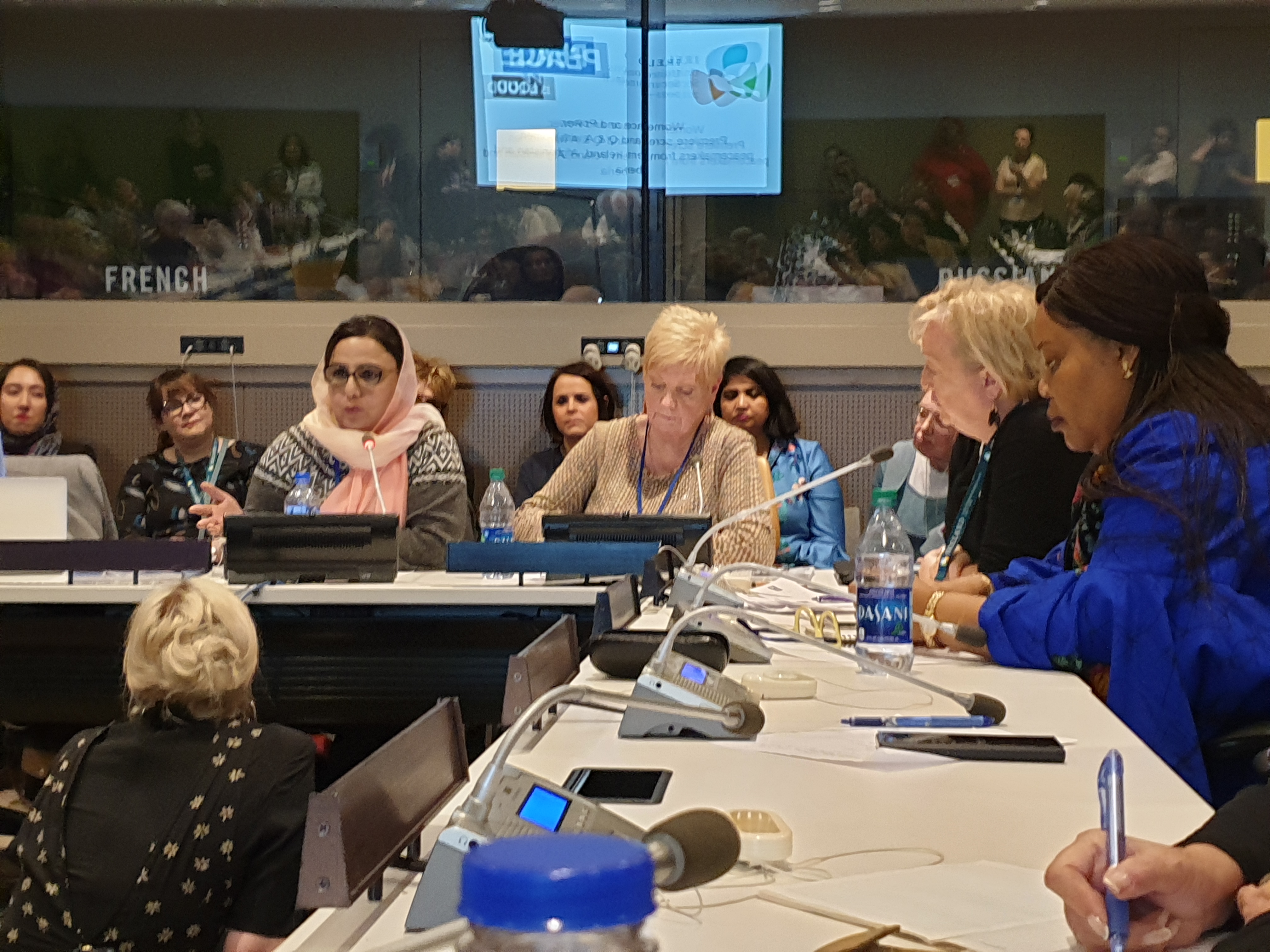 Women peacemakers (L-R): Mary Akrami (Afghanistan), Anne Carr (Northern Ireland), Monica McWilliams (Northern Ireland), Leymah Gbowee, Nobel Peace Prize winner (Liberia).
Women have a critical role to play in peacemaking
The film showed how the women rose up to lead grassroots peace movements (and are still doing so, in the case of Afghanistan) in their respective communities and countries to help bring about the ends to conflicts that took too many of their family members' and friends' lives. Through the grassroots movements, the women peacemakers fought against patriarchy and misogyny to gain seats at their respective negotiating tables, alongside men.
Something that has stayed with me is when one of the women made the following statement and posed the following rhetorical question:
"As the ones who are left behind when our husbands and sons go off to fight—we are the ones responsible for making sure the households continue to function, that there is food on the table and that our younger kids continue their education and remain safe. We have a vested interest in peace and stability for our families, our communities, and countries, so why do we - as women - not have an equal voice and role at the table in the peace negotiations, when we're very much a part of any future there is after the conflict ends?"
While a straightforward enough statement and question, it certainly made me reflect about how truly vital we are as women to 'keeping it all together' before, during and after a conflict. We are expected to take care of ourselves and provide for our families, as well as our neighbors and communities in difficult times, yet our roles during each of these phases – including in the absence of conflict – are often either ignored or undermined. As another woman in the session cleverly noted: "It's not that we've been written out of history. It's that we haven't been written in." We've been written into the roles as homemaker and child caretaker, but not as peacemaker. Isn't that a little ironic?
What this group of formidable women peacemakers made clear is that not only can we have a seat at the negotiating table, there is also added value to including women in the peace negotiation process. Among other things, peace negotiations that include women are more sustainable in the long-term and post-conflict processes and structures are more inclusive of society's interests and rights
Ok, it's time for me to head to another CSW session! If you'd like to watch any of the films Peace is Loud produces, visit their website to find out how and where: https://peaceisloud.org/films/women-war-peace/.