By Ayuska Motha, UN Rep, AIWC Cologne
For me, COPs have surprisingly started to represent HOPE, and COP27 in 2022 was the ultimate test. I had not attended a COP in person since 2019, and so much had happened in those few years – the COVID-19 pandemic, the Ukraine invasion and related fossil fuel crisis, global inflation and my own personal challenges.
So I arrived in Sharm el-Sheikh, Egypt at 3:00 am unsure of what was awaiting me. But I showed up with an open mind and was hopeful that the world would come together to agree to slash greenhouse gas emissions. I always have that hope, and that is why I love attending COPs, because there are tens of thousands of people from all over the world coming together to work at finding a common solution.
For me, the highlights of COP27 included:
1) seeing the feminists and activists that I have worked alongside over the past five years, showing up year after year and refusing to give up;
2) finally meeting and working alongside two members of the FAWCO Global Issues Environment Team who also attended COP27, Alexandra Vo and Sheila Doucet;
3) hearing that loss and damage was actually going to be on the official agenda at this COP after many decades of the topic being buried;
4) the strong leadership and input of the Feminist African Task force within the Women and Gender Constituency;
5) the US Civil Society Briefings with John Kerry and some of the US delegation,
6) the Gender Just Climate Solution Award Ceremony;
7) observing how all the constituencies work together now to organize collectively and align common messaging;
8) noting the very gradual but continued integration of interrelated issues such as health impacts, climate justice principles, human rights considerations, biodiversity, land, agriculture and ocean considerations.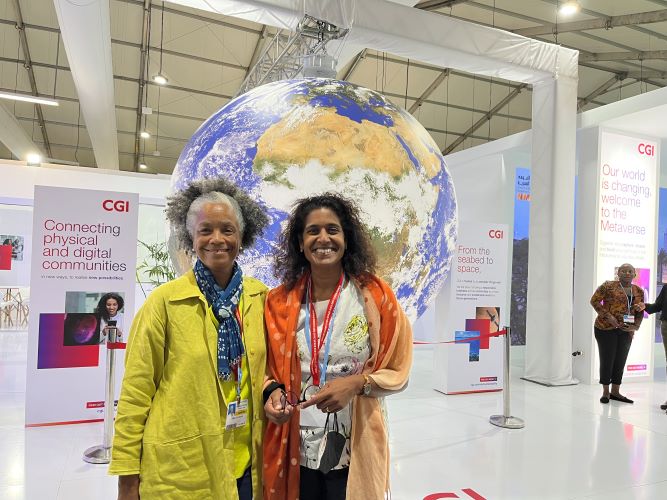 Sheila and Ayuska at COP27 in Egypt in 2022
If you are interested in hearing more about our COP27 experience, join us via Zoom on January 26, 2023 for a COP27 Chat with the FAWCO Delegates!