By Ayuska Motha, UN Rep, AIWC Cologne
Every year there is a COP (Conference of the Parties) in November or December as well an Intersessional Meeting that takes place in Bonn in May or June. This year the Intersessional Meeting (UN Climate Negotiations) was held from Monday, June 5 to Thursday, June 15, 2023 in Bonn. This year's COP (COP28) will take place November 30–December 12 in Dubai.
FAWCO has a delegation of three FAWCO members at the Bonn Climate Change Meetings: Stacey Kimmig and Ayuska Motha (both AIWC Cologne members) as well as Carmen-Jeannette Stepek (AWC Dublin) attending the meetings in person. All three of our members live or work in the Bonn area, so we did not even have to fly to Bonn for the meetings!!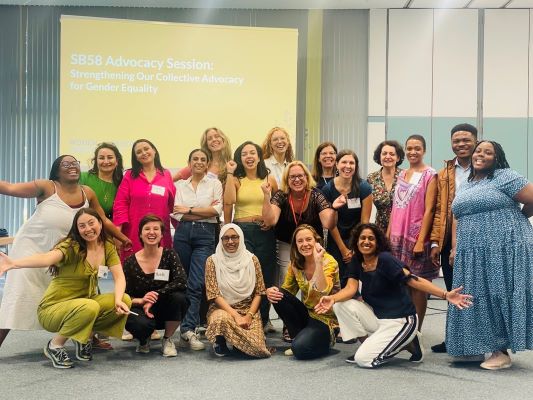 WGC Strategy Session Some of the events that have been going on include the Global Stocktake, further discussions on Loss and Damage, the rules for establishing carbon markets, Adaptation, Climate Finance, Action for Climate Empowerment, the local communities and indigenous peoples platform, and capacity building, among others. We started the week off at a Sunday Women and Gender Constituency (WGC) strategy session to prepare everyone for the topics and format of the Bonn meetings. It was fun to reconnect with members of the constituency and also helpful to get us all informed about which important issues were going to be covered at the meetings.
Monday brought such long lines to get through security that our 9:00 am WGC caucus was delayed. The opening plenary of the meetings was also delayed by hours due to some countries (parties) not being fully agreed on the agenda for the meetings. The chairs agreed to begin work despite some items on the agenda not being fully open.
In response to many parties verbalizing their solidarity with Ukraine, many also stood up and walked out of the opening plenary when the Russian Federation held numerous, long interventions justifying the invasion of Ukraine. I do not remember ever seeing that before at the climate negotiations.
Additional interesting events that I have attended included an Intergovernmental Panel on Climate Change (IPCC) event which summarized the latest science on global warming; that was rather sobering. The following day, I attended the third Technical Dialogue of the Global Stocktake.
See this short clip for a quick explanation of what the Global Stocktake is.

To further elaborate on this topic, I will include a separate write-up of the many sessions involved in calling for input, gathering that input and determining how off track we are to the Paris agreement goal of staying on a 1.5 °C global warming trajectory as well as steps to get back on track.
In addition to the Global Stocktake events, I also attended several side events including: "Unlocking the Potential of Alternative Proteins for Food Systems Transformation," "A roundtable dialogue: indigenous people's perspectives and experiences on loss and damage," plus several observer meetings.
This is just a glimpse of the first few days at the meetings. Please look out for additional blogs from Stacey and Carmen yet to come, as well as a FAWCO co-sponsored side-event next Tuesday at 10:15 am (CEST) "Truthful engagement in real, effective and ethical climate action for an ambitious Global Stocktake."