by Meredith Mani, DEIB Team Chair, AWC Amsterdam
While there are dozens of LGBTQ+ flags representing gender identities, sexualities and intersections within the queer community, the Progress Pride Flag is the one most widely accepted and used. It was released in 2018 by a queer, non-binary graphic artist, Daniel Quasar. The flag was created to bring more awareness to marginalized queer identities. It includes elements of the Trans Pride Flag, has a black stripe and brown stripe representing marginalized LGBTQ+ members of color, and an arrow that Quasar stated is intended to "point to the right to show forward movement, while being along the left edge shows that progress still needs to be made."
One visual and clear way clubs can demonstrate inclusion is by posting the flag year round, not just during Pride Month. Websites and social media are one way potential members discover clubs and decide whether they would like to be a part of the organization. Something as simple as posting the flag signals an ongoing commitment to diversity, inclusiveness and support for the LGBTQ+ community. Adopting this small change is a supportive internal practice that demonstrates your club's commitment.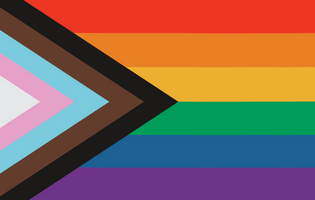 We have included a usable image to cut and paste onto your website, Facebook and other social media, should you choose. You may wonder if it's necessary to include the flag when you are already an open organization. The short answer is yes. Showing a commitment to diversity, equity, inclusion and belonging conveys a loud message about the culture of your organization. It also attracts members who might otherwise be underrepresented. Being a part of a group that supports DEIB resonates especially with young members with more liberal social attitudes and expectations. Clubs have a natural growth and loss cycle because expats tend to filter in and out every few years. Recognizing that visually representing your commitment to inclusion could attract and retain members is a valuable reason to post the Pride Flag. Members feel positive about an organization that promotes diversity and actively supports its members and their families. So add a little color to your page and show you are welcoming to everyone under the rainbow. Flags are, after all, meant to be flown.
The image above was made using Canva Free.
For more information about the Progress Pride Flag by Daniel Quasar visit this site.