Submitted by President Anne McDonald, AWC of Dublin
We have several "fun" and fund raising events at the AWCD every year. Our first event is usually our October Penny Raffle. For this raffle, we urge everyone in the Club to bring in a gift worth 25 Euros. If someone does not have a gift, she usually contributes money for prizes. Of course we have a key person, who organizes the event, shoppers and promoters. Everyone is asked to bring a friend; tickets are purchased and there is a place in front of every item where you may place your ticket. Then the tickets are mixed up and a winner is chosen to receive that prize. It's a chance for many people to walk away with a prize. The proceeds from our Penny Raffle are put into our Club's Fund.
Every year we sponsor one Irish Charity; this year our charity is Barretstown Camp. In honor of the late Paul Newman, we thought it was fitting to revisit Barretstown this year. Previously, we worked with this charity in 1993 and 1994. During this time a member of our club, Carmel Keogh, was ahead of Philanthropic. She met Paul Newman, who visited the camp in 1994, and she still remembers his beautiful blue eyes. Mr. Newman did so much for the "hole in the wall camps" that he started; so we've decided to help the children this year. The camp is equipped with doctors, counselors and specialists, who provide these sick children with two weeks of challenges and fun. It is a small paradise, Barretstown, which helps the child on a physical, mental and emotional level; thereby promoting self-confidence and adding happiness to each child's life.
This year we have a strong Philanthropic Committe, which is very well organized by Patti Meeks. The Philanthropic Committee meets a few times before major events. In order to successfully fund raise, you need a reliable and hardworking committee with talents in organizing, creating, writing, fund raising, advertising, sales, publicity, people skills and the list goes on....
Before the Christmas Holidays we held a Holiday Bazaar with a "Swishmas" Clothing Exchange and several vendor tables. We had food; a Christmas atmosphere; music; Santa Claus and other special treats! We raised approximately 1,400 Euros for Barretstown.
Recently, in February, we held a Pub Quizz; where we raised about 1,300 Euros for Barretstown.
Pending Events for Barretstown: Piano Concert in late March and a Fashion Show (the event of the year) in May. We already have shops supporting us with clothes; our beautiful models from our club and a venue. The Committee is now working on major prizes and then they will make up the raffle books. It will be an Exciting Fashion Event with hidden surprises in pocketbooks, along with major raffle prizes.
Penny Raffle, which raised over 1,300 Euros.
Photo Below: Mrs. Rooney,American Ambassador's wife, Grand-daughter Katelin, and Anne McDonald, President of the AWCD at November "Penny Raffle" meeting.
Photo Below:
PENNY RAFFLE - Coordinator Patricia O'Donoghue, & Anne McDonald and Meredith Brown at Penny Raffle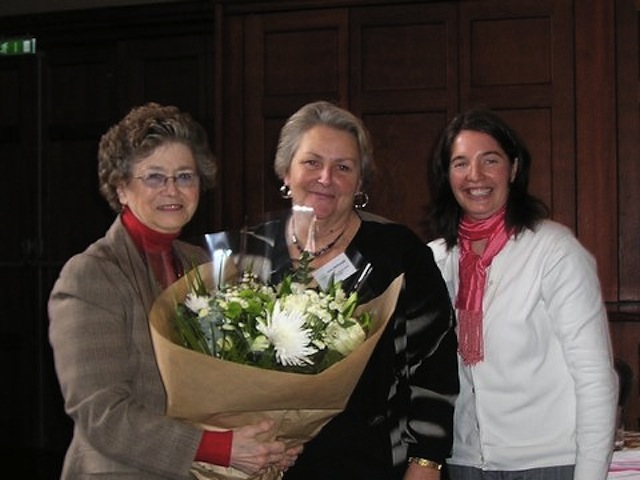 Photo Below: Penny Raffle for AWC of Dublin