Update II - December 2017
Amanda Lane, Executive Director
Collateral Repair Project


Starting a new class can be scary for anyone, but especially for refugees. New environments bring mixed emotions as they struggle with past trauma. They can find it hard to trust others, believe in themselves, or to work in groups. But there's one universal: an uneasy student can feel a lot better because of a great teacher. A couple of students from the International Computer Driving License course, Haneen and Sana', have been empowered by their class and teacher, Mr. Ivin.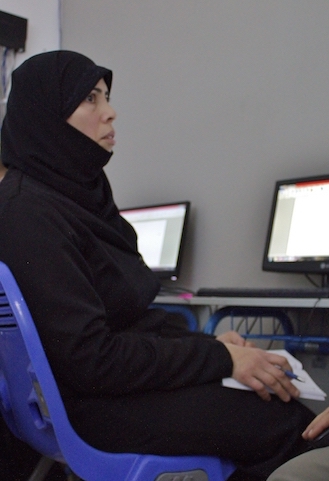 Haneen lived a life of peace in Syria until the fighting threatened her family's safety and the Syrian government incarcerated her older son, Sleman. After fleeing, Amman became her refuge, but even this safety did not calm her fears. She felt insecure. "As a beginner ICDL student, I often worried that Mr. Ivin would be upset for performing tasks slowly or creating a mess on the program. The one-hour slot for class seemed like such a short time to learn everything about computers," says Haneen. New types of fears and stress accompanied the old ones, but Mr. Ivin changed her mind.


Over the course of ICDL classes, Mr. Ivin's patience, encouragement, and simple program illustrations have provided Haneen with new-found confidence. Haneen started from knowing nothing to being able to do everything! She has even paid her skills forward by teaching her children about the computer. She uses her new knowledge to communicate with her son Sleman, who is now freed and safe in Germany.
Haneen says, "If there is a class that I'm interested in, I will do it!"
Sana' is from Iraq. She left because of the war and persecution as a Christian. As Haneen, Sana' was offered a spot in the ICDL class for women. "I have been waiting for this chance for a long time. I wasn't able to do things like this in Iraq, but CRP opened the door to me and I came and learned the computer. It was difficult as a beginner but now everything has become so easy in this class," she says.
Many offices and jobs require some set of computer skills, and without those, it is harder to get the job. "As an Iraqi refugee, I cannot work. But if the chance comes, then I will be able to work on the computer. And I have confidence, " Sana' says as we all begin to laugh.
As a parent, Sana' wanted nothing more than to teach her children something important. Now that she has taken the ICDL course, she feels she can do this. Sana' has become a guide and a help to her daughter who is also in a computer class at school. She can navigate Microsoft Word and Excel with ease.
ICDL class has impacted Sana' and Haneen's life and family for the better. CRP sends our gratitude to FAWCO for funding courses like ICDL for women! It has opened new doors for our beneficiaries in Amman and we see the great change it has brought to them.



- Amanda Lane, Executive Director
Collateral Repair Project