Update I - September 2017
Amanda Lane, Executive Director
Collateral Repair Project
Hello FAWCO friends!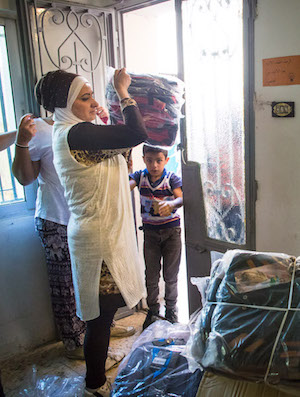 As summer lulls to a close, all of us at Collateral Repair Project are taking a short breather after two weeks of very busy Back to School distributions. It's Eid Al Adha holiday, the end of which will find us finishing up the last of our distributions-- getting backpacks, school supplies and uniforms to around 1000 children in total.
And thanks to FAWCO's amazing support, you have enabled many more than 100 girls to attend school this year. We're still running the numbers as we finish up our distributions, but it's likely that FAWCO has supported 200 girls or more for this school year. Truly, we don't know how to thank you enough. You have given these girls the gift of education--and they are thrilled. Here's what they and their parents have to say:
"I am so happy with my new school uniform and my nice pink bag." - Yara (6 years old)
"Thanks to CRP for giving us new bags and uniforms--and plenty of school supplies!" - Taleen (14 years old)
"Thanks to CRP for providing our kids with school supplies, bags, and uniforms. I registered 4 kids in school and I was worried about how I'd find the money for all of their school expenses. With CRP's help, I've stopped worrying and I want to thank them deeply." - Abu Mohammad
"I have 5 kids, and last year I sent only 3 of my kids to school because I couldn't afford all the high costs. Thanks to CRP, I've now registered all 5 kids and I'm so thankful that my kids can return to school." - Um Bayan
Holidays conclude soon and we're back in the office on September 10th, just in time to begin working with Beryl Cheal, the educational consultant who will be designing our Super Girls program. Beryl is coming all the way from Seattle to work with us for three months, and we're so excited to get started. I can't imagine anyone better suited to the job; Beryl has over 40 years of expertise in designing and implementing trauma-sensitive programming in primary education, and we are beyond lucky to have her working with us. Beryl is full of ideas and her dedication and zeal are palpable. I'm really looking forward to the coaching and mentoring she'll be doing with CRP's youth program staff.
NOTE: Beryl Cheal will be featured in the fall issue of Inspiring Women, out on September 26, 2017
We also have Women's Empowerment 101 and gender-based violence awareness and prevention courses ready to start this month. Our trainers are ready to go and we're finalizing our participant lists; we're preparing, as well, for our computer and beautician skills vocational training to start up in October. We've recently secured trainers for both of these courses, and attendees will be signing up as soon as we're back from break next week.
It's been a busy time setting things up--and particularly hectic with all our Back to School distributions--but is it ever worth it! This project is making a difference for so many and there's so much more to come.
So much to thank FAWCO for! We'll be keeping you posted on all these activities that are starting up in the fall. Meanwhile, send your good thoughts our way. We'll be keeping busy, yet full of gratitude for everything FAWCO is enabling us to do!
- Amanda Lane, Executive Director
Collateral Repair Project