by Mary Manning, Co-Chair, FAWCO Human Rights Team, Heidelberg IWC
As the war in Ukraine rages on, the world has been horrified by images and news reports of civilian deaths and stories of sexual violence against women and children. World leaders are calling for investigations into Russia's actions during the war as possible war crimes.
I talked with Marelie Manders of the Heidelberg IWC, who is a lecturer and researcher in International Law of Armed Conflict and Human Rights Law at the University of Mannheim, to get a better understanding of how war crimes are defined and investigated, and the likelihood that victims of these crimes would receive justice.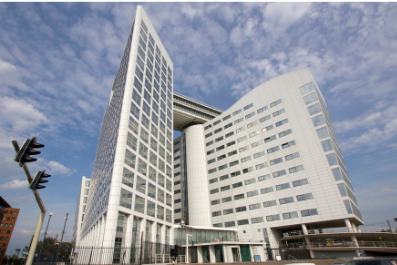 Marelie explained that the concept of war crimes began with the Nuremberg Trials after WWII and has developed over time into the version defined under the Rome Statute of the International Criminal Court (ICC). More recently, the ICC has investigated war crimes committed during the breakup of the former Yugoslavia as well as the Rwandan genocide. It is important to note that although not all UN Member States are members of the International Criminal Court (e.g., the United States, Russia and Ukraine are not ICC members), many of its rules are considered customary law and "are binding on all States (and other parties to the conflict), whether or not States have ratified the treaties themselves."[i]
A war crime is an act committed during armed conflict that violates international humanitarian laws designed to protect civilians, including willful killings, torture and intentional attacks as well as attacks against infrastructure that is vital to the survival of civilians. They are different from crimes against humanity, because war crimes can only be committed in the context of an armed conflict, whereas crimes against humanity can also occur during times of peace.
The International Criminal Court (ICC) has sent an investigator to Ukraine to begin investigations; however, the process of gathering evidence and conducting interviews often takes years. For context, the Dayton Agreement ended the Bosnian War in 1995, Slobodan Milošević was indicted for war crimes in 1999, his trial began in 2002 and lasted four years, until he died in his cell in 2006. In addition, the ICC does not have its own police force and cannot make arrests. Therefore, for Vladimir Putin to stand trial on charges of war crimes, he would have to be handed over by authorities in Russia, which is obviously unlikely, even if he were no longer President. (The ICC does not conduct trials in absentia.)
This obviously does little to comfort Ukrainians, who are suffering right now and who see no end to the war in sight. However, the investigations are important even at this early stage in the process, as they shine a light on what is happening, further strengthening the international alliance that is working to end the conflict. In addition, the war is being documented by Ukrainians as these events happen, in places where investigators might not yet have access, which may also speed up the process.
If you are interested in learning more about how FAWCO members and clubs are stepping up to provide assistance to Ukrainians, please read our article Lifelines to Ukraine by Karen Castellon, as well as her follow-up article Outreach to Ukraine: An April Update.
image from Canva Pro