by Karen Castellon, Co-Chair, FAWCO Human Rights Team, AWC Berlin, FAUSA
The Russian invasion of Ukraine that started on February 24 has reached a one-month milestone and continues to rage. It is devastating to add this country to the growing list of war-ravaged places in 2022: Syria, Yemen, Ethiopia, Mali, Myanmar.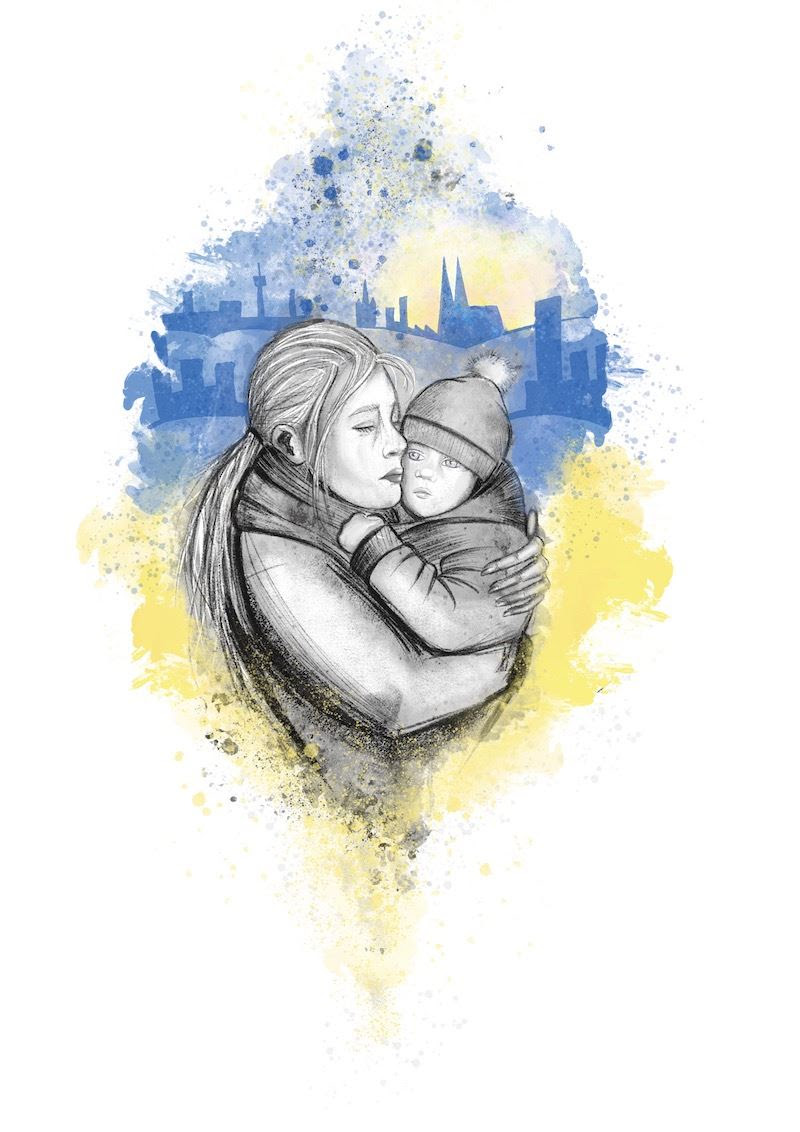 However, the ray of hope and dare I say, sunshine, is in the outpouring of support for those who remain in the country (the vast majority of the population of 44 million) as well as for the 3 million plus refugees who are streaming into neighboring countries. I recall a recent article about AIWC Düsseldorf member, Vera Kostiuk Busch, who is leading an effort to send supplies to Ukraine, as she has been doing since 1973. There is also an article on the FAWCO website where you can read more about what Vera and her club are doing to "Step Up."
AWC Berlin member Karrie Riemer and her family are just some of the many AWC Berlin members who have spent the past month going to the city's central railway station (Hauptbanhof) to provide for the needs of people fleeing Ukraine who have been arriving by train – up to 7,500 persons per day. These refugees were immediately offered food, clothing, and other supplies after a long journey across Poland and though Germany. In addition, Berliners were greeting these folks with signs to indicate how many people they could offer housing to in the immediate future. Karrie Riemer's husband, Marty, spoke to Katie Couric for this on-line article.
Another fundraising effort in the German capital was coordinated by AWC Berlin and Lissa Rosenbloom, philanthropy chairperson, who partnered with member Aigul Neven and the organization Beyond Limits for a combined art sale/ silent auction/ performance art evening to benefit Ukraine. Aktion Deutschland Hilft is a coalition of 23 German relief organizations working together on the humanitarian response to the war in Ukraine.
Also in Germany, AIWC Cologne has partnered with Innatura, a Cologne-based non-profit organization that accepts brand new surplus goods as donations from socially conscious corporations (rather than disposing of them and creating waste). Funds donated by members and friends will be used to purchase Innatura vouchers that will be given directly to organizations on the ground working to assist refugee families at steeply discounted rates. So far the club has raised 4,800 euros, with 4,500 euros doubled by matching grants = € 9,300! In addition, club member Heather O'Donnell is working to organize temporary housing for Ukrainian performing artists.
Meanwhile, farther north to Sweden, we have this report: "Together with other organizations in Sweden, the IWC Gothenburg is raising money for the benefit of Ukraine. All donations submitted by March 28 will be DOUBLED! The Akelius Foundation will donate exactly as much as we all donate. Funds raised will be sent to the UNHCR for the benefit of Ukraine. The tally thus far is 11,750 Swedish krona." Adrianne Lind is the contact.
What is your Club doing? Tell us so we can highlight it. Good ideas are meant to be shared, and activism among those who are fortunate to live in relatively peaceful societies is a calling to be answered.
Artwork by Julia Goldsby