Celebrating World Bicycle Day, June 3
by Tharien van Eck, AWC Antwerp
World Bicycle Day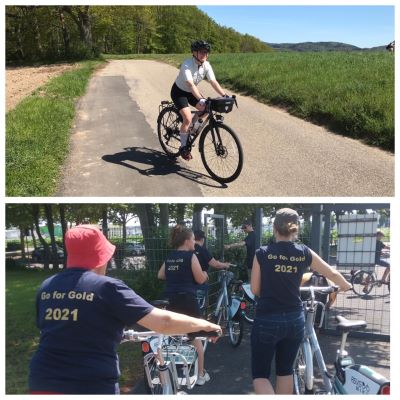 is an important moment to raise more awareness about the many benefits of using a bicycle – it is an easy, affordable means of transportation, an environmentally friendly alternative to cars, and makes access to education, health care and other social services more accessible to the most vulnerable populations, therefore addressing numerous Sustainable Development Goals.

Fun bicycle facts
1. Who invented the first bicycle? It is not certain. Comte de Sivrac, in 1791, was seen riding a two-wheeled "wooden horse" in the gardens of the Palais Royal in Paris; the machine that he rode was called a "celerifere" and had two rigid wheels and was therefore incapable of being steered. The German Inventor Karl von Drais invented a machine called the "swiftwalker" in 1817.
2. You can read more about the history of the bicycle in this article.
3. How many bicycles are there in the world? Nobody knows exactly, but it is estimated that there are somewhere around 1 billion.
4. The Netherlands holds the record as the nation with the most bicycles per capita. The Netherlands has more bikes than people and struggles at times to manage the bicycle congestion! Cyclists also abound in Norway, Sweden, Germany and Denmark.
5. The best countries to cycle to include Denmark and the Netherlands. But do consider Sweden, Slovenia, France and Japan as possible destinations to go and cycle as well!
6. The most expensive bicycle is the Beverly Hills Edition, made of 24k pure gold and worth an estimated $1 million!
A few FAWCO members shared some words on why they like to bike and memories of the first time when they went solo with no training wheels or a parent's hand on the back of the seat.
"I was able to ride a bike when I was six years old. I rode the bike to school almost every day until I finished school. I still love to bike, as this gives me the feeling of liberty."

"Being a typical Dutch girl, I learned to ride a bike just after I could walk. My memories in that regard are very vague. But I still love cycling. I am very happy with my two bikes... one is our 'city bike' that the whole family takes for a quick errand or something in the area. The other is my fast one, which I can ride for hours. Me and myself... every now and then in a nice area take a break to enjoy the moment. I can't imagine life without a bicycle."

"Oh yes, I remember my first 'solo'... We had been on holiday, bike with training wheels on board as well. When we came back, my parents had started to unpack, and I couldn't wait to get on the bike (training wheels had been dismantled for the ride), so I got on my without the training wheels. It went ok for a while until I realized the wheels were missing and then I fell..."

"Riding my bike as a teenager made me independent, now it's just fun to go fast and explore places, especially on holiday. You get a completely different feeling of a city of you to explore it by bike – I feel like I'm a local right from the first moment."
"My fun memories are of the years of bike tours we did with my aunts (one passed away already) and all the cousins – we're 12 altogether. We met on the train or final train stop, fully packed bike bags, would ride to the youth hostel and take day trips. Every day one of us would have to write a multiple-page report of the day's events – handwritten! We now have a book full of memories, even though we hated writing everything."
"My sister and I learned riding the bike on an island called Texel – with a lot of wind. We didn't have any supporting wheels and were very occupied with the wind when my parents at one point just let go without us knowing. And after that we were proud like conquerors!"

"Biking means freedom – as a kid and as an adult. You see places from a different perspective, you can stop where ever you like; you see more than when you discover a new city by foot, you feel less as a tourist in foreign countries or cities. When you explore a city by bike you are much better equipped with an understanding of the city, the streets and distances."
Photos: submitted and used with permission from members