by Jocelyn Fitzgerald, AILO Florence and Environment Team Co-Chair
The clock keeps ticking, and the weeks and months fly by until it is time to start thinking once again about planning for the holiday season ahead. Some people have opted out of gift-giving and let us know this quite clearly, others not; but it is wise to remember that wrapping paper, ribbons, plastic packaging and yet more Stuff, can be damaging to our planet and ultimately to ourselves.
Here are some fun and useful gifts for the holidays with an evironmental twist and no waste or unnecessary frills.
Books
Videos / DVDs
Theater or concert tickets
Gourmet gifts: Something delicious to share with family and friends – even better if homemade – chutney, pickles, marmalade, jams and jellies. Make the jars look pretty with a fabric-covered lid and fancy label.
Time….a gift of time: Babysitting, companionship for the elderly or lonely, help with gardening, taking someone out for a walk, an outing to a museum or show. For some people, just spending time together, is the greatest gift of all. A card can be made illustrating the activity or special treat.
Meaningful gifts: finding presents for children is not difficult, but in today's world, when most of our children and grandchildren have more than they need or can use, a gift for them to nurture the planet or others is different and special. Super cool is a tree with their name on it. Check out Trees for Life, Treedom or any organization you might know of that plants trees in the name of the donor. (Trees for Life has a FAWCO Grove.) An interesting charity recommended by Mary Adams of the Education Team is Kids for Kids, which has a tree-planting option and also agricultural equipment to help the struggling farming community in Dafur.
My grandson has been active in fundraising for charity since he was three; he helps at our Christmas Bazaar and the fundraisers for the school in Madagascar that members of AILO support. He loves to see the money rolling in when he knows where it is going; the pictures of the children in Madagascar enjoying their nourishing food which he has helped to buy is reward enough. In my experience, kids love to contribute to helping the less fortunate, especially when other children are the beneficiaries.
At our Evironment Festival held in May, thanks to Meenakshi Advani, we had the opportunity of listening to Stefano Funari of I Was a Sari: his company up-cycles saris into beautiful clothes and accessories – he described it as "Mumbai meets Milan." I met up with him in Florence, where he was presenting his project at the Oxfam Italia conference for sustainability and equal rights. His collection is also on the Oxfam Italia website, so it benefits them, too. A gift from I Was a Sari is not only highly desirable but is also instrumental in getting women into work in the depressed area of Mumbai – and it is eco friendly, since it recycles fabric from previously loved saris: a win-win situation.
As well as planting a tree, another gift that is always appreciated is a chance to grow something: a pot, some soil, compost, seeds, rhizomes, seedlings, everything necessary to experiment in the garden or on the terrace. It is a joy to watch something grow – plants, flowers, fruit or vegetables – it is a gift which really does keep on giving.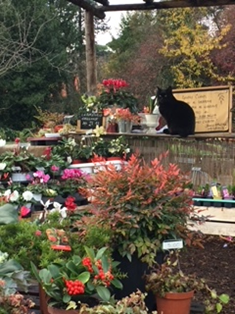 Bee the Ripple Association has just opened a new chapter in Florence. Urban beekeeping is becoming very trendy, and I am impressed by the dedication that goes into keeping the bees healthy and thriving. I love bees and am happy to support this local enterprise by shopping at their store.
Christmas Bazaars and Vintage Markets
Of course my first port of call for buying gifts is our famous AILO Christmas Bazaar, here one can find all sorts of treasures at bargain prices. Everything is donated by members and friends of members, so it is a veritable recycling center of our very own making. The proceeds of our bazaar are allocated to local charities that have been presented by our members. This, too, makes us happy, as we are working in sync with our local community.
In 2021, the Environment Team made a collective effort to present gift-giving ideas from all over the world. You can find the article that followed here.
That's lots of food for thought and plenty of great suggestions to give pleasure and love to our famiies and friends. What more could we want for a Happy Holiday Season?
Disclaimer: These resources are for information only. With the exception of the FAWCO-related options, there is no endorsement of the charities or products included in this review.
Jam jars photo from Pixabay. All other photos by Jocelyn Fitzgerald.