By: Environment Team members Anne van Oorschot, AWC The Hague; Ann Zulliger, AWC Zurich; Alexandra Vo, AWG Paris & FAUSA; Valerie Garforth, FAUSA; Jocelyn Fitzgerald, AILO of Florence; Christine Riney, AWC Hamburg; Renuka Matthews, FAUSA; Ayuska Motha, AIWC Cologne; Meenakshi Advani, AIWC Mumbai; Amanda Drollinger, AWC Central Scotland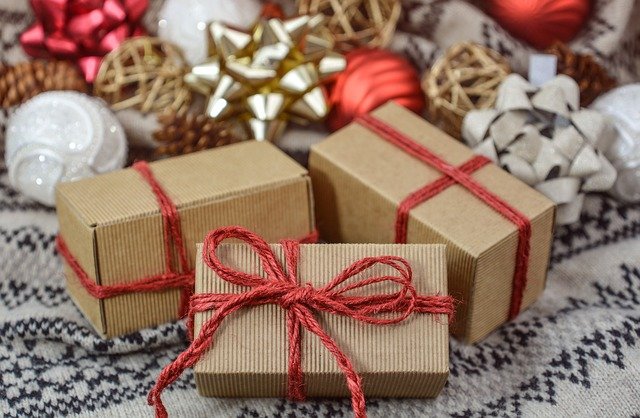 With Thanksgiving behind us and December just around the corner, the task of choosing gifts for family and friends is once again here for some of us. While internet shopping has made crushing shopping expeditions to malls and shops optional, the question of what to give remains. With the exception of gifts for small children, one is often hard pressed to come up with ideas. Sometimes there is a large item that more people can chip in on, but it remains hard. We all have so much STUFF already!! So why not do things differently this year? How about giving experiences rather than things, or give food items that will be used up? And if you do decide on an actual item, make it something sustainable. The members of the Environment Team have come up with a number of suggestions to help your holiday gift-giving be a Win for the giver, a Win for the receiver and a Win for the environment!
Give an Experience: Studies have shown that experiences bring more happiness to people than stuff. Anticipating an experience like a trip, an impending concert, special dinner out, or a film or theater visit make us happy before the actual event. Afterwords, we are rewarded with fond memories.
In Ann Z.'s family, with the exception of one gift per child for the youngest grandchildren, the older children and adults receive "token" gifts: a financial donation to the bank account of older children and organic and Fairtrade foods (dried fruits, wine, coffee and tea) or candles for the adults. Ann says, "These gifts, by family agreement, are accompanied by sighs of relief on all sides and gives us time to be with people. Our family members, young and old, like outings and shared events or joint projects. Especially grandchildren enjoy going somewhere of choice with grandparents, and taking a hike or outing with our adult children is always welcome."
Christine's family does Secret Santa every year for their family of eight. Names are drawn and everyone in the family gets one person. This works well if you have a large or small family.
Jocelyn also recommends gifts for family and friends that are food or drink oriented – something a little special for the season. Anne's daughter loves to cook, so special ingredients such as vinegars, sauces and spices are always welcome gifts. Homemade edibles, such as cakes, cookies, soups or a favorite treat are also great ideas.
Ayuska likes to make her own organic chai mixes tailored to the recipient's taste to give as gifts. In other words, which type of tea? Which predominant spice? As she explains, "My kids cannot get enough cinnamon (probably the Sri Lankan genes showing through), so I make a cinnamon-heavy version for them; my sister-in-law prefers a less bold tea so I make a Darjeeling version for her." Ayuska also makes her own organic, roasted spice blends. "Generally it is a Sri Lankan spice mix, and I like to hand that out as a present in a nice, repurposed glass bottle. - Same goes for the chai – always in glass jars."
Alexandra suggests a starter basket for sustainable living: Perhaps you know people who would like to be more eco-friendly but don't know how to begin. Inertia is often the problem, so giving a few starter items will be a gift that keeps on giving. Beyond the reuseable water bottle, there are so many items to choose from: bamboo toothbrush, shampoo bar, beeswax food wraps, washable cotton pads for makeup removal, produce bags for grocery shopping, a large and sturdy reusable shopping bag.
How about the gift of giving? Christine suggests getting the family to put a basket together for a family in need; or a parcel of clothes and/or toys for the local homeless shelter or women's shelter.
Donating to a charitable organization is a wonderful gift. A donation can be made in the recipient's name to a charity that "fits" them, or ask for a donation to your favorite charity – The FAWCO Foundation? – on your behalf.
For the little people in your life, why not give the original FAWCO book, What is a Perfect World? This children's book allows readers to share and discuss eleven world issues with young children and show them what work awaits. The title asks a question, and each page, through pictures and text, demonstrates an answer for a perfect world. The whimsical watercolor characters include 22 children from multicultural backgrounds and abilities, and there are seven adult characters who are parents or helpers. The text asks the readers to help us make the world perfect together, and finishes with a soft surprise. Net proceeds from the book will be donated to the FAWCO Target Project, in perpetuity!
Alexandra plans to give an online magazine/newspaper subscription to her nephew. He is just out of college and is on a tight budget, and this younger generation appreciates these online platforms. She also thinks that since he's living on his own now, an online cooking class subscription like Masterclass.com (which has more than just cooking lessons) would really be a fun gift.
How about giving clothes or blankets made from sustainable bamboo? Bamboo is soft and comfortable in addition to being good for the environment. Bamboo grass absorbs 5x as much CO

2

as a hardwood tree and stores much of it in the soil and root systems. It also needs less water to grow and does so beautifully without the use of pesticides. Here are a couple of sources: for women's basics (tops, leggings, sweats); for socks and active wear for men and women.
Memory Teddy Bears made from a beloved garment or a Memory Quilt from t-shirts. Alexandra plans to have two teddy bears made this year for her two kids. For example, her son's favorite shirt from when he was 3 years old will be transformed into a teddy bear. Here is a link to one company that does this, but there are several people on Etsy who do this, too.
Gifts from the Arbor Day organization in the US were recommended by Valerie. There are "Give a Tree" holiday T-shirts, "Into the Forest socks" as well as other sustainable and unique items. How about a stainless steel straw set (2 stainless steel reusable straws with cleaning brushes in a drawstring pouch). And every product purchased plants a tree!
The gift of a tree or small plant for the yard or home is also a lovely idea. If you live in an area where planting is impossible in the holiday season, give a gift certificate, complete with the labor to plant. A gift certificate from a garden center would give the fun of picking something out in the spring as well.
Meenakshi often gives herb plants, such as coriander, basil or parsley for use in the kitchen. A small basket with a number of herbal plants is a lovely addition to the kitchen.
Christine suggests giving services either from someone else – a massage, facial, a class on how to use the internet or your phone, dog walking, etc. – or a gift of your services, such as childcare so parents can get out, time to help your sister reorganize/tidy. Make your own gift certificates.
Re-gift: a sweater from last year you never wear, a coat, whatever you might have that perhaps a niece or sister might like better than you do.
Renuka suggested the most exotic gift idea: an elephant "cake" for the rescued animals at the Samui Elephant Haven in Thailand. Each "cake" is made from lush, fresh fruits and vegetables and personalized. All cakes ordered will receive a short video clip of the elephants munching on your gift and a photo with a message or a name on your personalized cake! Small cakes are $30 and large cakes are $50.
Lastly, let's talk a bit about wrapping our gifts. Valerie's daughter wraps all her presents in brown packaging paper, which is folded up for reuse the following year. (Too many wrinkles? Just glide over it with an iron and it'll be good as new!) This reduces waste, plus, the inks in colored wrapping paper make it hard to biodegrade. Tie the parcels with festive ribbons and tags, all of which can be collected for reuse as well. Anne uses pieces of fabric that are easy to iron and reuse, along with fabric ribbons.
Disclaimer: These resources are for information only. With the exception of the FAWCO-related options, there is no endorsement of the charities or products included in this review.
Picture Sources
What is a Perfect World? book cover from The FAWCO Foundation
All remaining illustrations from Pixabay