by Keziah Watatua, AWA Kenya (and member of FAWCO's Education Team)
Hope and Optimism
January 2020 began with a lot of hope and optimism because for the first time in my lifetime, we experienced rainfall in this first month of the year – an unusual phenomenal indeed! In this part of the globe, this month is usually driest. This was a pleasant surprise for the farmers in this country, which is primarily agricultural; many people rely on subsistence farming for their livelihood. Despite climate change due to global warming, one would say Kenya still does relatively fairly well in food production. In my view, more needs to be done in water preservation and application of modern farm technology to improve output. Training programs in the rural areas would add great value to agricultural production in general. As the year progressed, the semester began well and we were looking forward to the International Baccalaureate mock examinations in March just before the spring break. Then just as we were winding up, the first case of COVID-19 was reported in our country. According to the Ministry of Health, the first case in Kenya since the beginning of the outbreak in China in December 2019 was confirmed on March 12, 2020. The Kenyan citizen had just travelled back to Nairobi, returning from the USA via London, United Kingdom on March 5, 2020. She was confirmed positive by the National Influenza Center laboratories of the Ministry of Health. When another two people became infected after coming into contact with the initial patient, the government announced suspension of learning in schools and colleges. Fortunately, by then we had just completed the examination in readiness for spring break at the International School of Kenya. Those of us who depended on schools for our professional growth, careers and livelihood were thrown into uncertainty as the future seemed quite bleak and hope seemed to dwindle. It was at this point during the crisis that out of my survival instincts, the idea of setting up a vertical garden arose.
Farming
There was restricted movement in and out of the counties, so travelling to my ancestral home where more farming land is available was not possible. As a result, I resorted to bag farming.
I first discovered this technique while attending service learning trips as an advisor at school. During these field trips, I was so impressed by seeing healthy spinach and kale grow out of bags within a small radius. The fact that such healthy vegetables would emerge from bags was amazing! I researched further and learned from the local farmers who were very successful and actually earned a decent income from bag farming. Motivated and inspired, I began a trial with just two bags, and the rest is history. I was encouraged even more by the good consistent rainfall.
Excited by the success of the plants, which included coriander, cassava, tomatoes, lettuce, spring onions, lemon grass,
mint, basil and radishes, I increased the bags gradually to 50, and the little garden could actually hold about 2000 plants. This was possible because vertical bag gardening is a very convenient and productive way of making use of a small piece of land. This indeed was a story with a good ending where a bad situation – the pandemic – brought out the best in me as an organic farmer. It may be worthwhile to note that my monthly grocery expenditure went down by about 50 percent. With much excitement I added strawberries, pixies, sweet rocket and dash (baby spinach).
Also known as revolutionary vertical bag farming, this technique improves food security by increasing the number of leafy vegetables that can be grown per meter square by at least six-fold. Here is a link to an article about vertical farming in Dubai.
Interestingly, as in my case, it is the lockdown that motivated this type of farming!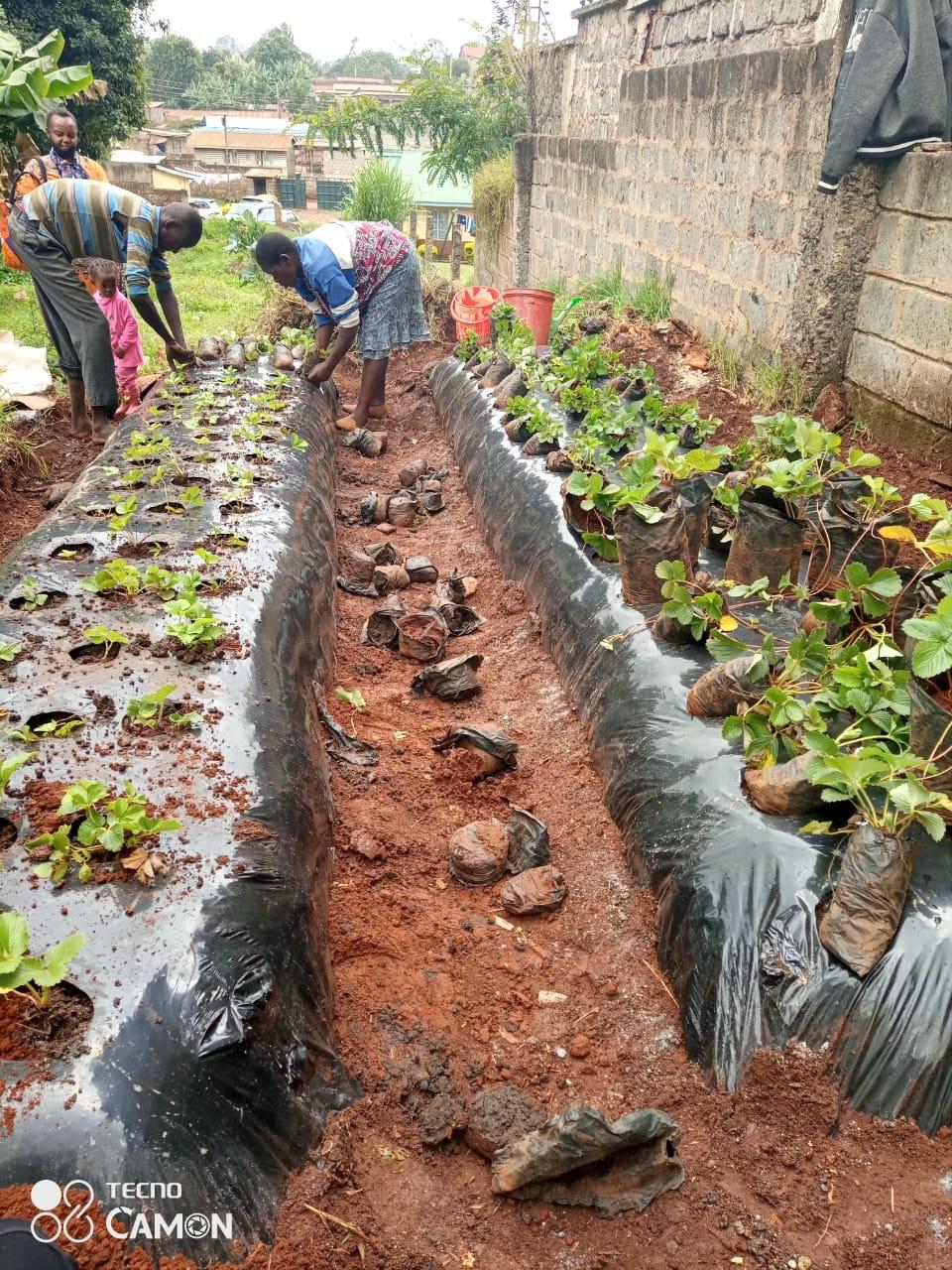 I discovered that it is possible to keep these bags organic through the use of compost manure which can be manufactured from any form of biodegradable organic materials. Further, so as to maintain the tenets of organic farming, we kept pests at bay by using an ash solution. There are also herbs which can keep various pest away, such as lemon grass and marigold. Other ways to build resistance in plants may include propagation or grafting.
Here is a clip about Daughters of Wambugu, who have grafted and come up with a hybrid of an apple tree named after their father. This apple species is grown organically and can do well in hot climates and is resistant to pests.
Now that pandemics and other global factors such as climate change and pollution are challenging the health status of humankind more than ever before, it is important to focus on ways we can aid our bodies to adapt to these changes. It is during such times more than ever that each one of us should focus wholly on boosting our immunity so as to improve our health. I cannot come up with any better way of doing so than filling our bodies with potent, safe foods with the necessary nutritional value. These foods should be free from harmful chemicals, leaving organic farming as the most suitable option.
Perennial Fruit
A case in point is a fruit I am currently enjoying: passion fruit. This is a perennial fruit; and one good thing about the passion fruit tree is that it usually requires less water once established, which can be especially advantageous for those who garden in drought-prone areas and want to reduce their water consumption. This fruit has a calming effect and works well as a natural sedative that helps fight anxiety and insomnia.
Passion fruit boosts eye health, since it contains large amounts of antioxidants such as vitamins A, C and flavanoids that protect our eyes from free radicals as well as preventing problems such as macular degeneration, cataract, and night blindness. It helps our bodies absorb nutrients better and improves digestion. Furthermore, passion fruit fights anaemia due to its high level of iron, which helps improve circulation, regulate blood pressure and fight osteoporosis.
To summarize, let me highlight a few more pros of organic farming:
Organic plants maintain the environment by reducing the level of pollution.
It significantly reduces the cost of agricultural production.
It improves soil health, ensures optimum utilization of natural resources and saves energy for both animals and machines.
Source: