TREE PLANTING GUIDE
Choose your site

- Bear in mind the mature height that your tree will reach. Do you want your tree to provide shade, to be part of a windbreak, to mask road noise and pollution, to create privacy, to provide shelter and food for small animals and birds, or do you want it simply to beautify your garden? Your tree should not be planted under overhead cables (telephone or electricity) or above underground conduits (domestic waste pipes, water, gas or electricity lines). It should not be planted too close to any building (a good estimate is to plant your tree at a distance which is as far from any building as its mature height).

Choose Your Tree

- Decide on the tree species or variety, bearing in mind that local native species will thrive better than exotic ones. They will be adapted to the climate and soil and will generally provide better habitat for wildlife. A tree nursery will give good advice on what tree to plant and there are many websites which will give suggestions. Choose a tree which will fulfil your site requirements! Deciduous trees provide shade in summer without blocking low winter sun while evergreen trees provide a windbreak year-round and can block cold winter winds. The roots of willows and poplars spread to seek water so don't plant them close to underground utilities.
Choose Your Planting Season - Fall planting is usually recommended because it allows time for root growth to develop over winter before the hot summer but do not plant in frozen soil (soil needs to be at least 40 deg. F / 5 deg.C.) Deciduous trees can be planted after the last frost in spring. Poplars, willows, ash, elms and birches overwinter better if planted in the spring. Evergreens can be planted in spring until four weeks after deciduous trees have opened their leaves or in fall until the first frost.
Prepare Your Planting Hole - The planting hole needs to be at least two to three times the width of the root ball (up to five times in compacted soil) but does not need to be deeper than the root ball – the tree will slowly suffocate if its root system is planted too deep. Slope the sides of the planting hole outwards at a shallow angle (saucer shape). Do not loosen the soil at the bottom of the planting hole as the root ball needs a firm base to sit on. A cone shaped mound at the bottom of the planting hole will allow the roots of bare root trees to develop downward and outwards into the surrounding soil. Remove grass, weeds and ground cover (turf) for 20 inches / 50 cm beyond planting hole.
Trunk Flare - Tree trunks "flare" slightly at their base and this trunk flare needs to be visible right at the surface of the planting hole (not buried by soil). To find the root flare in a young container-grown tree, gently pull away the soil at the base of the trunk. If the trunk flare is buried (by soil or by mulch) this will encourage the formation of circling roots which will girdle or choke and kill the tree as it grows. As you plant, check the trunk flare will be above the surrounding soil by laying a long-handled tool across the planting hole.
Plant Your Tree - Remove your tree from its container: to ease removal if the root ball is dry, water and leave to soak for half an hour. You can also lay the container on its side and roll gently to release the root ball from the sides. Remove burlap and loosen roots on outside of root ball. Remove any twine. If your tree comes in a wire basket this should ideally be removed before planting. If this is not possible, cut and fold back the top half of the wire basket. Cut away any roots that are damaged, kinked or circling. Carefully lower the root ball into the hole: don't drop it in and don't hold it by the trunk as this will damage the area where the roots meet the trunk. If the root ball is heavy, roll it onto a tarpaulin and use that to lower it into the planting hole. Inspect the trunk from all sides to ensure it is upright and straight and adjust if necessary.
Backfill - Backfill the planting hole half way up the root ball, taking care not to damage the roots, using the native soil which came out of the hole, breaking up any lumps beforehand. Then add 5 gallons/20 litres of water and let drain through to settle soil and remove air pockets. Add the remaining backfill and use any leftover soil to create a low berm around the planting hole which will hold back water. No fertilizer or organic matter is needed so as to encourage the roots to spread beyond the original planting hole. Firm the soil with your hands (not feet!). Finally, add another 5 to 10 gallons/20 to 40 litres of water.
Staking - Protection from Browsing by Deer - Staking is usually not necessary unless the tree is planted on a slope, in a windy location or if the trunk is badly bowed. If you do stake, use one on each side of trunk and attach with flexible ties (i.e. 3 inch/7.5 cm-wide nylon webbing straps). Stake loosely enough to allow some trunk movement. Remove stakes and ties as soon as the tree is established, usually after the first season of growth. To protect from deer, place three stakes about six feet/two metres high, with plastic netting attached round the tree and attach the netting to the ground.
Mulch - You may place 2 to 4 inches/5 to 10 cm of mulch over the root zone to help conserve soil moisture but do not mound up the mulch ("volcano") to cover the root flare. Piling mulch up against the trunk can lead to rot and disease – leave 6 inches/15 cm of bare soil between the trunk flare and the mulch.
Watering - Water your tree well during the first season but don't over-water. A bucketful of water once or twice a week (more if it is very hot or dry) should be enough to soak the entire depth of the root ball (not just the top three inches of soil).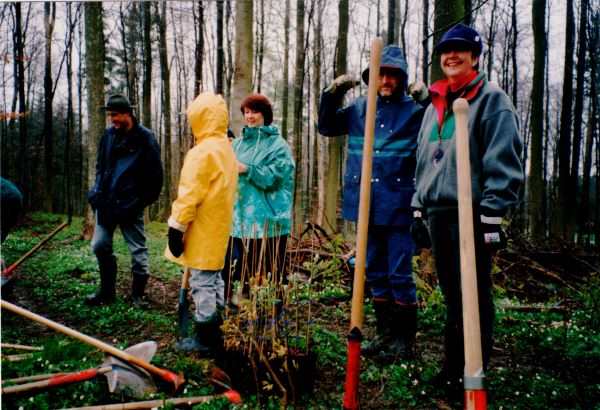 1994 Tree planting by AWC Zurich, SwitzerlandReferences: