By Ann Birot-Salsbury and Clara Siverson, AAWE Refugee Task Force Co-Chairs, and Grace Christovasilis, FAWCO UN Rep to UNHCR Greece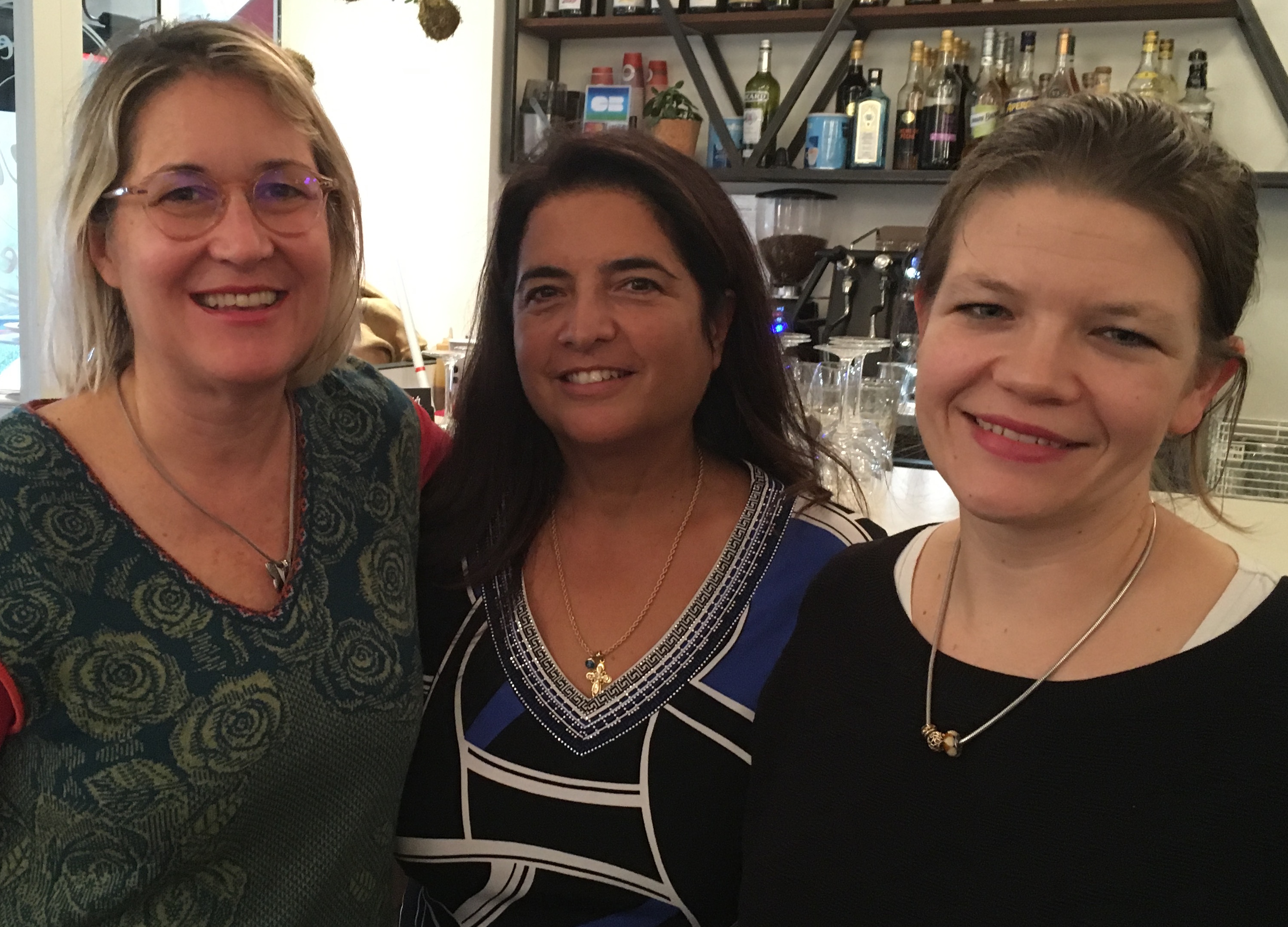 On Thanksgiving Day in Paris over hot chocolate and coffee, Grace Christovasilis, FAWCO UN Rep in Athens and liaison to UNHCR Greece, met with Ann Birot-Salsbury and Clara Siverson (AAWE Paris), AAWE Refugee Task Force Co-Chairs. They shared information about positive projects to help displaced people to be more at home in their new home countries. One of the many ways that FAWCO club members are helping refugees is by helping them learn the language of their new country through language tutoring. They discussed the desire for better communication among the clubs in Europe which are active in supporting refugees. This would enable members to make connections with people in other communities, so when refugees we know relocate to another European country, they can be welcomed by a club through our network.This would assist them in getting settled in their new community. The women's club network includes FAWCO member clubs and members of humanitarian and religious organizations.
Ann, Clara and Grace also talked about specific refugees and how to use our resourceful networks to help refugees realize the dreams that were interrupted when their countryies are at war. Yara is a Syrian refugee in Paris who is a professional dancer. She "danced her story" during an event that the AAWE Refugee Task Force co-created with Yara and other refugees in April. Ann and Clara said, "We dream of introducing Yara to a professional dance company who could include her in their master classes when they visit Paris." This master class opportunity happened in 2014 for Abduol Nazari, an Afghan refugee in Greece, made possible through Grace's collaboration with UNHCR in Greece and the coordinator of the Martha Graham Dance Company's European Tour. Read the UNHCR story about Abdoul's dance dream coming true. Inspired by Grace and Abdoul, the AAWE Refugee Task Force is getting in gear to make this happen for Yara.
Ann, Clara and Grace agreed that their lives have been enriched by their collaboration with the recent arrivals to the countries where we are living.