Everyone, Everywhere, All Together!
What an incredible time we had together – even the brutal Scottish rain couldn't stop us! AWC Central Scotland came through once again with a little help from our friend Margie O'Rourke from AWC Dublin, who was right there with us making sure everything went smoothly. We had our welcome wagon out Friday night at the Meet & Greet, with Nancy Lynner, Ellie Fisher and Margie welcoming our sisters from other clubs with our environmentally themed welcome bag, and we collected the Silent Auction items that people so kindly donated.
On Friday night we shared a meal at a local restaurant, Fletchers, known for their traditional Scottish menu, and played a FAWCO-centric game while we waited for our Scottish-themed dinner. We laughed and we drank – everyone, everywhere, all together.
Saturday was full on! We continued the Meet & Greet for those who were arriving that morning at the Highland Hotel Stirling, and enjoyed a lovely Scottish breakfast before we started our day. The auction items were laid throughout the room: there were cookbooks, candy, calendars, and even a Dutch oven and Google home device available to bid on.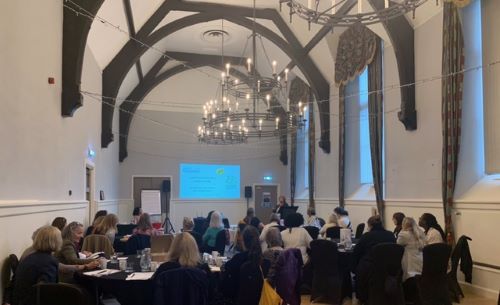 Cynthia Holden, AWC Central Scotland President and Region 1 Coordinator, welcomed everyone and introduced the FAWCO Rep for AWC Central Scotland, Candace Silvera, who was our emcee for the day. A special acknowledgement goes out to AWCCS's IT guru, Quonya Huff, whose digital skills kept the day running smoothly.
We enjoyed a thoughtful icebreaker designed to get people talking to each other and thinking: Environmental People Bingo. All of the questions centered around Climate Action at a personal level. What do you and the people around you do with sustainability in mind?
We then welcomed FAWCO's president, Ann Marie Morrow, and FAWCO's VP Member Clubs, Kanika Holloway, to share information about what FAWCO is and does – very inspiring!
Amanda Drollinger, Target Project Chair, shared the latest updates on the Target Project, Awesome Blossoms, to answer why we are raising money for this worthy charity. She also announced the Youth Cultural Volunteers Program that is being held in Scotland next year, and spoke a little about one of the programs where they will volunteer. The Scottish Seabird Centre is a marine conservation and education charity with a visitor center, located in the beautiful coastal town of North Berwick.
Tammy Mayer, Founder of One Climate Action, spoke to us via Zoom about communicating effectively about climate change. Tammy told us it is everyone's responsibility to save our environment and to speak up to challenge others. We learned the principles of communicating in ways that bring others towards supporting climate solutions. These principles are based on psychology and research about influencing and persuasion. She helped us create our own personal action plan for creating communications materials that we can use in our own clubs.
Our next speaker was Sarah Kent from Trees for Life and the Rewilding Centre in Dundreggan. Trees For Life's vision is of a revitalized, wild forest in the Scottish Highlands, providing space for wildlife to flourish and communities to thrive. For over 25 years, Trees for Life has sought to bring innovation to conservation, and the Dundreggan Rewilding Centre, which opened in April 2023, is the most recent installment in this effort. The Rewilding Centre enables us to share the forest with everyone. It is a place where people can experience an ancient pinewood and unique juniper forest, discover centuries of Gaelic history and connect with a landscape undergoing transformation through rewilding. She was truly amazing, and we learned so much fascinating information about trees. Trees! Who knew?! This is also where our youth will spend most of their time during the cultural exchange.
Next we had The FAWCO Foundation VP Fundraising, Angie Aebersold, who shared information about the annual Education Awards and Development Grants that the Foundation offers to clubs and club members.
Last but not least, we heard from Eileen Budd with the Travelling Folk Museum; she is an expert in Scottish women's folklore. Eileen is a Scottish author, artist and storyteller with over 20 years' experience working with national museums. Raised in Perthshire in a family with a tradition of maintaining oral storytelling practices, she specializes in traditional Scottish folklore, folk traditions, folk objects, origin stories and ancient Scottish legends. She shared a few fascinating stories with us.
We ended the evening with a lovely dinner as we completed the auction and the winners' prizes were passed on to them. A few of the women decided to brave the weather and spent the evening in a local pub, the Settle Inn, established in 1733. They had a great time and lots of laughs with the locals.
On Sunday morning we shared breakfast and said our goodbyes, although a few stayed – including Julia H., FAWCO Rep from AW Surrey International Group, who played crystal singing bowls and gave us all the opportunity to experience the beautiful and calming sounds. The few of us who were left did a wee walk around Stirling, and some of us spent time at Stirling Castle sharing lunch and memories before we said goodbye.
What an absolutely awesome and memorable weekend. We won't soon – or ever — forget Stirling. Everyone, Everywhere, All Together.
Photos by Margie O'Rourke