by Connie Phlipot, AWA Vienna
Intelligent and passionate women connect to bring about positive change. FAWCO's 90-year-old founding principle resounded through the hall of the Hilton Vienna Park last month, where 50 women met to celebrate the accomplishments of this vibrant international organization. AWA Vienna is a proud founding member.
The conference drew members from our Region Five (Germany and Austria) and France, Finland, Switzerland, Belgium, Ireland and the Netherlands. Former AWA Vienna President Janet Darrow flew in from Los Angeles. The atmosphere in the room was exceptionally joyous, as the members had not been able to meet in person for two years. But thanks to the efforts and perseverance of AWA's host team, Working for Global Women, all arrived safely and left delighted to have had the opportunity to reconnect with known and new friends.
The weekend kicked off with Austrian wine in the AWA Vienna Clubhouse, followed by a buffet dinner at the historic Melker Stiftskeller. The conference day was packed with eight hours of information-sharing, networking, fundraising and fun, focused on "Living the SDGs" (Sustainable Development Goals). FAWCO President Emily van Eerten emphasized the group's ability to bring about positive change, citing the international event held by the Human Rights Team and member participation in the UN Climate Change Conference COP26 in Glasgow.
Target Program Chair Tharien van Eck reported that the organization met its goal of raising $140,000 in support of FAWCO's current Target Project, "Safe Alternatives for FGM (Female Genital Mutilation) Elimination" or S.A.F.E. She then gave an update on the Project overall. Amid sobering information on the continued horrors of FGM, members learned how the Project's creation of alternative rites of passage and education efforts were steadily making a difference. A video gratitude message from Rhobi Samwelly, project creator and FGM survivor, inspired the group. Donations to S.A.F.E. will continue until the end of February 2022. Barbara Bühling, president of The FAWCO Foundation, provided updates on Education Awards and Development Grants available to the FAWCO community. Barbara also reported which SDGs Region 5 has supported through the Development Grants each Club had received.
The Vienna Team also engaged women speakers from various city government agencies. Drawing on the image of a fictional single Viennese mother and her daughter, Ursula Bauer from the City of Vienna's Gender Mainstreaming department outlined the services available to help women live independent and self-determined lives. She noted that twice a year since 2008, the Federal Constitution requires all municipal departments to check – and publicize – their budget allocations for gender relevance and outline measures to reduce discrimination. Alena Sirka-Bred, head of Vienna's Department of European and International Affairs, showed how the city administration addressed sustainability even before the SDGs were initiated. As AWA President Sheila Hargreaves noted, positive and proactive government practices made her "proud to live in Austria."
Karin Kuranda of SDG Watch, an NGO dedicated to monitoring government fulfilment of SDG obligations and advocating SDG-advancing policies, further analyzed Austria's SDG record. While the country is a leader in sustainable development, it falls short on climate and sustainable consumption and, like many other wealthy nations, scores poorly on "negative spillover" (the impact its actions have on other, less affluent countries). The data-based non-partisan information helped the group to put global achievements in perspective.
During an interactive exercise, FAWCO-affiliate Clubs shared information about their activities, plans and best practices. Surprisingly a COVID-19 adaptation – Zoom meetings – has been embraced to help members stay in touch, increase the number of participants and connect with other clubs internationally. As if proving that point, several participants joined the Regional via Zoom. Throughout the lockdowns and restrictions, members connected through phone calls, cards and by sending flowers on International Women's Day.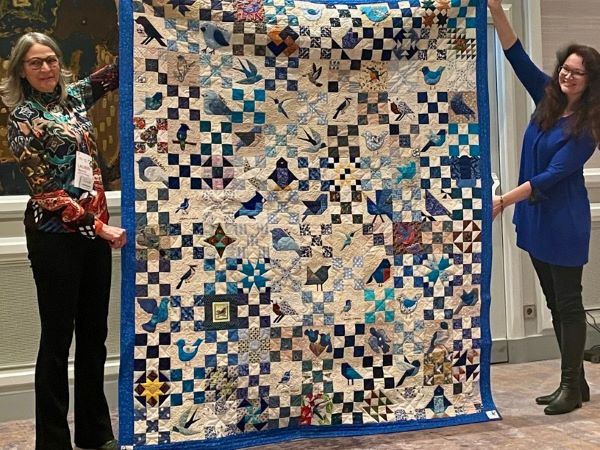 True to FAWCO's founding principles, the conference included fundraising and cultural exchange. Raffles and sales of member-created books, cards and jewellery raised almost 2000€ for the Target Project as well as Education Awards and Development Grants. FAWCO Friendship Quilt "Bluebirds of Happiness" put together with squares from members worldwide was revealed to great applause and will be raffled to support The FAWCO Foundation's programs.
AWA Vienna's Urte Paulus danced hulas, and Elizabeth Koyama played classical violin. At the close of the day, dinner at Habibi and Hawara offered attendees a taste of Middle Eastern cuisine and the knowledge that their dinner cost supported the refugees trained and hired by the restaurant.
From beginning to end, the well-planned regional conference stayed true to its theme of "Living the SDGs," brought to life by Teddie Weyr in her Vienna Sustainable Development Tour. Many thanks to the Working for Global Women team of Laurie, Bev, Connie, Michelle, Teddie and Humera.