At the end of 2016, AWC Denmark was offered a unique fundraising opportunity: cooperation with the staff associations of the United Nations agencies located in Copenhagen to raise money for charity through the agencies' celebration of UN Day on 28 October. An AWC member who worked for the World Health Organization (WHO), Mary Stewart Burgher, was asked to run the book-sale portion of the celebration, and to suggest a worthy charity to receive the money raised by the celebration itself. She was delighted to seize the chance to clear out the hundreds of books AWC Denmark had in storage and to suggest Association NEEED, which supports girls' and women's education in Burkina Faso, as the receiving charity. AWC had supported NEEED since 2007, and FAWCO donated annual amounts for six years, ending in 2016 (as FAWCO will soon select a new education project to be the focus of its Target Program).
Shortly before Christmas, AWC found out the total amount raised by the event. Hold on to your hats: the UN Day celebration raised a total of DKK 30,025 (over $4,200), which the joint staff associations have already sent to Association NEEED.
For an overview of NEEED's work (in French), see its website (
http://www.neeed.org/
); information in English is available on the website of the friends of Burkina Faso (
http://www.friendsofburkinafaso.org/projects/neeed
). AWC's share of the total came from sales of the books in its storage room (while vastly reducing the amount it has to pay to store) and from sales of jewelry by another member, Cyntheia Singleton. Mary Stewart sends grateful thanks to the AWC members (and their children) who gave vital help as eager UN staff scooped up piles of books!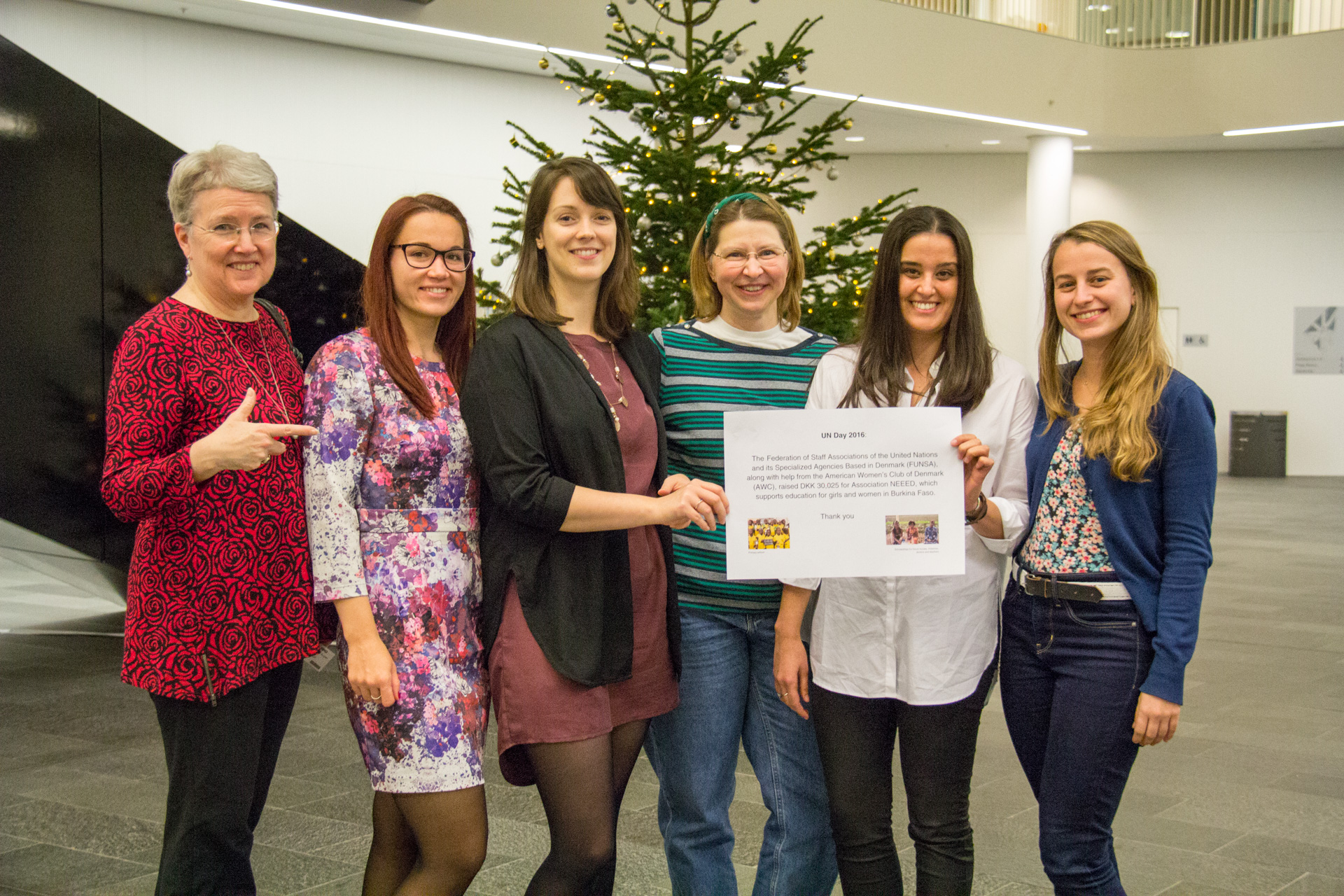 Photo: AWC Denmark member (and now retired WHO staff member) Mary Stewart Burgher at left with UN Day coordinators at UN City, December 2016.