I am sharing the letter AWA Rome "Fact Forum" chair, Suzanne McMillen wrote to our membership following a very successful event that was the outcome of a collaboration among our Community Services Chair, Fact Forum Chair and FAWCO Rep. Elizabeth Abbot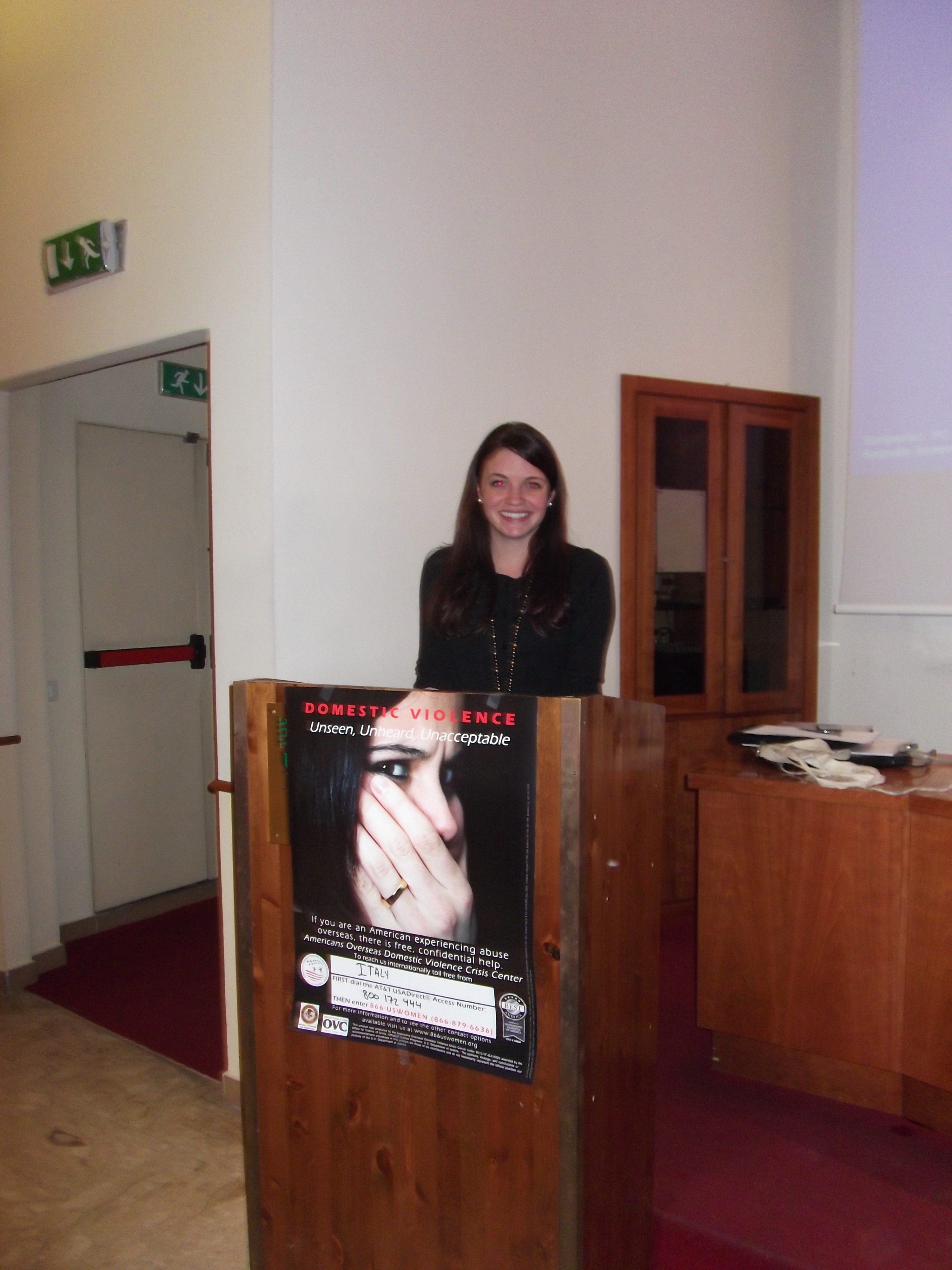 Dear AWAR Members,
We had an illustrious visitor this week in Rome-- Brooke Galloway, Development and Policy Director for the Americans Overseas Domestic Violence Crisis Center, (TOLL FREE NUMBER: 866-USWOMEN) as our guest speaker for the Fact Forum on Feb. 21st.
For those of you who could not come to the event, I would like to give you some background on her activities while here in Rome. Aside from her very informative lecture at the American University of Rome Auditorium on Tuesday, we arranged an interview with the English Program of Vatican Radio which will be aired shortly. (I will send you the link when I receive it.) Just before leaving Rome yesterday, the entire staff of the Citizen's Services Department at the American Embassy welcomed us for a in-depth meeting to discuss how to best inform the Americans who need help from domestic violence on Italian soil.
AODVCC is looking for "Ambassadors" to spread the word about their services for victims of domestic violence…men and women, surprisingly. There will be an on-line training session in March, 2012 so if any of you feel that you might qualify and want to volunteer, contact Brooke at: .
This was a first time collaboration among three board members of AWAR: FAWCO, Community Services and Fact Forum. In the future, there will be more of these events to reach out in the community to help American women and women of other nationalities because that is the purpose of AWAR.
Remember the slogan on this year's Handbook and Directory…"Living in total AWARness in a Caring, Connected Community". That is what we did successfully with this event and all it involved.
A special thank you to everyone that collaborated to make this event a great success.
Regards,
Suzanne McMillen for the Chairs