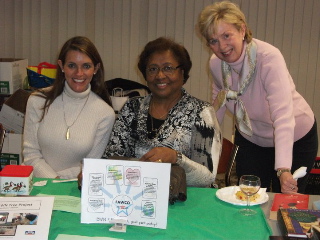 Article Submitted by BWN Rep, Arline Coward
Arline Coward, BWN FAWCO Rep (right) and two FAWCO Committee members, Jessica Ziegler on left and Gwen Gilmore de Comas (center) taken at the FAWCO table at the BWN Holiday Bazaar. We sold trees for the BWN Tree Project in support of the FAWCO Millennium Forest and answered questions about FAWCO  (information card on table for reference).
Sold another 125 euros of trees at the Bazaar. Very nice to have such a fun and dynamic FAWCO Committee, we are putting FAWCO interest in BWN. The Committee is included in BWN interests, yeah!