By Anne van Oorschot, AWC The Hague
Water: Changing the Flow – Tabitha: Wells for Clean Water
FAWCO's Target Program was created as an opportunity to increase awareness about an important global issue and to fundraise together in support of a project. Let me start with a bit of background information on the first Target Program for those of you who are a bit newer to FAWCO.
The formal launch of the Target Program was in 2009, and water was selected as the issue one year later. Possible projects to support were submitted, three finalists selected, and the clubs voted to support Tabitha Foundation's Wells for Clean Water in Cambodia. Fifty-seven clubs out of the 73 in FAWCO (or 78%!) participated in some way, either by fundraising for the project and/or raising awareness of water problems and challenges among their club members. Pretty darn good for a new program!
While a few smaller water initiatives were supported, the bulk of the money raised went to Tabitha Foundation's Wells for Clean Water, and $135,255 was donated. This, in turn, allowed 267 family wells and 370 field wells to be dug in Cambodia!! Just to remind you, a family well cost $150 and was used by three families for a kitchen garden, cooking and drinking, and personal hygiene. The cost of a field well was $250, and it was used by two families for a kitchen garden, cooking and drinking, personal hygiene and for the irrigation of 10 acres, making intensive agriculture possible. This means that the wells FAWCO paid to dig changed the flow for 1,541 families in Cambodia!
I hope you can agree that it was a huge success, but one always wonders how things are going now with the wells we dug so many years ago… I recently had the opportunity to chat with Janne Ritskes, the founder of Tabitha, and that is one of the things I asked her. Let me share key points from the conversation I had with her.
Question: What was the situation in Cambodia in 1992 when Tabitha started operating there?
Cambodia had been very affected by the war in Vietnam, and in the horrible genocide that followed, 25% of the population was murdered. When I came to Cambodia, 95% of the population lived in abject poverty, and there was very little hope for improvement.
Question: Tabitha had a number of programs in addition to the Wells for Clean Water project; can you tell us a little about how the wells project fit in?
The core of our work was the Savings Program, and participation was essential for taking part in all the other projects. Participating in Savings meant that people had to choose to change their lives. The people had very little, and $0.05 was the minimum families had to save each week to participate. While the families in the Savings Program choose what they wanted to spend their money on, access to water was a key item to improve their lives. Water really rounded out the Savings Program and made a tremendous difference in the lives of families.
Question: Can you tell us more about how a family or field well changed the lives of Cambodian families?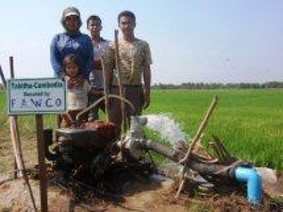 No access to water meant no school for the kids, as they were tasked with finding and fetching water. No access to water meant poor hygiene, which resulted in more illness, and with no water for irrigation, only one crop harvest per year was possible. A supply of clean water changed all these points dramatically! Kids went to school, people were healthier, and the industrious Cambodians grew and harvested three crops per year, greatly increasing their incomes. In a short period, people's incomes had tripled and quadrupled! Within 1½ years, they started making improvements on their small, thatched homes and buying simple things for their families. Families went from having a small income to having 4-6 sources of income – from pennies a day to dollars a day – and within five years, their whole lives had changed dramatically for the better!
Question: Who would get a well? What about the actual process of digging a well – how did that work?
Only people who were in our Savings Program were able to get a well, and they had to meet two conditions: they had to pay $25 as part of the well, and they had to earn an income from the water provided. Their contribution to the cost, though sometimes a real challenge to come up with, made it "their well," so they were careful to take care of it. There was no calling Tabitha with the statement, "Your well is broken." They also had to earn money from the well – not by selling the water to their neighbors, but by growing crops, having a kitchen garden, or through animal husbandry. (According to Janne, chickens are the next best thing to have after water.)
The wells were dug using local contractors who were much cheaper and allowed for continuity. These locals were very skilled at finding water, and could dig a well – all by hand – in half a day. The flange in the wells was the vulnerable part most in need of repair, and the local contractors learned how to fix it. They were close by to make any repairs needed, but the families quicky learned how to fix their wells themselves. With local contractors close and the families learning about maintenance and repairs, the functioning of the wells is insured into the future.
Question: Unfortunately for the people of Cambodia, Tabitha recently closed down; could you tell us a little about why?
While 95% of the population was in abject poverty when Tabitha started working in the country in 1992, the situation has vastly improved! The development has been amazing, with improvements in health, education, infrastructure and buildings. Tabitha has played a significant role in solving the problems in Cambodia. That sentiment was clearly recognized by the government at Tabitha's closing ceremony, when they estimated that the organization deeply impacted one third of the population! Whole districts were changed and lifted out of poverty through Tabitha's work.
Question: Is there anything else you'd like to tell FAWCO's members?
It was not just the families who received a well from FAWCO that benefited; the local contractors, who had more work, also benefited. These contractors (who worked for Tabitha) asked if they could dig wells for others who were a bit better off, and got a green light, "as long as it's for the same price that Tabitha pays." The total impact was enormous – whole areas were changed!! FAWCO changed the lives of a LOT of people, and their children are benefitting as well.
Watch the full interview with Janne Ritskes (15 mins).
Anne van Oorschot was chair of FAWCO's first Target Environment Program, 2009–2013.
Photo credits: Janne Ritskes and the Tabitha project