Update VI - December 2018

Amanda Lane, Executive Director
Collateral Repair Project
A Busy Fall Season...

Fall is always a busy time of the year at CRP. Between our Back to School drive and all the new activities starting up at the community center, it has been pretty non stop for all our staff. But we're buoyed by the fact that this year we've been able to make a larger impact than ever. CRP's Back to School distributions reached a record number of 1800 children, and our programs have had the highest attendance numbers to date--with October attendance alone just under 4000. Without FAWCO's support we could have never reached either of these milestones, so thank you!
A busy start to the school season
October saw the opening of our new community center in downtown Amman. The new center allows CRP to provide better access to basic needs assistance and trauma-sensitive programs for Somalis, Sudanese, and Yemenis--the most underserved refugee communities in Jordan. Nearly 15,000 Somali, Sudanese, and Yemeni refugees are registered with the UNHCR in Jordan and, despite the acute need, they receive little support from international humanitarian organizations. Food insecurity in these communities is acute--which means that they are barely able to focus on other activities, like healing from trauma or stress management. We've taken the first step in opening the new center to begin focusing on food support for these communities and in the new year we plan to expand our activities to begin addressing the many other needs they have. FAWCO will be right with us, too, as we start up Women's Empowerment 101, GBV Awareness and Advocacy, English Language courses and After School Club.

Opening of CRP's new downtown center
We've just finished up an excellent visit by our fantastic Educational Consultant, Beryl Cheal, who arrived in early November to check up on the progress of Super Girls and our youth programs. The goal of her visit was to observe how Super Girls and our youth programs are running and to offer up recommendations we can act on to improve our work going forward. You'll remember that Beryl came last year and set up the Super Girls program--one of our most vibrant FAWCO programs. With her invaluable 60+ years experience working with children and designing trauma-sensitive programs, Beryl is such an excellent resource to CRP and we are so lucky to have her oversight and expertise.
Much of her work with us involved staff training to make CRP more trauma sensitive. And she's been making progress, as you'll see from Dareen, one of our volunteers, who says, "The activities that Beryl is guiding us through during the training make us feel like children. She has us think as children would when it comes to feelings and raw emotion--she has a way to really bring out that in people." Beryl's goal is always to instill empathy and skills in our staff to best serve our children, but her creative approach--getting everyone to draw, dance, and do the Hokey Pokey!--ensures that the training is fun, productive and memorable.
Beryl Cheal, Education Consultant and Trauma Specialist returns
to CRP to supervise the Super Girls program and train staff.
In November we also held two community training workshops--one to train additional trainers for Women's Empowerment 101 and Gender-Based Violence Awareness and another workshop to start off our Leadership in Action program. Our training of trainers got 16 new trainers ready to begin leading sessions, and we're ready to get them in front of new groups in the coming weeks. Our other workshop got community members together to learn more about civic engagement and community mobilization. We're doing these workshops now with adults and will start up with similar trainings for teens in the new year. What's great about this FAWCO-sponsored program is that these groups will then go on to roll out community-based projects that address issues they believe are important to advocate for in the community. Giving leadership opportunities like these to community members and training them to be agents of change is essential to the sustainability of our programs.
I had the great pleasure to see many of you in the recent trip I made to the Netherlands and Germany--and an especially good time at the Region 5 meeting in Heidelberg. It's always so great to connect with FAWCO members, and this trip was particularly interesting as I spent time with a variety of clubs, had great discussions with many of you, and really got to see up close how FAWCO and participating clubs get involved in a grassroots way to address issues important to them and do so much good in the world. The enthusiasm for the Hope Beyond Displacement project from so many people I spoke with was, of course, beyond heartwarming.
Amanda Lane visiting 1. AWC Amsterdam 2. AWC The Hague 3. AWC Berlin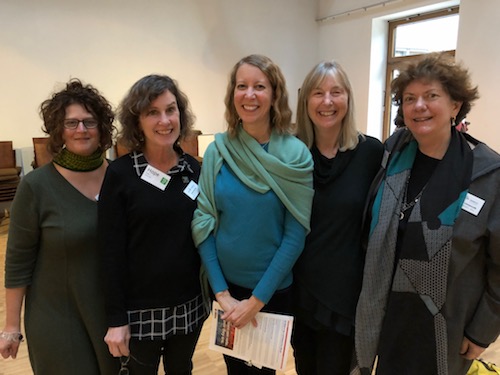 Amanda Lane reconnecting with Site Visit Participants Tricia R. Saur,
Hope Moore, Patti Meek and Sallie Chaballier at the Region 5 Meeting in Heidelberg
I can't sign off without thanking you once again--from all of us!--for your continued support and enthusiasm for our work. FAWCO is enabling us to reach so many new woman and girls and to continue expanding our programs to meet real needs in our community. There is so much demand for these programs, and we are lucky that FAWCO has given us the means to increase this work and continue to add to the vibrancy and diversity around our center. We are so grateful for your support!
- Amanda Lane, Executive Director
Collateral Repair Project