"Good health and nutrition are not only essential inputs but also important outcomes of basic education of good quality. First, children must be healthy and well-nourished in order to fully participate in education and gain its maximum benefits." - Health & Schools
One year ago, we launched a series addressing interventions that work in girls education as outlined in What Works in Girls Education: Evidence for the World's Best Investment [click on the title to download a free pdf of the book!]. The authors present a list of seven intervention areas which are critical to increasing the number of girls who enroll and stay in school:
Making schools affordable

Helping girls overcome health barriers

Reducing the time and distance to get to school

Making schools more girl-friendly

Improving school quality

Increasing community engagement

Sustaining girls' education during emergencies
We began by discussing the importance of making schools affordable. This month we will continue the conversation and turn our attention to the link between health and girls' education. We will focus on nutrition, disease, and water, sanitation and hygiene.
Helping Girls Overcome Health Barriers
"Poor health and nutrition prevent children from attending school and from learning to their best ability whilst there. School Health and Nutrition programmes (SHN) are amongst the most cost effective interventions that exist to improve both children's education and health. They can add four to six points to IQ levels, 10% to school participation, and an additional one to two years of education (World Bank).

Globally, the number of children reaching school age is estimated to be 1.2 billion children, 18% of the world's population, with 88% of these children living in less developed countries where there is a high prevalence of disease and illness." - Health & Schools - The Partnership for Child Development
Girls are enrolled in and attend school at lower rates than boys.
Community and school based interventions which address health help reduce this gap.
In chapter 4, the authors site studies of programs which address nutrition, disease and WASH (Water, Sanitation and Hygiene) and their impact. Let's examine the issues and some interventions.
Key Issues and Interventions:
1. Nutrition
Proper nutrition is essential for healthy child development: cognitive, behavioural, and physical.
Among young children (ages 0-5) malnutrition can lead to stunting, contributing to high death rates among children living in poverty. For those who survive, stunting 'is associated with an underdeveloped brain, with long-lasting harmful consequences, including diminished mental ability and learning capacity, and poor school performance in childhood.' (UNICEF)
Among school age children lack of proper nutrition impacts energy level, concentration and cognitive functioning. "General malnutrition and specific micronutrient deficiencies ​including Iodine​, Vitamin A​ and Iron and Anaemia ​can occur at any age and are common in school children. …
Nutrition Interventions at school-age offers direct benefits for school children, because current micronutrient deficiencies, (unlike stunting and other long-term consequences of earlier malnutrition), are rapidly reversible at any age. Addressing these deficiencies has been shown to have a positive impact on learning." (Schools & Health) ​
Here are two examples of successful interventions from the book:
"In Pakistan, a large-scale community-delivered school lunch program in 4,035 government primary girls' schools in twenty-nine of the poorest rural districts helped to halve wasting due to malnutrition and to increase enrollment by 40 percent over the two-year intervention period." - page 131

"The World Food Program's Food for Education project increased absolute enrollment in schools receiving on-site feeding and take home rations in thirty-two Sub-Saharan African countries by nearly 28 percent for girls and by 22 percent for boys in the first year." - page 132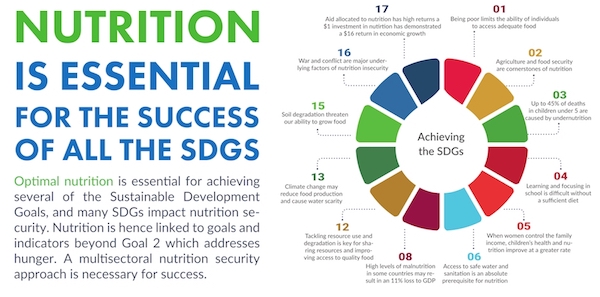 2. Disease
The authors also site de-worming as a critical health intervention for keeping children in school and improving learning outcomes. Let's again turn to the Schools & Health site for a better understanding:
​​​"Over 600 million school-age children are infected with parasitic worms. School-age children typically have the highest burden of worm infection of any age group with an estimated 400 million children worldwide…

Chronic worm infections are widespread among children, in fact as they are so common they are often not seen as a threat but just as a symptom of childhood, yet they have devastating impacts. Children infected with worms fail to attend school on a regular basis and those who do attend school are often unable to concentrate and learn due in large part to tired or sickness. Worm infections can cause anaemia and malnutrition and see that children don't have the energy they would otherwise.

School-based deworming​ is universally recognized as a safe, simple and cost-effective solution. At a cost of less than 50 US cents per child per year - the benefits of school-based deworming are both immediate and enduring.

Regular treatment can reduce school absenteeism by 25%. Deworming can also increase adult earnings by over 20%; as a consequence of greater earnings and workforce participation when these children grow to be adults." (Schools & Health)
School-based deworming programs have long been understood as a safe, cost effective way to keep children healthy and improve learning outcomes as evidenced by this 2003 report by the World Health Organization - School Deworming (WHO).
While not cited by the authors, malaria treatment and prevention is also considered a critical health intervention which has a positive impact on school age children and education outcomes. To learn more read "Malaria Control in Schools" found on the Schools & Health website.
---
While, the authors acknowledge that nutrition and deworming programs are not a gender specific intervention, they argue that these school based programs "can serve as significant motivation for parents to send their daughters to school." On the other hand the next category of interventions is highly correlated to girls academic achievement.
---
3. Water, Sanitation and Hygiene (WASH)
This intervention warrants its own blog - the scope is so far reaching. I have been wanting to write on this topic for a while - So let's dive in!

Water, sanitation and hygiene are separate but related issues. They are intertwined and while need to be addressed separately, none can succeed if either of the other two fail. WASH is an approach to public health:
Provide access to safe WATER.

Ensure proper SANITATION with access to and use of basic toilets and ways to separate human waste from contact with people.

Nurture good HYGIENE practices, especially handwashing with soap.
… and is particularly important in school settings where its practice has a profound impact on gender equity. It even has its own acronym WASH in Schools (WinS) and the Global Partnership for Water, Sanitation and Hygiene in Schools hosts a virtual conference annually, which can be viewed on their website.
Lack of WinS Impacts Students and Teachers!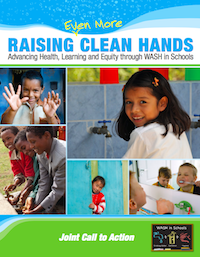 "Girls are particularly vulnerable to dropping out of school, partly because many are reluctant to continue their education when toilets and washstands are not private, not safe or simply not available. When schools have appropriate, gender-separated facilities, an obstacle to attendance is removed." - Raising Even More Clean Hands: Advancing Health, Learning and Equity through WASH in Schools (page 17).
"Her symptoms included belly pain and dizziness. At times, they were so severe that 10-year-old Golu Kumari went home early from school. She was not the only one with this particular set of problems.

The cause of her illness was not food poisoning or a virus. It stemmed from the lack of a toilet at her school.

"When we had to relieve ourselves, we wouldn't go because we were afraid the boys would follow us," the slight girl says. "They would stand there and watch us. Our stomachs would start hurting because we wouldn't go. Then we wouldn't feel well so we would take the rest of the day off from school."" -

Menstrual Hygiene Management (MHM)
"In recent years there has been an enormous shift in the global development community's attention to the menstrual hygiene management (MHM) challenges facing school girls in low- and middle-income countries" - Wash in Schools (WinS) Empowers Girls in Schools
Her Turn synthesizes the issues brilliantly in these wonderful infographics: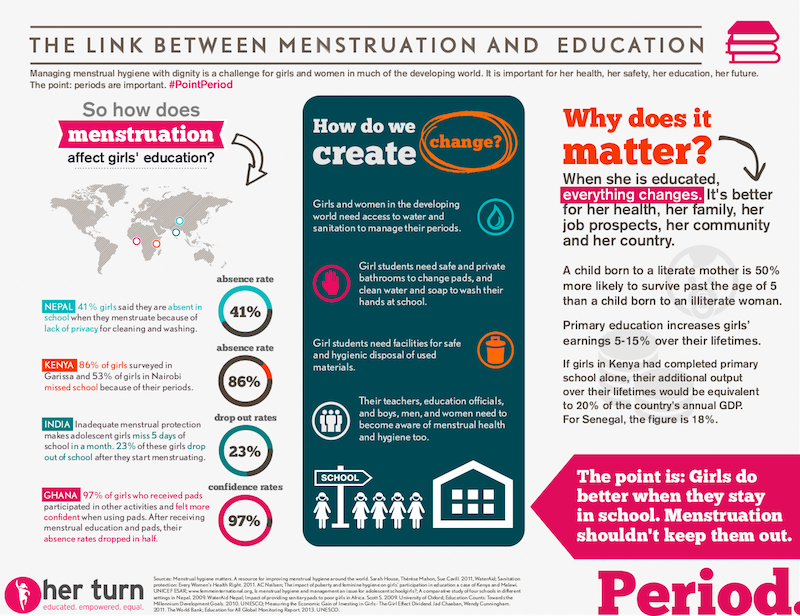 Also Recommended: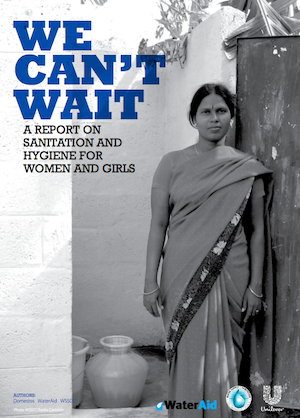 Explore these two informational posters:
Watch Mr. Toilet, a 3-minute video which puts the issue in the broader context of public health.
Listen: NPR Cape Town Prepares to Turn off the Taps, a 3-minute story about the impact of 'Day Zero' on schools in South Africa's capital city.
NICE TO KNOW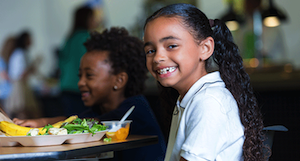 Home Grown School Feeding (HGSF) aims to deliver government-led, cost-effective school feeding programmes using food that is locally grown by smallholder farmers. These interventions have been described as a win-win for children and farmers alike, with aims to:
tackle hunger and improve nutrition;

increase children's access, participation and achievement in school;

and support local livelihoods.
HGSF is therefore one response for different sectors from health, education and agriculture, to join-up their work to achieve positive combined results.

Because financial resources are s limited, refugee families in Amman, Jordan often struggle to secure adequate nutrition. As part of the emergency services program CRP distributes food vouchers to families. The FAWCO Target Project, Hope Beyond Displacement, provides additional nutritional support to the young girls attending the Super Girls After School Program.
"​The FRESH framework, an intersectoral partnership to Focus Resources on Effective School Health, provides the context for effective health related school policies. School policies, promoting good health and a non-discriminatory, safe and secure physical and psychosocial environment, are most effective when supported by other reinforcing strategies such as provision of safe water and sanitation, skills based health education, provision of health and other services, effective referral to external health service providers and links with the community." - Schools & Health
Do the schools in your country provide services for children's health?
Immunizations?

Annual check up?

A school nurse?

Breakfast or lunch programs?

Food pantry?
Health and learning have a cyclical dynamic!
Good Health = Better Education Outcomes : Quality Education = Better Health Outcomes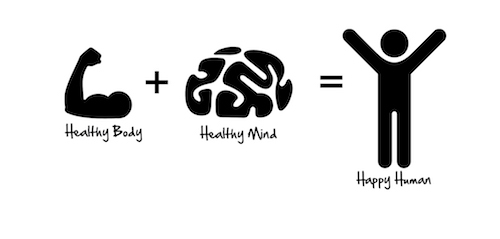 ---
Keep an eye open for a future issue of Let's Get Schooled, when we explore the importance of "reducing the time and distance to get to school".