Welcome to our inaugural blog post! It's a little experiment to get our message out. "What message?" you ask... Education is vital to the well-being of women and girls.
The FAWCO Target Program 2016 - 2019: Education – Empowering Women and Girls through Knowledge and Skills was launched at the FAWCO Interim Meeting in Frankfurt (March 11-13, 2016).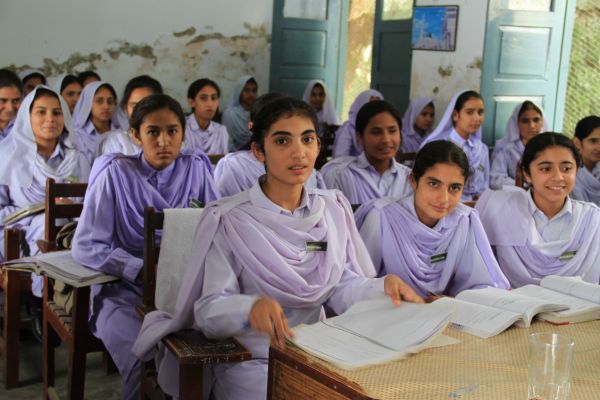 Wikimedia Commons : Girls in school in Khyber Pakhtunkh
I realize only a small portion of FAWCO members were able to attend the meeting last month, so we're going to recap some of the key points from the launch and give you links to the slides and other fun and informative material.
We'll start off with a link to the slide presentation. It provides some nice visuals and I'll guide you through some of the slides as we get into the issues.
Education is vital to the well-being of women and girls
Let's begin with the message on Slide 6 which supports our premise that education is vital to the well-being of women and girls.
"Education is one of the most critical areas of empowerment for women. When girls are educated, they lead healthier and more productive lives. . . . An educated girl has a positive ripple effect on her health, family, community and society as a whole." - USAID
Source: Global Living Rural India: Women and Widows
To illustrate the importance of education on a girl's future well-being and the impact on her family, community and society, participants were shown "The Clock is Ticking" a video produced by The Girl Effect.
Gender Inequality Is at the Core…
Our initial question is "What is preventing girls from getting an education?"
As we examine the barriers, we discover that gender inequality is at the core. The UN Education for Sustainable Development pointedly states:
"Gender-based discrimination in education is both a cause and a consequence of deep-rooted disparities in society, . . . which prevent millions of girls from enrolling, completing and benefitting from education."
On Slide 9 we identify barriers to girls' education found across the Global South. See how they compare with the Top 10 list published by the Global Partnership for Education.
We start with a top down view, recognizing that government policies and legal systems often either disempower women and girls, or neglect them all together. These are supported and reinforced by cultural norms.
Traditional attitudes about women's status and their role in society often undermine the ability of women and girls to exercise their rights, giving rise to societies which promote harmful practices such as: seclusion, early marriage resulting in early pregnancy, and gender-based violence. All of which lead to higher drop-out rates as girls approach adolescence.
These tragedies are compounded when women and girls live in poverty. In the face of limited resources, children are forced into labor to help support the family, typically leaving no time for school. Faced with a choice, families will typically choose to invest in their son's education rather than their daughter's.
Geographical isolation limits access to all resources, especially education! A girl is less likely to attend school if she needs to travel long distances to get there. In addition to concerns for her safety, her family may decide the time lost for household chores or work to support the family is too great a sacrifice.
Quality education is dependent on having well trained teachers. For girls, this means a shift in attitudes to combat gender stereotypes and entrenched discriminatory social norms. Gender-sensitive teacher training and an increase in the number of female teachers is needed to create learning environments which encourage girls to stay in school.
Likewise, sanitation is a major issue. Young girls are denied privacy and dignity when schools lack proper sanitation facilities. When menstruation begins the conditions becomes untenable for girls.
Security: Simply attending school is a courageous act for girls in some places. Groups like the Taliban and Boko Haram kidnap, maim or even murder girls for pursuing their right to an education. Fear for their safety often results in parents keeping their girls at home.
Populations with special needs face unique barriers to accessing education:
Girls with disabilities and girls from ethnic minorities are often marginalized and girls stand to lose the most because they become 'invisible'.
Children who are displaced due to crisis and conflict often lose years of valuable education because education has not been incorporated as a fundamental component of humanitarian aid.
Let's Get Schooled
I know it sounds grim, so remember there are programs working to break down each and every one of these barriers! And with a new Target Project coming in March 2017 we will do our part. In the meantime, join me as we get schooled… In future blogs we will dive deeper in these issues and explore women's education; like the need for literacy and numeracy skills, as well as technical and vocational training to empower women to break the cycle of poverty.
I would love to hear from you!
Next Post: We will be looking to the UN and other leaders in global education to better understand the 2030 agenda for education before we get into the nitty gritty of what's happening with women's and girls' education.
- Tricia R. Saur, Target Program Chair