by Marelie Manders, Heidelberg IWC
The new FAWCO Target Project, Awesome Blossoms, is a part of the Safe Spaces community-based organization and aims to expand on growing vegetables using hydroponics in the Mathare slum area of Nairobi. What is impressive is that this project addresses a great number of the Sustainable Development Goals – SDGs: 1, 3, 4, 5, 8, 10, 11, 12 and 17. SDG 5, Gender Equality, is particularly important in this project, as women and girls face unique challenges in the slums of Nairobi.
About 60 percent of Nairobi's population live in slums with inadequate access to water and sanitation. These over-populated and impoverished communities are often riddled with crime, and their security needs seem to be neglected by the government. Slums like Mathare lack basic sanitation facilities, clean water, decent housing and security. Residents are forced to use their personal networks to ensure the security of friends and family.
Mathare has the highest population density of all the sub-counties in Kenya, and most residents live in shacks constructed with corrugated iron sheets. Young people often get recruited into gangs that are sometimes even hired by politicians to further their own agendas.
Carolyne W. Njihia from St. Paul's University in Limuru has focused her research on the Mathare slums and conducted interviews with women who work as vendors in order to make a living. She found that women are often required to break the traditional roles of mothers and housewives and seek opportunities to help their families by working in the informal sector or by trading. Women in Mathare have multiple responsibilities. Many women are the breadwinners in single-headed homes, and many change their jobs depending on prevailing circumstances, everything to make sure that some income is maintained. Those who run trading stands feed their children early in the morning, work an entire day and sometimes stay late for customers, and leave their children in the care of neighbors.
As fresh water only arrives once a week, women may have to fetch water in the late hours of the night to ensure they have enough water for the coming week. There are no streetlights, making it even more risky for women to move around at night. It has been reported by Amnesty International that many women in these areas are afraid to move around alone, or even visit the communal latrines, out of fear of being raped, with consequences such as contracting HIV and becoming pregnant. It has further been reported that many women in these slums suffer sextortion, where they are required to exchange sexual favors when picking up water or using the toilets. It is a terrible reality that many women lose their dignity, a protected human right, in trying to fulfill their basic needs.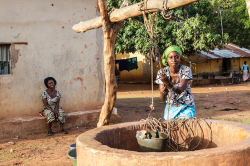 Community organizations claim that the government fails to implement laws in the slums because of decades of non-recognition of these areas. Perpetrators often get away with their crimes by settling the dispute with relatives, with authorities thereafter often failing to undertake further investigations. Families often also fail to cooperate with any investigations out of shame. This non-cooperation is also seen in cases of domestic violence.
In interviews, female venders reported continuous sexual violence and assaults by their customers and muggings on their way home. Many women do not see law enforcement in a positive light and identify it as a source of insecurity. The interviews further showed that life in Mathare is tough for girls. Many girls are forced to leave school early due to pregnancy, early marriage or having to work. Many girls are widowed early in their lives, leaving them in single-headed households and once again in need of finding ways of earning an income.
Sources:
Carolyne W. Njihia, "Pursuing livelihoods in insecure environments: Coping mechanisms by women small scale traders in Mathare Slums in Nairobi, Kenya," African Multidisciplinary Journal of Research (AMJR) Vol. 7 (I), 2022, (78-96)
The Nation, "The Slum Women of Kenya"
Deutsche Welle, "Sextortion rife in Kenya's Kibera Slum"
BBC, "Fears of rape in Kenya's slums 'trap women'"
All photos: Canva Pro