June 20 is World Refugee Day
AAWE member Asma Darwish, a member of the Human Rights Team and the FAWCO Refugee Network, shared her story during the Human Rights Team's monthly virtual call.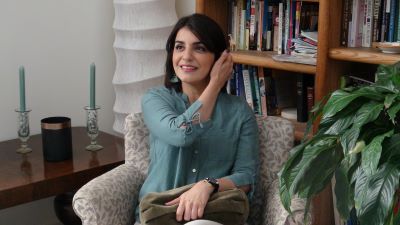 Here is her story, taken from the meeting notes:
Asma, who is a Bahraini citizen who has been granted refugee status and is residing in France, gave us an overview of her story, which began when she was a student activist at Bahrain Polytechnic, where she organized and participated in student protests and peaceful political movements that started in February 2011. For these activities, she was expelled from the institution in the last year of her studies. She also witnessed the marginalization of others who participated in protests against the government, demanding political and social reforms, including equality of participation in the workings of the government. These people were dismissed from their jobs and were targeted via posts on social media for participating in anti-government protests.
In June of that same year (2011), at the young age of 20, after some of her family members found themselves arrested and some of whom even "disappeared," Asma went on a hunger strike to draw attention to the unjust plight of many in Bahrain and raised her profile by bringing a letter addressed to the Secretary General to the United Nations offices in Bahrain. She and her two compatriots were arrested for this. Asma had used Twitter to communicate her plight, catching the eye of Helen Clark, the former prime minister of New Zealand, who advocated for her release.
Since 2011, Asma has been a Human Rights Defender and has been working with different local human rights organizations, most recently as an advocacy officer with the Bahrain Center for Human Rights (BCHR), which is a non-profit, non-governmental organization, registered with the Bahraini Ministry of Labor and Social Services since July 2002. Despite an order by the authorities in November 2004 to close down, BCHR is still functioning after gaining wide local and international support for its struggle to promote human rights in Bahrain. The vast majority of BCHR operations are carried out in Bahrain, while a small office in exile, founded in 2011, is maintained in Copenhagen, Denmark, to coordinate the international advocacy program. For more than 18 years, BCHR has carried out numerous projects including advocacy, digital security trainings, workshops, seminars, research, media campaigns and reporting to UN mechanisms and international NGOs. BCHR has also participated in many regional and international conferences and workshops in addition to testifying in national parliaments across Europe, the European Parliament and the United States Congress. BCHR has received funding from the Norwegian Human Rights Fund (NHRF), the National Endowment for Democracy (NED), the Sigrid Rausing Trust (SRT), CIVICUS, the International Federation for Human Rights (FIDH), the International Freedom of Expression Exchange (IFEX) and Digital Defenders Partnership (DDP). BCHR has received numerous international awards for its efforts to promote democracy and human rights in Bahrain, including the Rafto Award and the Baldwin Medal of Liberty.
Asma is based in France, where she does advocacy work and carries out research to promote change and tries to be the "voice for the voiceless, for isn't that what advocacy is all about?" Some examples of her work done in collaboration with other advocates include having an impact that ended the awful torture situation that was common in Bahraini prisons, helping in the release of many prisoners of conscience from imprisonment, and also in providing adequate medical care for prisoners.
Asma tries to focus her effort into realizing basic human rights in her country: rights like freedom of expression, which is almost totally restricted in Bahrain. Asma engages with the United Nations in Geneva and reports closely to its mechanisms; she collaborates with many organizations, among them, Amnesty International, the FIDH (Paris) and Front Line Defenders (Ireland).
Her mission is to encourage and support individuals and groups to be proactive in the protection of their own and others' rights; to struggle to promote democracy and human rights in accordance with international norms; to document and report on human rights violations in Bahrain; and to carry on advocacy to influence international policies according to the Universal Declaration of Human Rights.
Some of her recent work was producing a thematic report to evaluate the situation of women's rights in Bahrain: for example, Bahraini women cannot pass on their nationality to their children in Bahrain. Her work sometimes includes the GCC States.*
Asma speaks six languages and often translates among them. She wants to speak Turkish fluently – "that's my future project," she told us. She has been in France for almost five years and has taken time to learn French and settle into her new home. She lived briefly in New Zealand for her studies and also in Switzerland. She is happy in France; it is her "home away from home." She finds she "is enough for here and also enough for there. A global citizen!"
On World Refugee Day, the FAWCO Refugee Network was happy to film an interview with Asma with the aim of putting a human face on the word "refugee."
In this interview, Asma talks about her work as a human rights defender, where she lives now, what she misses most from back home, what makes her laugh, what she hates most, which of her hopes have come true, what she recommends for others to be more aware of their rights, and how being a refugee has changed her. We are very proud to have Asma as a FAWCO member and an active member of the FAWCO Refugee Network.
Watch the interview here.
If you are interested in engaging with the Fawco Refugee Network, please contact them via the FAWCO Refugee Network email: . Please also join the FAWCO Refugee Network Facebook group. You can also follow and connect with Asma on her instagram account (asma.darwish), where she shares more about her life with her kids in France and her work on human rights.
*The Gulf Cooperation Council (GCC) is a political and economic alliance of six Middle Eastern countries – Saudi Arabia, Kuwait, the United Arab Emirates, Qatar, Bahrain and Oman.