By Melissa Ruggles (AWC Amsterdam) —FAWCO Women, Peace & Security Chair
As I browse the latest news and research on UNSCR 1325 and women's participation in peace processes, I just start to feel sad and frustrated. I ask myself why, in 2019, are women not involved in peace processes more often? Considering that we comprise 50 percent of the global population, where are the women mediators, negotiators and peace process witnesses and signatories? According to data from UN Women and the Council on Foreign Relations, between 1992 and 2017, women made up only 3 percent of the peace mediators, 9 percent of the negotiators and 3 percent of the witnesses and signatories. The figures are mindblowing.
In my March 2019 FAWCO blog post, I wrote about inspiring, trailblazing women peacemakers and the reasons why women must be involved in peace processes, as well the real impacts they can have – as demonstrated by (among others) Nobel Peace Prize winner Leymah Gbowee of Liberia. Next to her was Mary Akrami Sahak, Director of the Afghan Women's Network (AWN), pictured below, whose mission (among the many other things she's doing) is to push through the tough barriers to get women a seat at the negotiating table. Mrs. Akrami and the network of women have clear demands: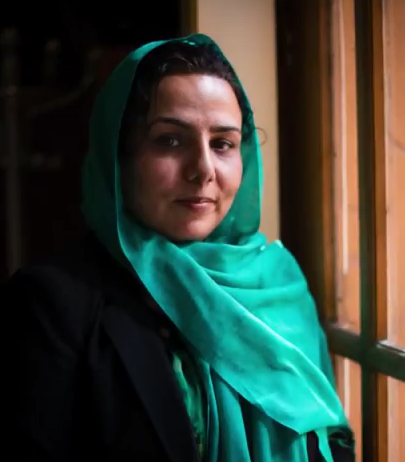 Mary Akrami Sahak photo credit: Shoot4Change "No peace deal should undermine the current democratic and public institutions. No peace deal should come with restrictions on women's employment, freedom of movement and autonomy. If it did, this would not only curtail women, it would be disastrous to the country as a whole. No peace deal should suspend Afghanistan's commitments to the international and regional legal instruments and laws that safeguard women's rights. Any peace deal has to prevent the infliction of physical punishment such as public stoning, flogging and executions." Source: https://www.cordaid.org/en/news/women-of-afghanistan-we-will-never-go-back/
Women's rights advocate Angelina Jolie wrote an article on the very same topic that was featured in an April 2019 edition of TIME magazine. She points out that one-third of the Afghan parliament is made up of women and that the Afghan Ambassador to the US is a woman. In fact, H. E. Roya Rahmani is the first woman to serve in the role. There is a clear and growing precedent of respect for women's voices in leadership and involvement in key decision-making processes in Afghanistan, so why is women's involvement in the country's most important decision-making process – the peace of the country – not adequately including women?
At a time when the Trump administration is considering pulling US forces out of the country and Taliban-induced violence is on the rise, there is no better time than now for Afghan women to be included in peace talks and for women's issues to be sufficiently addressed. To quote a statement that appeared on an AWN march banner in March 2019:
"Nothing without us…about us…is for us."
Taking Action
What can we, as FAWCO members, do to support women leaders like Mary and the inclusion of women in peace processes in Afghanistan?
Consider making a financial contribution to one of the Afghan Women's Network's (AWN) funding partners.
Contact your respective Members of Congress (of your last US residence) and ask them to put pressure on the Trump administration to force the negotiating team to include more women – both on the US side and on the Afghan side.
Spread the word about amazing women across the world making differences in their countries, both within peace processes and in general! UNSCR 1325 is not only about women's participation in peace negotiations.
Sources:
UN Security Council Resolution 1325
https://www.cfr.org/interactive/womens-participation-in-peace-processes
Cordaid.org: Women of Afghanistan: "We came out of the dark. We will never go back"
Time.com: Angelina Jolie: Why Women are the Key to Lasting Peace in Afghanistan
Mary Akrami Sahak photo credit: Shoot4Change [CC BY 3.0], via Wikimedia Commons