Reviewed by Paula Daeppen, AWC Zurich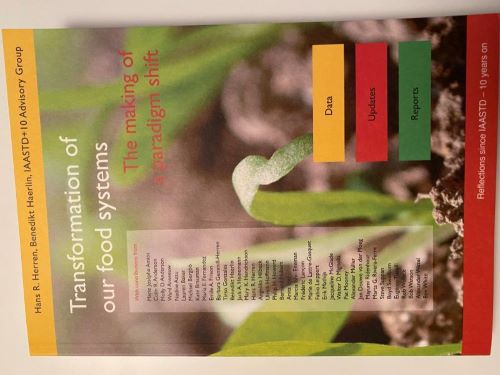 I would like to recommend an important new book, Transformation of Our Food Systems by Hans R Herren, Benedikt Haerlin, IAASTD+10 Advisory Group.
The title may be a bit off-putting for the non-scientist, but it is a very readable book for laypeople and discusses all aspects of food security and the impact of agriculture on many of the world's problems.
In this new book Transformation of Our Food Systems: The making of a paradigm shift, 40 international experts describe the highlights and trends in food production since 2009, when the groundbreaking International Assessment of Agricultural Knowledge, Science and Technology for Development Report (IAASTD) was first published. The past decade has been the most destructive period of food production and consumption in modern history, and now the COVID-19 pandemic has clearly exposed the sharp and accelerating injustices and system-wide failures of today's prevailing food and agriculture systems.
The book compiles interesting essays summarizing a range of highly regarded international scientific and political reports and discusses what has been achieved since the IAASTD report and what still needs to be done. The short essays are easily understandable and educate the reader on the urgent need for a paradigm shift towards sustainable food systems. It not only talks about transformation, but it also shows how it can be done and where it is already happening, offering solutions and hope.
The book can be purchased as a hard copy or downloaded at no cost at: Transformation of Our Food Systems.