by Meenakshi VRai, FAUSA & ACIW Mumbai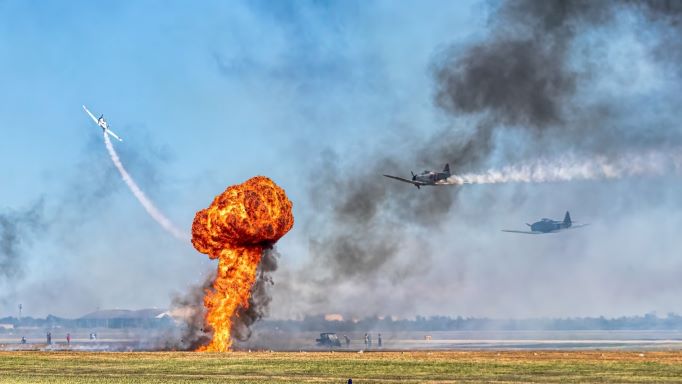 Armed conflict is bad for people, but most of us don't think about the fact that it also has very bad and lasting effects on our natural environment. Land, air, water, plants, animals and all living organisms comprise the "natural environment." A geographical environment is also called a natural environment, as it interacts with nature. The earth's surface, rivers, mountains, deserts, land, water, oceans, volcanoes, etc. are examples of the natural environment. The natural environment consists of natural resources, which are needed as raw materials to manufacture products. Natural resources are used to make food, fuel and raw materials for the production of goods. Oil, coal, natural gas, metals, stone and sand are natural resources. Other natural resources are air, sunlight, soil, water, animals, birds, fish and plants.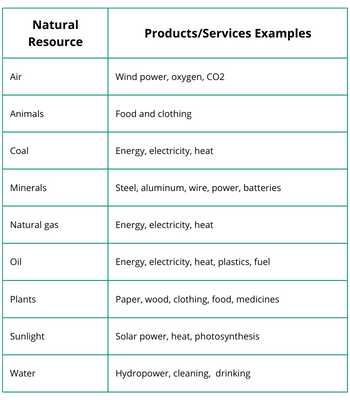 Listed in this chart are some of the planet's natural resources and their end usage. Every country has its own natural resources, a few of which are listed in the chart. These natural resources demonstrate the wealth of the country, which is also based on the usage of their available natural resources.
This chart below shows the world's wealthiest countries based on their abundance of natural resources; it is surprising which countries are in the chart and which are absent – there are NO European countries, for example!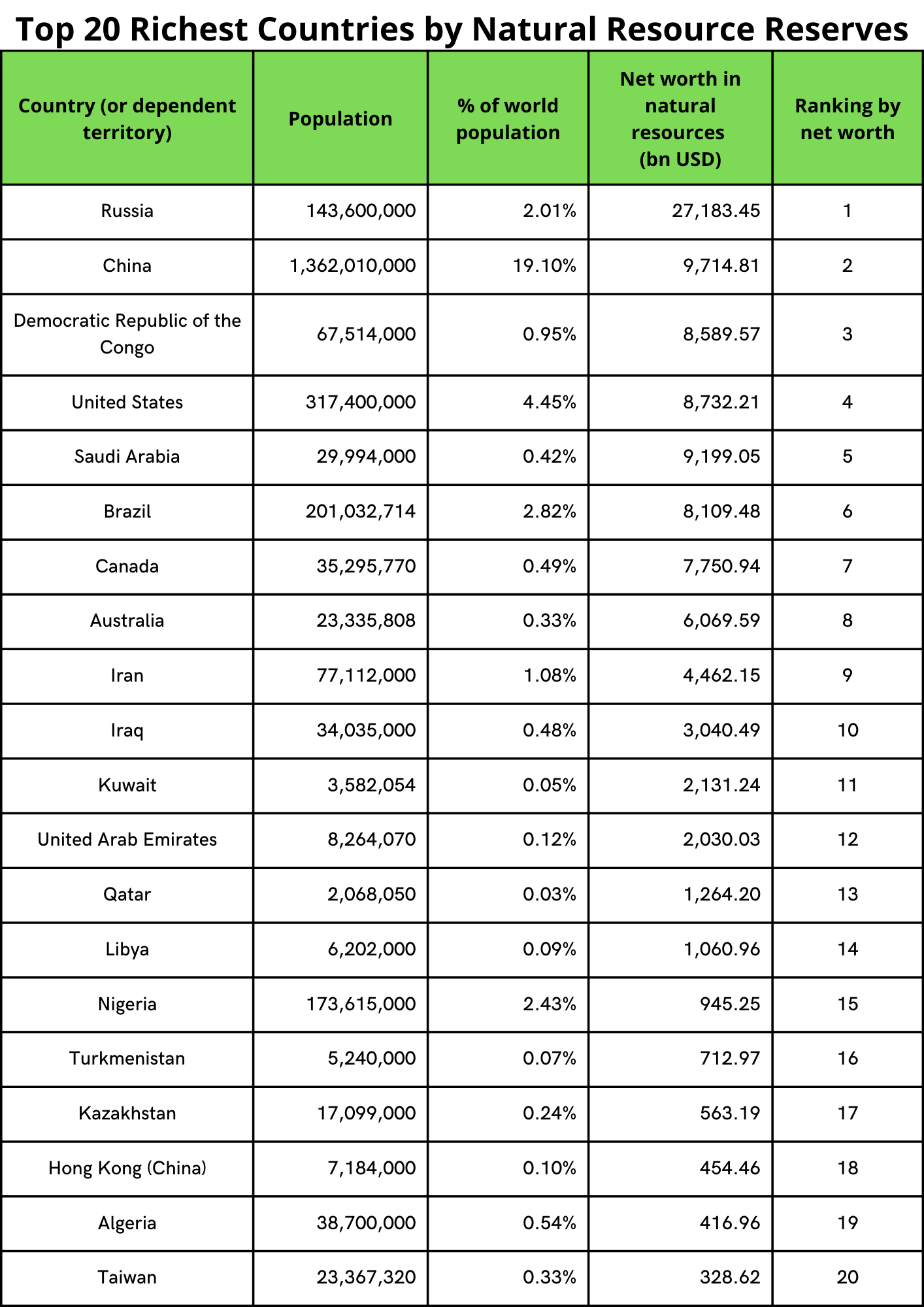 Environmental- and eco-terrorism
"Environmental terrorism" involves targeting natural resources. "Eco-terrorism" involves targeting the built environment such as roads, buildings and trucks. History has recorded many wars over the centuries. The catastrophic impact of destruction has led to the degradation and decline of planet Earth and its natural environment. Not only can war be damaging to the social environment, but military activities produce extensive amounts of greenhouse gases, causing pollution that contributes to anthropogenic climate change and resource depletion, among other negative scars on the overall environment.
War causes pollution incidents which are industrial in their scope. Oil or energy facilities are deliberately attacked. Scorched earth techniques include the destruction of agricultural infrastructure, like canals, wells and pumps, leading to transboundary impacts of contamination of rivers, aquifers or the sea.
Time and history show that tactics and strategies to win wars have caused devastation and crippling damage by destroying and depleting countries' natural resources. Let's look at some specific conflicts and assess their environmental damage.
World conflicts and their environmental damage
World War I

: In terms of environmental impact, World War I was the most damaging, because of landscape changes caused by trench warfare. Digging trenches caused trampling of grassland, crushing of plants and animals, and churning of soil. Erosion resulted from forest logging to expand the network of trenches.

World War II

: The environmental impacts of World War II were very drastic, which allowed them to be seen during the Cold War period and up to the present day. The impacts of conflict, chemical contaminations and aerial warfare all contribute to reduction in the population of global flora and fauna, as well as a reduction in species diversity.
Vietnam War: The Vietnam War introduced many new technologies, some of which contributed to Vietnam's ecological change from a once-pristine habitat to an almost apocalyptic state following the war. These technologies included chemical deforestation techniques.
The Gulf War – 1991: The Gulf War oil spill in 1991 was one of the largest in history. The strategy was to destroy the natural oil wells in the ground to create smoke and gain an advantage by deflecting air strikes. Kuwaiti oil fires caused a dramatic decrease in air quality by producing greenhouse gases. Studies since 1991 have concluded that the spill was responsible for environmental damage to coastline sediments, marine species and ecosystems and has been considered an act of environmental terrorism. In 2017, it was concluded that secluded bay areas had "alarming levels" of hydrocarbons that threatened the quality of life of organisms in those areas. The spill caused the death of many seabirds, including almost 30,000 grebes and cormorants, by coating the birds' feathers.
Conflict in Yemen: How has conflict impacted the environment of Yemen? There is waning environmental stability. Dwindling water resources, changing weather patterns, and worsening soil, water, and air quality are some of the major environmental challenges facing the country today.

The current war in Ukraine

: The current invasion of Ukraine by Russia impacted its natural environment in many ways. Wars are inherently violent and harmful. Destruction of resources can sometimes create more catastrophic harm than bombs and bullets. Destruction of farms, livestock, gardens, land and other civilian infrastructure are causing food shortages, severe disruption of economic activities, threatening the means of survival, hampering the lives of humans and all wild species, and triggering displacement, starvation and death due to threatened food security and other.
How does war affect the ecosystem/human mind and body?
Weapons and military material used during conflicts also leave environmental legacies. Land mines, cluster munitions and other explosive remnants of war can restrict access to agricultural land, and pollute soils and water sources with metals and toxic energetic materials.
Of course, war has many negative effects on the human mind and body environment as well! Death, injury, sexual violence, malnutrition, illness, disability and displacement are some of the most threatening physical consequences of war, while post-traumatic stress disorder (PTSD), depression and anxiety are some of the emotional effects. Toxic dust, contaminated water sources and chemical residues lead to cancer, birth defects and such conditions that are potentially linked to environmental pollution in severe cases.
How war impacts the climate crisis and the environment
Militaries consume enormous amounts of fossil fuels.
Bombing and other methods of modern warfare directly harm wildlife and biodiversity.
Pollution from war contaminates bodies of water, soil, and air.
Warfare releases greenhouse gas emissions.
Even in peacetime, militaries consume extreme amounts of dirty energy.
These include training facilities, dormitories and manufacturing plants, in many countries.
Biodiversity destruction, deforestation, degradation of natural landscapes.
Depleting the planet of its natural resources, affecting ecosystems worldwide.
How can we restore a damaged environment?
As much as we wish they did not happen, wars and armed conflicts do happen, causing huge problems for humanity and the earth. What can we do? I believe we need to reset humanity's relationship with the natural world and try to balance the earth's problems through transformative actions. Below are some examples of what YOU can do:
Plant trees.
Rewild.

Volunteer on a restoration project.
Eat less meat.
Simplify your home.
Support green businesses.
Buy organic.
Donate to conservation groups.
Choose green Investments.
Join or organize a beach clean up.
Create a green team with your club or community.
Work with people who support environmental projects.
Replenish your homeland's natural resources.
Protect and preserve human quality of life together.
GROW and share a joyful and fulfilling journey.
Resources:
https://catchmentofresources.com/2021/01/20/hidden-secrets-of-money-world-rich-list-by-country-natural-resource-reserves/
https://en.wikipedia.org/wiki/Gulf_War_oil_spill#cite_note-18
https://en.wikipedia.org/wiki/Environmental_terrorism
https://www.globalcitizen.org/en/content/how-war-impacts-the-environment-and-climate-change/
https://www.fcnl.org/updates/2020-11/environmental-cost-war-and-armed-conflict
https://education.nationalgeographic.org/?q=&page
https://ecowarriorprincess.net/2021/06/ways-to-restore-ecosystems-heal-planet/
https://science.olympiadsuccess.com/class-9-natural-resources
https://catchmentofresources.com/2021/01/20/hidden-secrets-of-money-world-rich-list-by-country-natural-resource-reserves/
All photos free to use images from Unsplash, Pixabay or Canva Pro.