by Hollie Nielsen, AWC Central Scotland and Carol-Lyn McKelvey, FAUSA/AIWC Cologne
For the seventh year in a row, the Education Team honored International Literacy Day by suggesting a FAWCO summer read tied to literacy, followed with an event on or near September 8. This year's event, however, came with a twist: a partnership with AWC London, whose membership has included the award-winning author of Lessons in Chemistry, Bonnie Garmus!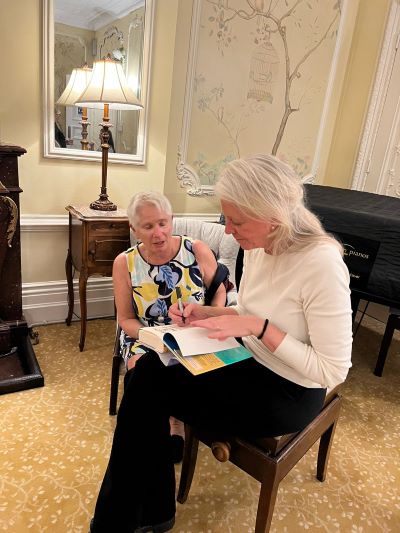 With AWC London taking the lead (thank you, Caitlyn Rainey, President, AWC London) and coordinating with Education Team member Hollie Nielsen, a joint event was held on September 14, with AWC London members in person and over 100 FAWCO members joining via Zoom. A
bout 80 women, a sold out crowd, gathered at the University Women's Club in London to hear Bonnie Garmus speak
.
Each person paid £10 for the evening, so a donation of £800 will be made to
Stemettes
, Bonnie's chosen charity. After picking up a glass of wine and having a quick welcoming chat, everyone gathered in the beautiful library. Bonnie was interviewed by AWC London member
Abigail Keinbaum
, who had been in a writing class with Bonnie and knew her well.
Spanning topics from book inception to character development to common global themes for women, Bonnie was very generous with her time and gave us an interesting presentation about her book. She then answered several questions from the in-person participants and then a Zoom Q&A was facilitated by Education Team member Carol-Lyn McKelvey.
Apparently, it's a lot of work being a best selling author and going on extended promotion tours. Bonnie was very friendly and approachable, especially when signing books after her talk. She was particularly touched and thankful that FAWCO members and the AWC London have started a FAWCO Education Award for Women in STEM. You can contribute to this EA
here
.
After the interview, the Zoom attendees broke into chat rooms to discuss what resonated most to them in regards to the interview and/or the book itself. Gathering back together, it was clear that Elizabeth Zott's experiences resonated with past and present lived experiences of our members, whether in the US or around the world. Thank you to all who participated. It was a good reminder that literacy and education are the springboard that allows us, whether locally or globally, to continue the work for equality and change that Elizabeth so passionately stood for.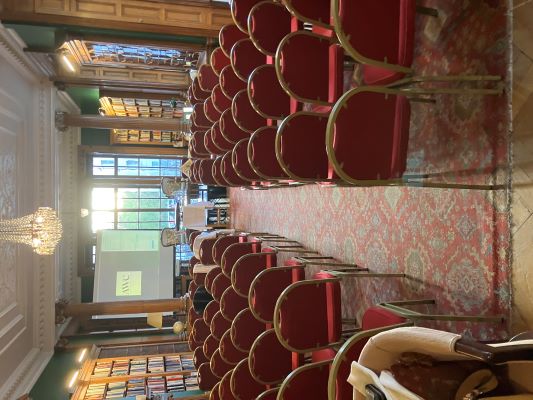 All photos by Hollie Nielsen