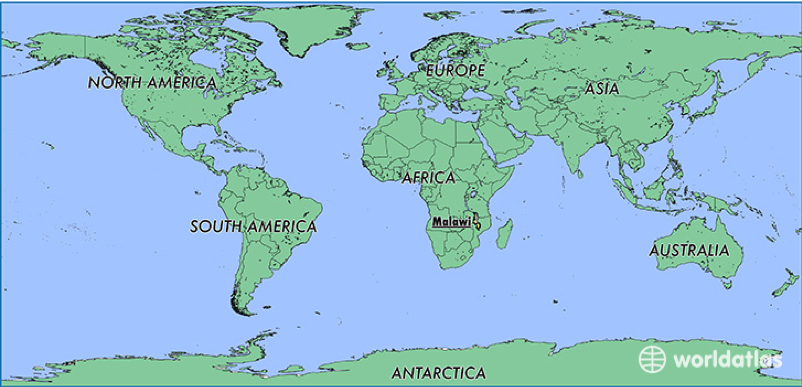 Malawi is landlocked, sharing borders with Mozambique, Zambia and Tanzania. Although Malawi has been able to make important economic and structural reforms and sustain its economic growth rates over the last decade, poverty remains widespread, and the economy is undiversified and vulnerable to external shocks (health and weather). The country's development is guided by a series of five-year growth and development strategies, the third and current one covering 2017-2022, which focuses on education, energy, agriculture, health and tourism.
Before engaging in the education challenges faced in Malawi, it is noteworthy to mention that our last Education Matters Bridging Cultures Workshop (November 2016) included Skype sessions between students from Cologne with students from Malawi. Both groups gained interesting insights into each other's lives as students!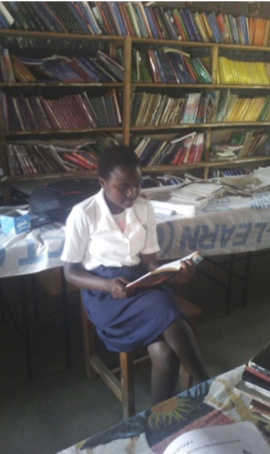 Taonga in the school library enjoying her favorite pastime, reading!
St. Anthony Community Day Secondary School, Zomba, Malawi.These students and students from Cologne questioned each other back and forth on their personal, student and daily lives.
Regrettably Malawi has been ranked as one of the lowest performing nations for literacy in sub-Saharan Africa. It is one of the least developed countries in the world and education is proven one of the critical pathways to improving living conditions in the country. According to an updated Borgen Project report (18th August 2017), here are some facts that aptly cover education in Malawi.
Primary school in Malawi was made free in 1994. This policy escalated primary school enrollment from 1.6 million to three million children. However, with such a large increase, the education quality has suffered due to weak infrastructure, poor hygiene and low teaching quality. Education in Malawi has also incurred a national shortage of classrooms, qualified teachers and basic teaching materials such as textbooks. Not surprisingly, Malawi is ranked the weakest for its performance in English reading and second weakest for mathematics against other southern African countries.
Only 35% of children in Malawi complete primary school. This low ratio is not surprising as more than half of the country's population lives below the poverty level. Many children enroll and drop out of school frequently due to employment responsibilities at home or illnesses. For many young girls, dropping out is especially common due to early marriage, pregnancy and contracting HIV/AIDS.
The overcrowding of classrooms is found to be another catalyst of high drop-out rates in Malawian schools. With students not receiving one-on-one feedback and lacking the resources to learn, many lose hope in the educational system. The teacher to student ratio is 1 to 30 in first grade. While this ratio decreases as the grade level increases, Malawi faces one of the world's worst teacher shortages. This is due to the expense associated with hiring new teachers. To be able to attract qualified teachers, rural communities must provide housing, which is a significant cost. Additionally, any of the quality issues faced in Malawian schools are due to a lack of motivation by the teachers. They face poor working conditions, weak social amenities and lack health coverage.
Besides primary schooling, the government does not fully fund any other educational levels. For instance, the government encourages communities to introduce preschools into their societies but does not support these facilities financially. Therefore, most preschools are run on a voluntary basis and remain unregistered. Forty-four percent of pre-schoolers face undernourishment in Malawi, the majority of teachers work for free and they lack the necessary resources to teach the young children.
Without proper preschool opportunities, children in Malawi are missing the opportunities that create a strong foundation for their future studies. The Global Partnership for Education (GPE) declares that investing resources in the youngest children is one of the most cost-effective commitments a country can make. A study in 2011 found that by having 50 percent of the world's children enrolled in preschool, the global benefit is greater than $33 billion.
With around 4.6 million students enrolled in schools throughout Malawi, only eight percent of them complete secondary school. A major contributor to this low completion is the lack of proper transportation links to the secondary facilities. Only 14.9 percent of adult females obtain at least a secondary education, compared to 24.2 percent of males. To try and reduce the gender gap in education in Malawi, Rihanna's organization, the Clara Lionel Foundation, partnered with Ofo ( a Beijing-based bicycle sharing company founded in 2014) to create the 1 Km Action campaign. This program provides scholarships to help girls across Malawi attend secondary school. For the children who qualify, the campaign will provide the students with bikes to ensure they can get to school.
USAID also provides support to the education sector in Malawi by collaborating with the Ministry of Education, Science and Technology. The United States' efforts focus on increasing educational opportunities for females as well as boosting the capacity and quality of education in the country. USAID provides nine programs in Malawi to improve the educational standards of the country.
Donors provide 40% of public education expenditure. However, in recent years donors have found that much of the money is not funnelled into education but is rather stolen by the government sector. This theft has created a suspension of programming in some areas.
The Malawi Education Sector Improvement Project (MESIP) is a GPE funded initiative that aims to improve the equity and quality of primary education. The recruitment of 8000 teachers this year (May 2018) is part of a series of interventions by the Malawian Minister of Education intended to mitigate the problem of inadequate school facilities and poor training for teachers and to reduce the student-teacher ratio.
Over the past five years, the Malawian government has committed to allocate 18 percent of the national budget toward the education sector. With this commitment, Malawi will have one of the highest education expenditures in Africa. However, when comparing the educational quality with other countries, it can be noted that Malawi does not allocate its funds efficiently. In order to improve the quality of education in Malawi and reduce drop-out rates, the government must focus on improving teacher salaries and improve facilities around the nation. This change will encourage staying in school and providing quality syllabi too.
Experts believe that education is a driving force to alleviating poverty in Malawi and that it can help the country move toward development. With greater government involvement and international organizations supporting the nation, education in Malawi has the potential to improve in coming years. Reading the inspirational memoir of a young Malawian boy, William Kamkwamba – The Boy Who Harnessed the Wind, certainly reflects the great potential of the young Malawians and how powerful the human spirit can be.
Sources: