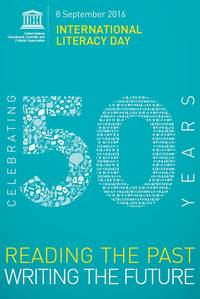 The 50th anniversary of International Literacy Day (ILD) is being celebrated this year on September 8 with the motto "Reading the Past, Writing the Future". The focus is on innovation; as "this is the first year of implementation of the 2030 Agenda for Sustainable Development. In this context the vision of literacy is aligned with lifelong learning opportunities with special focus on youth and adults". For further VERY interesting details on the worldwide ILD 50th anniversary celebrations click here.
It would be great if you would enthusiastically "do your bit" in honour of the 50th International Literacy Day. We have some great suggestions from the Global Development Research Center (GRDC) for your local clubs.


Things to do in honor of ILD:
Use your newsletter to spread the word about the importance of literacy.
Give a book as a gift. Include a note about the importance of literacy in adult life.
Establish a book discussion club.
Learn about and support local literacy projects of other programs in your area.
Organize an essay contest about "a book that changed my life."
Sponsor a book-collecting drive. Give books to nursing homes, schools, adult literacy programs and refugees.
Publicize and distribute lists of recommended books for readers of all ages.
Great planning! In honour of ILD, our very own Sahar Elhallak (AIWA Rabat) is planning with her local club to provide reading materials for children in rural schools! It is important to remember that as illiteracy leads to exclusion and poverty, we must consider every day as literacy day and do our best to help stop this vicious cycle!