UN Youth Rep Blog
FAWCO's new Youth Rep at the UN is Vali Mitsakis from AWO Greece. Vali is spending a year studying in the New York area, and as a former Model UN participant, is excited to be a FAWCO UN Youth Rep. She will post blogs about her experiences.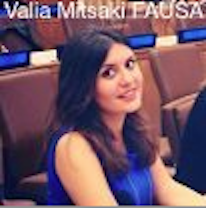 FAWCO's first UN Youth Rep was Gavin Higbie. Gavin is the son of Erica Higbie (FAUSA, AWC Perth), FAWCO's UN Rep in New York and former Chair of the Human Rights Task Force.
Gavin attended UN meetings live in New York and via Webcast throughout 2014 and reported via a blog. From August 6 - 8, 2014 Gavin attended the Summer 2014 Youth Assembly at UN headquarters in New York City. Read his daily blogs. Gavin also attended the Winter 2014 Youth Assembly on February 5 and 6, and posted blogs about his experience which you can read below.
Read about his experience in Chile, where he visited the Museo de la Memoria y los Derechos Humanos.
Gavin Higbie, FAWCO Youth Rep
Summer 2014 Youth Assembly Day 3
Details

Created on Saturday, 09 August 2014 14:38
Written by Gavin Higbie
Day three of the International Youth Assembly has unfortunately come and gone. However, it was, of course, an incredible day. Just like the two that came before it. Our day began with a presentation by the young and extremely talented Jake Schwarz, CEO and founder of General Assembly. He explained his background and the rather precarious and uncertain path he took to get to where he is today and how his organization is changing the face of education. General Assembly is a higher education company that focus on technological innovation and is shaped by the changing nature of the employment…

Summer 2014 Youth Assembly Day 2
Details

Created on Friday, 08 August 2014 13:00
Written by Gavin Higbie
After eight hours at the United Nations day two of the International Youth Assembly has come to an end, and apparently the inspiration will continue to be unrelenting. From the opening minutes to the end of the day, the program presented us the delegates with engaging speakers who were not only experts in their fields but also demonstrated a clear link between youth and leadership.

The main topic of the morning was a contemporary one, the crisis in the Middle East, specifically between Israel and Gaza. We first heard from Shani Perez, Director of Kids Creating Peace. Perez highlighted the…

Summer 2014 Youth Assembly Day 1 Afternoon
Details

Created on Thursday, 07 August 2014 13:22
Written by Gavin Higbie
Our afternoon session was a lot more hands on. After lunch, there were a variety of workshops that could be chosen by the delegates. One particular workshop caught my attention. It focused on the Post-2015 Development Goals. For those of you who don't know, the Post-2015 Development Goals are an initiative currently being negotiated by the United Nations that target many of the world's major problems, including environmental degradation, gender equality, poverty, and healthcare access. More importantly, they are trying to achieve these goals through sustainable means. This agenda is an expansion on policies that the UN already has in…

Summer Youth Assembly, 2014
Details

Created on Wednesday, 06 August 2014 17:53
Written by ghigbie
Okay everyone, I'm back! After a semester abroad in Chile I am finally back in New York City to represent FAWCO at the International Youth Assembly. Exciting times for me, I wish you could all be here. As you may know I attended the Youth Assembly in February as well (sorry for hogging it from everyone else). It was an incredible experience however, I have to say that the lack of a 'polar vortex' this time around makes this assembly somewhat more enjoyable.

The morning started with an optimistic energy. Similar to February, we were greeted and briefed by Patrick…