A delegation of 14 FAWCO women joined over 6,000 other NGO representatives for the 60th Commissionon the Status of Women (CSW60) in NY from March 14 - 24, 2016. The Commission was established in 1946 and is "dedicated to promoting gender equality and the empowerment of women". The annual sessions provide advocates for human rights for women an opportunity to influence the UN agenda. Around 6,000 delegates from the 45 Member States of the Commission, United Nations entities, and accredited non-governmental organizations (NGOs) attended this year's annual session with the priority theme "women's empowerment and its link to sustainable development". The session comprised the official ministerial meetings, more than 200 side events hosted by the Member States and UN entities, and around 450 parallel events organized by NGOs.
The Sustainable Development Goals (SDGs), launched in September 2015, are the top priority at the UN and are to be achieved by the year 2030. Goal 5 is "achieve gender equality and empower all women and girls". The focus of the Goal 5 Targets—e.g., violence against women and girls, trafficking, early marriage, health, discrimination—were reoccurring themes in the events. "Planet 50-50 by 2030: Step it Up", the theme of 2016 Women's Day, was also in focus.
The opening speech "CSW60 is the First Test of Our Resolve" by UN Under-Secretary-General and UN Women Executive Director Phumzile Mlambo-Ngcuka gives a perspective on the 2030 Agenda. The concluding commitment of CSW Member States to the implementation of Agenda 2030 is summarized in a press release from the closing day. (Thanks to Carol Strametz of AWC Hamburg for contributing this introduction.)
Blog posts are by UN Liaison Laurie Richardson (AWA Vienna) unless otherwise noted.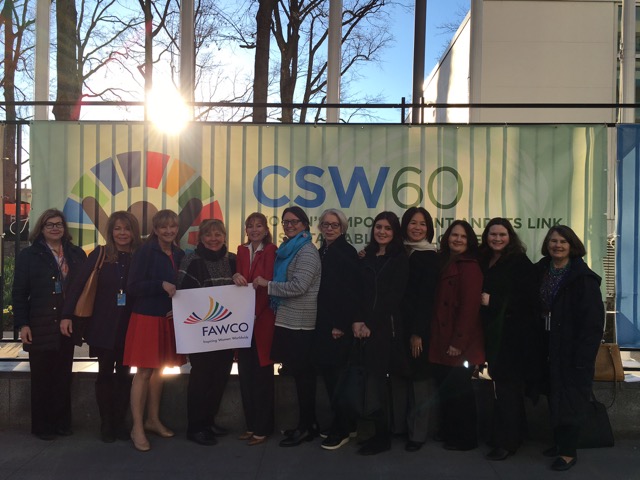 CSW Word Cloud #2
Details

Published on Friday, 15 April 2016 09:56
There are many many words here. These are my notes from seven days of NGO Briefings and regional caucus meetings discussing the negotiations on the CSW Agreed Conclusions.
CSW60 Word Cloud #1
Details

Published on Friday, 15 April 2016 09:48
This is what our heads are full of after several days at CSW. Full of ideas, impressions, words: these are my notes from a 90-minute panel discussion on the SDGs.
Carol's CSW60 Experience
Details

Published on Tuesday, 12 April 2016 12:54
Carol Strametz of AWC Hamburg reported:
I had the pleasure and privilege of attending three days of CSW60, the 60th session of the Commission on the Status of Women (CSW), at United Nations Headquarters in New York. FAWCO had a delegation of 14 members, several of whom were present throughout the session.
In preparation for CSW60, FAWCO joined with other members of the NGO CSW in Vienna to sign a statementon the priority theme that was submitted to CSW60. The statement was published on the UN's website as a part of the CSW60 provisional agenda. FAWCO UN Liaison Laurie Richardson co-moderated…
The Voices of Syrian Women Peace Activists
Details

Published on Thursday, 14 April 2016 14:20
March 2016 marked five years since peaceful demonstrations and calls for democracy in Syria led to a government crack-down and bloody civil war which continues today. In recent weeks, the negotiated cease fire has made life somewhat easier, and the Syrian people have come out onto the streets again, calling for the same things they called for in demonstrations in March 2011. At CSW60 at the UN in New York, I attended a moving presentation by a group of Syrian women activists seeking peace and democracy, freedom, justice and fundamental human rights. A standing-room only crowd of over 125 people…
FAWCO Daughter Laurel Anderson on CSW60
Details

Published on Tuesday, 12 April 2016 09:01
Laurel is the daughter of Angela Anderson (AWC Shanghai). She is a senior at a US college. We were happy to have a FAWCO daughter as part of our delegation, extending opportunities for UN involvement to our youth.
While I've always considered myself a feminist, attending the UN Commission on the Status of Women (CSW) confirmed this for me. I was fortunate enough to attend the second day of the CSW Youth Forum. There I heard from many inspiring speakers. One was from a Native American reservation in the U.S. and had started her own non-profit to help educate children…