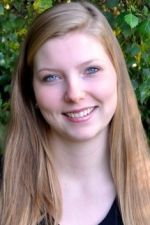 For our pilot 2014-15 FAWCO Youth Ambassador program, Julia Goldsby, age 18, will represent FAWCO Youth, assist with volunteer programs, and encourage sons and daughters of FAWCO members to get more involved in FAWCO's exciting opportunities for young people.

Starting with the AWC Shanghai in July, Julia will travel the world as a FAWCO Youth Ambassador. Over the next year Julia will visit FAWCO clubs in Seoul, Dublin, Central Scotland, Oslo, Geneva, Hamburg, Paris, Berlin, various cities in Morocco, Doha, Rome, and Athens, with other cities to be announced. Click here (You must be logged in.) to see Julia's itinerary. FAWCO clubs hosting the Youth Ambassador, will benefit from her energy and perspective.

Julia Goldsby, who is a Youth Volunteer with the AIWC Cologne, has participated in several FAWCO-related programs. She won the Clement's International Expat Youth Scholarship in 2009, attended the Eleanor Roosevelt Girls' Leadership Worldwide program in 2012, and participated in the 2013 FAWCO Youth Cultural Volunteers program in Dubai. Julia received the German Abitur in June, 2014, from the Paul Klee Gymnasium in Overath, Germany, where she focused on art studies. She says, "I can't wait to see more of the world through the eyes of FAWCO clubs!"

Julia hopes to attend film school someday. Using photography and video she'll document her FAWCO travels in short films to attract new members, encourage volunteerism, and support social responsibility.